Is Facebook advertising a good idea for your contracting business? If you are looking to increase conversions and generate more revenue, Facebook ads may be the answer.
In this guide, we will go over how to set up Facebook ads for contractors, create compelling ads, and track the success of your advertising.
Ready to find more leads and get expert home services and construction marketing advice, all in one place?
How to set up Facebook ads for contractors
The first thing you'll want to do is create a Facebook business page if you don't already have one. This will be the targeted destination that people see when they click on your ad. Include all of the information about what services or products you offer and include links to different pages where potential customers can learn more about how to contact you. Include your email address or phone number, too.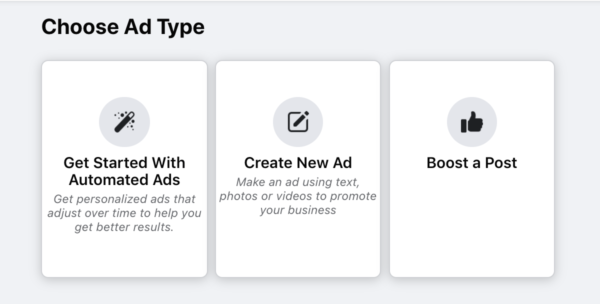 Once your page is set up, you'll have access to the Facebook Ad Manager where you can create ads. You'll be able to either create an ad from scratch or go through a step-by-step interview to create automated ads.
Choose an Objective
First, you'll need to choose an objective for what you want from your ad. Facebook will then guide you through making choices that will help achieve the goal — and show it to people most likely to respond.
All Facebook advertising objectives fall into three basic categories. Some are more relevant to Facebook ads for contractors than others.
Awareness
These objectives are all about letting people know your business exists.
Brand Awareness. Let people know what services your contracting business offers and what you specialize in.
Reach. Show your ad to the biggest audience possible or list your business on a contractor directory.
If you are still trying to get your local market to consider you for their contracting needs, you might choose a brand awareness, reach, or traffic objective.
Consideration
The consideration stage is when buyers know your company exists and are ready to think about hiring you.
Traffic. Get more traffic to your website.
Engagement. Reach people most likely to react or comment on your post.
App Installs. This is for businesses that market games or apps.
Video Views. If you have a video to share in your ad, this will show it to people most likely to watch it.
Lead Generation. Choose this goal if you're building an email list.
Messages. Invite people who see your ad to send you a message on Messenger.
If you use your Facebook page as a marketing tool, building engagement is a good idea.
In the case of Facebook ads for contractors, lead generation — building an email list of local homeowners — is often the best goal. It's hard to know when someone might need your services, but if you take the time to build a relationship with them through regular email contact, you might be the first business they think of when they need work done.
The best way to get email signups is by offering a "lead magnet." A lead magnet is something you offer in exchange for their email address — such as a downloadable guide, calculator, or other freebies. Choose something relevant to your business and locale that will have value for your customers and reflect well on your expertise.
For example, a painter in North Carolina might offer a collection of professionally selected coastal living color palettes. A St. Louis area roofing company might offer a free guide to prolonging the life of your roof in extreme weather conditions.
Once they've given you their email address, send an automated welcome email with more info you know they want — link to your blog posts — and tell them a little about your company. Let them know they'll be getting your regular newsletter with more tips and advice specific to them as well as seasonal specials.
Over time, they'll begin to feel very comfortable with your brand and you might be the first company they call when they need work done.
Conversion
In this stage, the buyer is ready to make a purchase.
Conversions. Measure the number of people who take an action on your website, like requesting a bid.
Catalog Sales. This objective is more relevant for web stores and ecommerce sites.
Store Traffic. This objective is for stores that want foot traffic at their physical location.
Choose your audience
With Facebook advertising, you can narrowly target your audience. The more well-defined your target market is, the better you'll be able to use these features.
Specificity is the name of the game in digital marketing. If you try to be everything to everyone, your message will be too watered-down to be compelling. Aim to send a very specific message to the people most likely to respond to it.
For example, a small bricklaying company specializing in tuckpointing and small jobs might want to send a message about affordable repairs into an older neighborhood with lots of brick homes. On the other hand, a bricklaying company specializing in adding showstopping front porches and mailboxes would want to reach a more affluent neighborhood with a message about their award-winning one-of-a-kind designs.
Think about your niche in your local market. Ask yourself:
Are you an affordable contractor for middle-class clients?
Are you the elegant, upscale contractor who creates magazine-worthy work for high-income clients?
What are your specialties and strengths?
What makes your business unique?
What zip codes, cities, or neighborhoods do your target audience live in?
Be as specific as possible when answering these questions. Then make your Facebook audience choices according to your instincts about your target market. Facebook geographic filters are a great way to narrow your audience. You can also filter by income, age, gender, interests, and more.
If you're interested in working with contractors or builders, you might target some ads directly to them, as well. Setting up a few different ads for very specific audiences is smart marketing.
Create your ad
Now that you know who you are sending your message to, you can choose language, images, and offers that will be compelling for them.
If you want to use more than one image in your ad, choose a carousel or slideshow option. Carousel shows the viewer a series of images, each with a different headline, that they can click through. The slideshow option creates a fast-loading video from the images you supply.
You also have the option of sharing your own video in the ad. Just remember that people have very short attention spans for advertising. Keep your video as short as possible, and make sure you get your message across in the first seven seconds.
No matter what type of ad you're creating, you want to make sure that you grab their attention fast. Heavy Facebook users scroll past dozens of ads every day. Here are some ideas for capturing their interest:
Target specific interests. Target an audience of people who've recently purchased homes with the headline "Instantly improve the value of your new house," or target a specific neighborhood and mention that in your headline.
Ask an irresistible question. For example: "What is one home improvement project that could double the value of your home?"
Offer a discount. Discounts don't work well with high-end buyers, but the average homeowner will stop scrolling for a moment if they see a $50 off coupon.
Offer something of value. For example: "Download the Top Ten Ways to Enhance Your Home's Curb Appeal for FREE."
‌How to use Facebook's flexibility
Facebook ads offer some powerful options. Here are a few you'll want to be sure you take advantage of:
Lookalike Audiences. If you have an email list of at least 1,000 members, Facebook can help you find Lookalike Audiences for your business. These are people similar in demographics and interests to your past customers.
Facebook Pixel. This is a little piece of code that you add to your website. It tells Facebook what people are doing on the site, and Facebook will show ads to those same people in their news feed.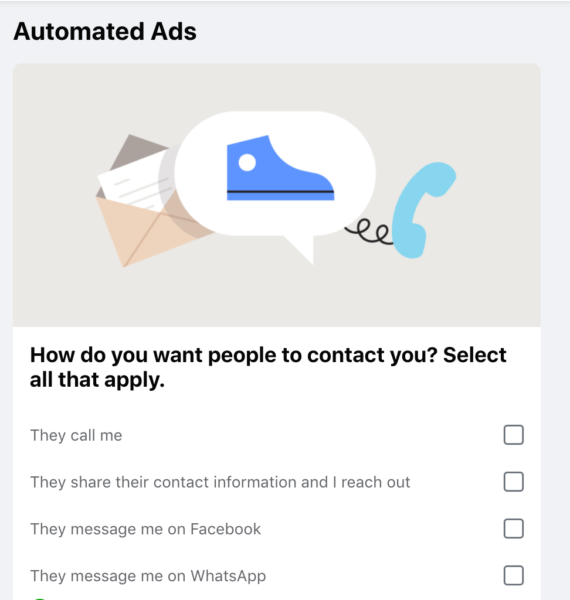 Power Editor. This is facebook's tool for advertisers who want more control over how they create campaigns. It allows you to test different combinations of ad sets so that you can find a message or offer that works best.
Messenger. With 1.3 billion users, Messenger is a popular social media tool for communicating with friends and family. Facebook Messenger ads offer a ready-made way to advertise your business right in the chat window. You can also include a Facebook Messenger button on your ad to encourage customers to have an instant, one-on-one dialogue with you.
A/B Testing. A/B testing enables you to run two different ads side-by-side. Testing will let you find the most effective combination of words and images for your target audience.
Facebook Offers. Creating deals and specials is an amazing way to bring in new business — but it can be challenging to track and measure the success of your advertising strategies. One way to do so is by using Facebook Offers. You can create offers from the 'offer' button on your Facebook marketing page. Test your Facebook Offers for free on your page and see if your followers respond to them. When you find an offer that people respond to, pay to advertise it to more people.
How to measure the success of your ad
Depending on your objective, there are many ways to track the success of your Facebook ads:
Count how many new followers or newsletter subscribers you get.
Install the Facebook Pixel on your site to track how many people sign up for your newsletter or request a bid.
Keep track of offers redeemed.
Send traffic to a special landing page on your website.
Understand SMART goals
To judge how well your ad is doing, you'll need to have a clear goal in mind. It's a good idea to follow the rules of SMART goals when you're thinking about your ad objective. SMART goals are:
Specific
Measurable
Achievable
Relevant to your business and industry
Timebound — i.e., by when you want it accomplished
"Specific" and "measurable" are key factors. Ask yourself:
If you're trying to increase your local email marketing list, how many new names do you consider reasonable to add in the next two weeks?
If your goal is to book new clients, how many jobs or what dollar volume of business seems realistic for the ad spend that you're considering?
"Achievable" is another very important point to consider. New business owners often have unrealistic expectations for their advertising.
Have realistic expectations
First-time advertisers sometimes expect people to take action the first time they see an ad and think they'll get back more than they spend on their advertising right away. That does happen occasionally, but it's rare. It's important to keep your ad spend affordable so that you can sustain your campaigns over a longer period.
Most people need to see an ad many times before they will make a purchase. Think about it this way: How many McDonald's ads have you seen in your lifetime? Would seeing one ad for a new hamburger place make you grab your car keys? Probably not, unless you happen to be very hungry when you see the ad.
If people are in desperate need of a contractor, they might call you for a bid immediately. But most people will build awareness over time — seeing your ad many times over a long period builds their confidence in your company so that when they need a contractor, they will think of you. That's the real power of Facebook ads for contractors.
Experienced businesses like Mcdonald's know that they won't get back every dime they spend on advertising immediately. But they also know that a customer has a lot more value over the long-term than what they spend on a single visit. That's true for contractors too.
One small job can lead to a larger job for the same client. As you build trust, they are likely to refer their friends and family to you, as well. Plus, each happy client who leaves you a positive review on Yelp, Thumbtack, or Google is helping you attract even more business down the road.
How to make the most of Facebook ads for contractors
Facebook advertising is a great way to reach your target market and help increase your business if you approach it wisely. As you've learned, you'll need to start with SMART goals and a clear picture of your target market. Then you can use Facebook's unique features to create compelling ads that will help you build a sustainable clientele for your contracting business.
Keep in mind, if you're a Constant Contact user, you can use the built-in Facebook Ads tool to easily create your ads without leaving your dashboard. For more tips and advice on digital marketing for contractors, check out The Download.

Share with your network