As a nonprofit organization, you may not have a large marketing budget to spread awareness and raise funds for your cause. This makes it challenging to gain volunteers, build brand awareness, and advertise fundraising campaigns. Fortunately, in today's world of nonprofit social media advertising, you can still attract a huge audience with a small budget — thanks to Facebook Ads for nonprofits.
It's no secret that Facebook draws a vast audience. According to Oberlo, there are currently 2.8 billion monthly Facebook users, with 1.84 billion using the site every day. This makes Facebook an excellent platform to promote your nonprofit and place your fundraising ads.
Even so, advertising on Facebook requires some smart investing — not only in how you spend your money but also in the way you build your ads. This guide will answer the following questions:
Why should nonprofits use Facebook Ads?
What special rules exist for Facebook Ads for nonprofits?
What types of Facebook Ads do nonprofits use?
How can you create great Facebook Ads for nonprofits?
How do you target the right audience for Facebook Ads?
How can you simplify using Facebook Ads for nonprofits?
We'll also give examples of good nonprofit Facebook ads. Read on to find out everything you need to know to start using Facebook Ads for your nonprofit.
Keep your organization growing with expert advice and all the tools you need, all in one place.
Why should nonprofits use Facebook Ads?
Your nonprofit likely already has a free Facebook page where you post photos, updates, and announcements about your mission and ways people can support it. Are your posts reaching a large enough group of supporters?
According to adespresso, the average organic reach for Facebook posts is 5.2% of the page's total likes, while the average engagement rate per post is only 0.27%. Those are pretty low figures, but they can rise if you create great posts and invest in paid Facebook Ads.
Facebook Ads are paid advertisements that appear on the sidebar of Facebook on desktop. These ads also appear in News Feeds on both desktop and mobile, giving your nonprofit plenty of exposure. Even better, your nonprofit ads can target specific Facebook users based on certain demographics — enabling your Facebook ads to be seen by your target audience. Facebook ads can increase your chances of getting more support for your mission and fundraising campaigns.
‌When you create Facebook ads, you choose an objective for your campaign — such as raising attendance for an upcoming event.
Facebook then enables you to track your ads to see which audiences respond best to which ads. This helps you decide where your advertising budget is best spent. You can also create multiple ad campaigns to see which strategies work best for raising donations, increasing visitors to your website, or gaining new supporters beyond your current donors.
What special rules exist for Facebook Ads for nonprofits?
To regulate the type of ads that appear on its platform, Facebook introduced Facebook Special Ad Categories in 2019.
These categories place restrictions on ads about social issues, politics, credit opportunities, housing, or employment opportunities. It prevents advertisers from targeting users based on age, gender, location, and other certain demographic details. If your nonprofit's mission falls into any of these categories, this could limit how you use Facebook Ads.
Do your fundraising ads or nonprofit social media advertising campaigns fall into any Facebook Special Ad Categories? If any of your nonprofit activities fall in the following areas, you may need to select a special ad category:
Credit opportunities. Any credit opportunities such as credit card offers or mortgages fall under the Facebook Special Ads category. Auto, business, and personal loans are included here, as well.
Employment opportunities. Ads that market full-time or part-time jobs, internships, professional certification programs, job fairs, or job boards cannot use all of Facebook's audience targeting tools.
Housing opportunities. This involves any ads that feature opportunities in services related to housing. Special categories include housing or mortgage insurance, loans, repairs, and appraisal services — as well as sales or rentals of houses or apartments.
Social issues. Many nonprofits try to influence public opinion on topics such as civil rights or discrimination. If your nonprofit's mission focuses on controversial topics or a specific social movement, your ads may fit into a Facebook Special Ads category.
Political issues. If your ads endorse or speak against political figures, offices, or parties, you will be limited by how you target your ads. This also applies to broad political acts such as voting.
If any of these categories applies to your nonprofit ads, you can still target your ads by creating a Facebook Special Ad Category Audience. This feature enables you to aim your ads at specific Facebook users on a more limited scale. You can target your Facebook ads based on region, state, or city, but not by zip code. You can also include specific interests to focus your ads on a target audience but won't be able to exclude any specific groups.
You can also learn how to use your Facebook ads to market your nonprofit effectively by contacting a Constant Contact marketing advisor. Considering how important Facebook Ads can be to your nonprofit social media campaign, you should study the Special Ads Category feature and understand the potential limits of promoting your nonprofit's mission on Facebook.
What types of Facebook Ads do nonprofits use?
Nonprofits typically use two different types of Facebook Ads: Page Post Engagement and Call to Action ads. Both offer benefits for increasing awareness of your nonprofit or getting people to participate in your events.
Page Post Engagement ads
If one of the posts on your nonprofit's Facebook page is very popular with your friends and followers, you can use a Page Post Engagement ad to promote that specific post to a wider audience on Facebook. This is a great way to attract more supporters and potential volunteers to your mission.
A successful Page Post Engagement ad can gain many likes, increase engagement in the comments section, and be shared with more people and groups. Keep in mind that you should only pay to promote posts that are already popular with your target demographic.
Call to Action ads
These Facebook ads are designed to get people to take a specific action. Such actions can include visiting your nonprofit's website, getting people to attend your fundraising event, or increasing the number of friends and followers on your Facebook page.
You can also add buttons to a specific ad that takes those who click on the button to a website to donate or learn more about your mission.
How can you create great Facebook Ads for nonprofits?
For your nonprofit ads to promote any sort of positive response from Facebook users, you need to build good Facebook ads. This means more than just writing great ad copy. To build an effective nonprofit social media advertising campaign, you'll need to keep the following tips in mind.
Put powerful call to action messages in your headlines
‌Most people read the headlines of ads, so make sure yours communicates a strong call to action (CTA) in just a few words. If you're building a fundraising ad, emphasize the words "give" or "donate."
For instance: The nonprofit Purify H20 uses its catchy campaign title "Give Water, Give Life" as its main headline. The words are impactful, easy to remember, and quickly inform readers of the action they're taking.
Add a button to Facebook nonprofit ads to encourage immediate action
As mentioned earlier — if you're creating Call to Action ads, you'll receive an option to create a button that directs a Facebook user to a website where they can take that action. Use this tool to lead people to ways to donate or learn more about your fundraising ads. These ads can give your nonprofit a strong source of revenue.
Appeal to your supporters' emotions ‌
You're likely very emotionally invested in your nonprofit's mission — so why not help others become similarly invested through your Facebook Ads?
Offering short and powerful stories of the impact your nonprofit made on the lives of specific people is something you can do even in a brief Facebook Ad. Once Facebook users make an emotional connection with your work, they'll be much more likely to donate and support your cause.
Include images and videos
‌One of the most powerful ways your Facebook Ads can reach people is by sharing strong images of your nonprofit's work. This can be done through high-resolution photographs or video.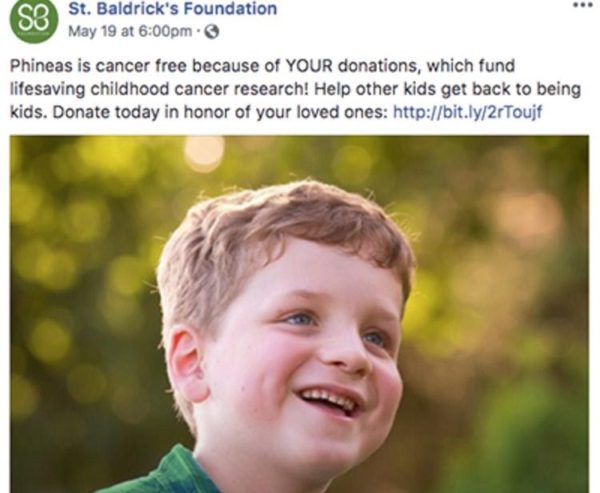 For instance: The children's cancer research charity St. Baldrick's Foundation offers Facebook ads with photos of the happy children that became cancer-free, thanks to their audience's donations. Once people see the specific ways your group improves the lives of people, animals, or entire communities — they'll be more likely to share your ad and improve your brand awareness.
Use Facebook's Ad Scheduling feature
One great way to make sure your Facebook Ads reach your target audience and stay affordable is to use Ad Scheduling. This feature on Facebook lets you schedule ads with lifetime budgets to run on a certain day and time.
You can also use Page Insights to determine when your most likely supporters and donors are most active on Facebook. Schedule your ads to run during the time your audience is most likely to convert. By constantly studying your conversion rates, you'll be able to run your ads at the optimal times and get a better return on investment (ROI) for your advertising budget.
How do you target the right audience for Facebook Ads?
You have a great cause — but it likely appeals to a select group of people. Don't waste money by advertising your cause to audiences who aren't interested in supporting or donating. Facebook ads for nonprofits should target people who can become future supporters and donors.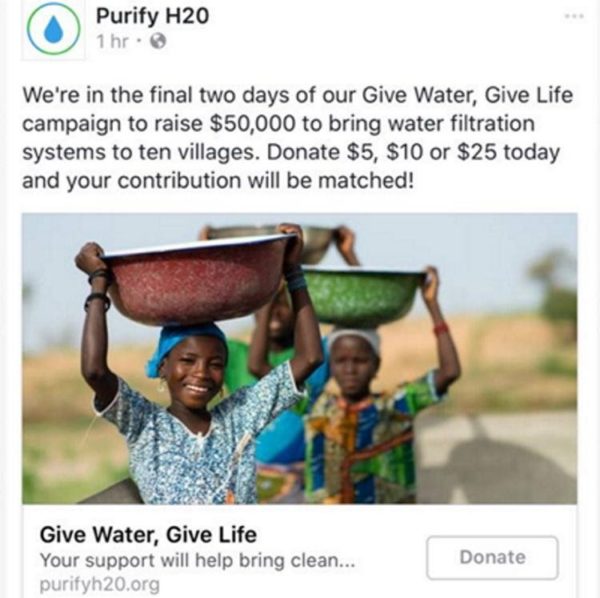 To create effective targeted ad campaigns, you first need to know your audience. Take a close look at your current donors and supporters and see what drives them to back your mission. Ask yourself:
How old do they tend to be?
What common interests do they have — and how do those interests relate to your nonprofit organization?
Where do they come from?
‌Take note of the Facebook posts that receive a lot of likes and shares within your current network. What type of impact stories do they respond to the most? Determine if they prefer to read stories, study statistics, or watch video clips. All of this information will affect the type of ads you run and the type of people you aim those ads towards.
If your Facebook Ads fall into a Special Ad Category, you may be limited by how you target certain audiences. However, you can still use Facebook tools to connect your nonprofit social media advertising with your desired demographic. The more you know about how your supporters — and people like them — engage with social media and respond to different types of ads, the more effective your ad campaign will be.
To create highly successful ad campaigns for your nonprofit, run test campaigns to see what works best and will get you the most for your budget. Facebook allows you to create separate campaigns for different types of ads, time zones, and demographics. By studying how well each campaign converts different audiences, you'll know which type of Facebook ad campaign fits your nonprofit the best.
How can you simplify using Facebook Ads for nonprofits?
Facebook Ads for nonprofits give your organization a chance to share your mission with millions of people. You get the opportunity to convert many of them into volunteers, donors, and promoters for your cause. Done correctly, this form of social media advertising is a highly effective way for nonprofits to enjoy an excellent return on investment for a small budget.

However, studying audience demographics and creating good Facebook Ads is a process that requires good organization. Constant Contact offers a built-in Facebook Ads tool that helps simplify the process for nonprofits interested in using social media as part of their digital marketing strategy. We also offer a free nonprofit marketing guide: The Download. By learning about all the tools and resources available to you, you'll be able to construct a Facebook marketing campaign quickly and more easily.

Share with your network