It's known by development directors throughout the nation as, "the ask" — and it's as simple and excruciating as that. In order to get donations from both big and small donors, you must know who to ask, when to ask, and how to ask.
Understanding the art of asking for donations isn't easy. It takes time and strategy to be successful, both in "the ask" itself and your mission's ability to make your community a better place.
Luckily, there are plenty of best practices and examples of how to ask for donations that you can follow. This guide will outline tips for language, timing, and tone that can help you connect with:
Individuals
Corporations
Foundations
The first step for all of these audiences is a clear understanding of your organization's mission and measurable impact. You can't rely solely on emotions — although tugging at heartstrings can often loosen purse strings. Be prepared with numbers that prove your impact as well as emotionally moving success stories about those you serve.
Keep your organization growing with expert advice and all the tools you need, all in one place.
Asking for donations from individuals
You likely already know that many people choose to donate to charities because they can receive tax write-offs, but that's not the most common reason people give to nonprofits. Individuals are most likely to donate because they want to contribute to a cause that is meaningful to them and makes a difference in their community.
However, rarely are people completely selfless. They consider donations to charity because it makes them feel good. It's your job to connect that good feeling with your nonprofit. This can be done in a variety of ways.
In-person meetings
For major gifts and planned giving, it's best to meet one-on-one with an individual. This intimate interaction, perhaps over lunch, allows you to get an in-depth feel for their desires and interests. But you can't just jump into asking for donations. Practice following the three Rs:
1. Research
Before you meet with an individual, you need to have a good idea why they would want to donate to your cause. Do your research to find a direct connection to your mission and their lives, be it their family members or their own past experiences.
You should also know an appropriate amount to ask for. What is pocket change to some people is a fortune to others. Research their giving history along with their pet causes before suggesting a donation amount.
2. Relationship
It's unlikely that you'll succeed in asking for a large donation the first time you meet someone. In fact, you shouldn't even bring up donations at first. Take your time and cultivate a strong relationship with the prospective donor. Invite them for a tour of your facilities. Introduce them to people who have benefited from your work. Show them the impact they'll make by donating to your organization.
3. Refine
Your pitch should not be a one-size-fits-all approach. By the time you make "the ask," you should know exactly what your prospect cares about. Ask them for a specific amount that can fund a campaign or project they can see and be invested in. Think about how you can connect that good feeling to your organization. Would they like their name on a new building? Refine your request just for them.
Mail
Direct mail is the most traditional approach to fundraising. "Snail mail" is not a thing of the past! In fact, because most people communicate electronically, you have the opportunity to stand out. Follow these tips from the best sample letters asking for donations.
1. Time your letter right
Most people don't think about those tax breaks until the end of the year. If you're planning to send an annual appeal letter, December is the time to do it. The holidays remind people to be more generous, so they'll be more likely to send your organization a check.
2. Personalize your message
Always start your letter with a personalized greeting and write from the first-person perspective. As a communications director for a nonprofit, I served as the ghostwriter for the executive director. She would sign the bottom of every letter — even if it was an electronic image that I'd add along with other high-resolution photos within the body of the letter.
3. Tell a compelling story
When I worked for a nonprofit after-school program, I got to know some of the kids who came from challenging home environments and were at greater risk of dropping out of school and getting into trouble. In every letter, I shared one of their stories. After I'd share relatable details (we were all young once), I'd make a specific request for donations to be sent back with a return envelope.
Don't forget the P.S.! Studies show adding an extra line can make a big difference.
Phone
Scheduling a phone-a-thon can be another, contact-free method of asking for donations, and you can get volunteers to help. Volunteers should have a personal story to tell about why they consider your mission so important. Help them create a script to use that sounds natural and unique.
When asking for donations over the phone, be sure to give a clear reason why the person should give. Have a fundraising goal amount or a specific campaign, so your prospect knows you're not going to be continually calling.
Social media
A common mistake that many development professionals make is always asking for donations. When using social media, make sure the majority of your posts are informative and fun.
For times like #GivingTuesday, you can use Facebook and other social media platforms to request donations directly. A better method is to add a donation tab to your page. Encourage your followers to hold fundraisers for your charity on their birthdays.
Email
Think of your email marketing campaigns like your social media and direct mail combined. Part of your outreach efforts should be educational, showing your stakeholders the impact that you're making.
Once your audience is accustomed to seeing feel-good content with plenty of high-resolution photos and success stories, you can send a donation request email. Be sure to:
Start with a bold subject line, such as "Help us save a dog's life today!"
Make "the ask" early on. Explain exactly why they should donate.
Give a timeline for donations. Your campaign should last no more than a few weeks.
Provide a link to your website's donation page.
Send thank you emails to those who donate, and retarget your ask a second time to people who didn't.
Ensure your email template is mobile-responsive so recipients can open it on a mobile device.
Asking corporations and foundations to donate
Corporations and foundations are other important sources for donations, but it's often a completely different process. These organizations usually have grant programs which you can find by searching their websites. There are usually forms you must fill out before specific deadlines to apply for this type of grant.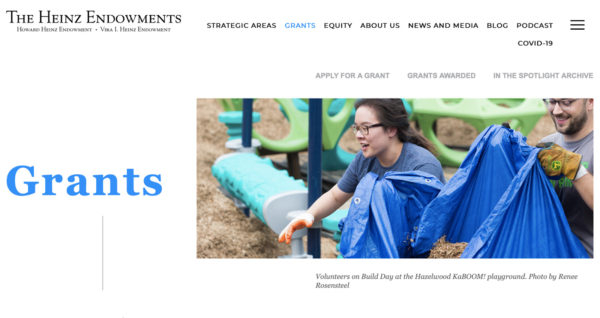 The motivation for these donations is largely the same as with individuals. Businesses like to use charitable donations for feel-good marketing efforts. Follow the same steps to be successful in asking for donations from a foundation or business:
Do your research as to why your mission is a good fit for their interests.
Answer all questions fully with clear, engaging writing.
Follow up — if you don't receive the grant, ask why.
Whether you're asking for donations from a person, corporation, or foundation representative, stay authentic and honest, and you'll be more prepared for an even bigger "ask" down the road.
WATCH: How to drive results for your nonprofit with online marketing
Watch this on-demand webinar to see how Constant Contact makes it easy to inform and engage community members, grow, and drive fundraising efforts – with all the marketing tools you need in one place.
From email to automation, websites, social, integrations with other tools you're using, and more. In this free, one-hour webinar, you'll get an overview of the tools that Constant Contact offers and see how you can drive results with online marketing.
Ready to learn how to further strengthen your nonprofit's reputation?
Now that you know how to ask for donations from individuals, corporations, and foundations, it's time to further strengthen your nonprofit's reputation with a strong online marketing strategy.

Digital marketing tools can play a big role in helping nonprofits gain the trust and respect of even the most distinguished community members. The most skillful organizations translate a great reputation into donations by ensuring their requests hit all the right notes.

To learn more about building your organization's digital presence, check out The Download. This free guide is designed to help your nonprofit get more donations and make a bigger difference for those in need.

Share with your network