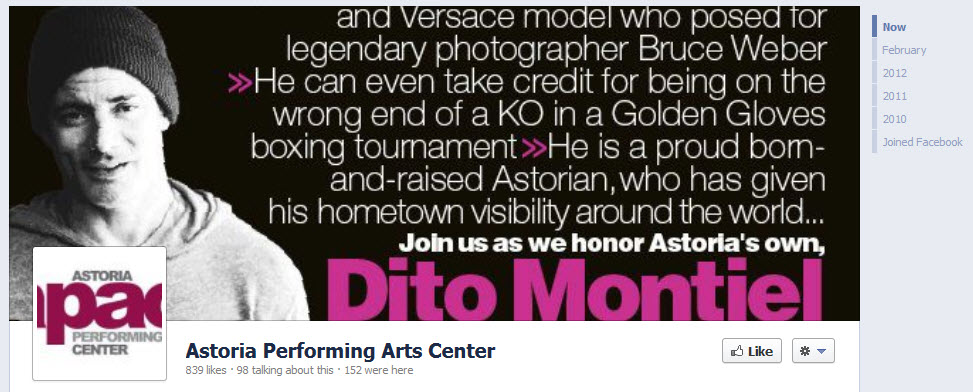 Like it or not, Facebook Timeline for Pages is here.
As of today, all Pages will be converting to Timeline. If you haven't prepared for the change, there's no better time than now to learn your way around.
And hey, maybe after seeing how cool it actually is, you'll find it more appealing than you did at first.
After all, Timeline does encourage Page managers (often called "admins") to think more about creating engaging content, and the Page itself is also more visually engaging. This could mean good things for Pages considering 96% of people never return to a Page once they "Like" it.
So let's dissect this thing, shall we?
A new easy access admin panel
When you log in to your Page, you'll see the Admin Panel in the top section so you can access all of your key insights from the top of your Page. You can easily hide the Admin Panel by clicking the hide button.
On the top-right-hand side there are drop-down menus that allow you to access more admin features. We'll look closer at those in a minute.
You'll also have quick access to Notifications for your Page, Messages (this is a newer feature that allows all Facebook users to message your Page. If you'd rather turn this off you can in the admin settings), New "Likes," Insights, and Page Tips.
Now what's in the drop-down menus? Let's take a look …
Manage
Build Audience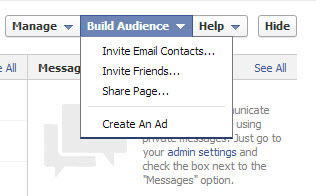 Help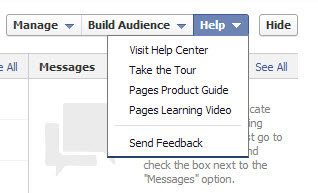 Facebook is really encouraging admins to review the engagement happening around their Page by putting the Admin Panel front and center.
Now let's take a look at what the people who "Like" your Page will see.
The beauty of Cover Photo
The large image at the top of your Page is what Facebook calls the Cover Photo. This image lets you show off the look and feel of your brand on your Page. The dimensions of the Cover Photo are 851 pixels by 315 pixels (that's 11.35 by 4.2 inches.)
Be warned, though. Facebook has some specific terms about what can and cannot be in your Cover Photo.
Covers can't be deceptive, misleading, or infringe on anyone else's copyright. You may not encourage people to upload your cover to their personal timelines.

Covers may not include:

i.    price or purchase information, such as "40% off" or "Download it on socialmusic.com";
ii.    contact information such as a website address, email, mailing address, or information that should go in your Page's "About" section;
iii.    references to Facebook features or actions, such as "Like" or "Share" or an arrow pointing from the cover photo to any of these features; or
iv.    calls to action, such as "Get it now" or "Tell your friends."
To the right of your Cover Photo, users can click to jump to updates from a specific year and month. The timeline also stays in this location as the users scroll down your Page.
Page info and buttons
Just below the Cover photo you'll find all the info regarding your Page.
1. Page profile image. This is the image people see when you post updates.
2. Page name and info. The info includes the number of "Likes," the number of people talking about the Page, and if it's a place, the number of people who were there.
3. "Like" Button. In this section on the right-hand side is where users will find the button to "Like" your Page.
4. Message Button. This button allows users to send private messages to your Page. You can turn it off in the admin settings.
5. Gear Button. In this button you'll find the following:
About your business and Page tabs
In the next area of Timeline you'll see the About description, or if your Page is set up as a local business, like above, you'll see the pertinent information about your business.
To the right are your Page's featured tabs. The first tab is always Photos and the image shown changes as you upload new photos. Keep this in mind if you want people to see a particular image here.
You get to choose the order and which three tabs are visible next. You can also select the images and the text that displays for those tabs. This is prime real estate, so be sure to have tabs here that serve your current Facebook marketing goals.
Find out more about how to manage your Timeline tabs and applications on the Social Media Quickstarter.
How you and other users can view your Page posts
By default, the posts people see on your Page is set to highlights. By clicking on the button people can choose to filter posts by Friend Activity, Posts by Page, and Posts by Others. Note that Highlights and Friend Activity serve up posts based on how a user's friends have engaged with your Page.
Don't worry, you'll still have some control over what people see in the posts section. More on that in a moment.
Status update box
Next up is the status update box in the left-hand column. This is the same update box as before, but now you'll be able to add Milestones about your business. For example, you could enter when your business or organization was founded, when you published a book, and any other noteworthy events. These events will be highlighted and you'll be able to add pictures and more details about each milestone.
Pinned post
Directly below the status update box is where a post you want to highlight resides. This will be the first status people who scroll down your Page will see. This is called "pinning" a post. Find out how to pin a post in Timeline.
Navigation and Status bar
As you scroll further down the Page, the navigation and status bar appears at the top. From this bar users can return to the top of the Page by clicking on the name. The next menu item allows users to move to different tabs. The third tab lets you jump to different time periods on the Timeline. The fourth tab filters post as mentioned above.
To the right of the navigation menus there is also a place with the status update options.
Things you can do with a post
When you hover over the top-right of any post you'll see a star icon and a pencil. Click the pencil to bring up a menu of options that allows you to pin the post, change the date, add a location, hide the update from the Page, delete, or mark it as spam.
The star icon allows you to highlight a post on your Timeline. This means the post will span across both columns. Use this option to call attention to important posts.
As you scroll down your Timeline, you can also add a new post in that period of time by clicking on the center line. You'll see your cursor change to a plus symbol.
And that's Facebook Timeline from top to bottom
I know you may be frustrated with yet another change. We truly do believe this is a good change for Pages. Timeline proves the importance of creating and sharing engaging content that captures the attention of your audience.
Rest assured, we'll be here to help you make sense of it all.
What do you have planned for your new Timeline? Tell us in the comments section below.