If you own a small business that relies on the holiday season, you know that the next few months are going to be a very busy time for you and your staff.
With so much riding on the next few months, you can't let anything stand in the way of getting things done.
To help you make the most of this important time of year, we created a number of customizable holiday templates that you can use to get your email campaigns out the door.
Here's a look at all of our holiday templates:
Kick off the shopping season with our "Black Friday" templates
While you may think of Black Friday as a shopping day for the "Big Guys," there's no reason small businesses can't get in on the action as well.
One recent study found that more than 70 percent of consumers plan to participate in Black Friday (November 29). You can attract customers to your store with a great offer or a special promotion of your own.
These templates will make it easy to promote your offer: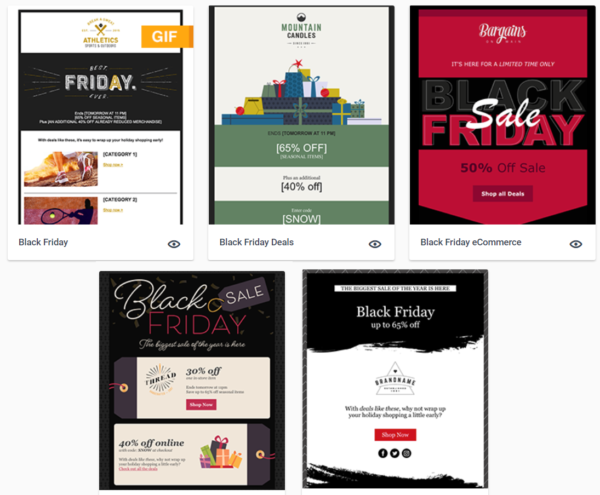 Encourage people to "shop small" on Small Business Saturday
Last year, consumers spent an estimated $19.6 billion at locally-owned stores and restaurants across the U.S. on Small Business Saturday.
This year, millions of consumers are expected to participate in this important shopping day.
With so many consumers looking to discover new businesses, you'll need a plan to get them through your door and a strategy to bring them back throughout the rest of the year.
We created templates to help you do both.
Consider using this template to promote your Small Business Saturday offer.
Don't forget to include information about your hours and location.
During the big day, make sure you're taking steps to grow your email list. Put out a paper sign-up sheet (print one here), and let people know what they can expect from signing up. You can also try some of Constant Contact's mobile tools to make adding new contacts even easier. If you have a tablet, download our ListBuilder app and collect contact information while your customers are checking out. Or use text-to-join and add your exclusive code to your Small Business Saturday signage.
When the big day is finally over, send out a thank you email with information about your plans for the rest of the holiday season.
This is a great opportunity to promote any other offers you have planned or highlight any special services you have available (free shipping, complimentary wrapping, etc.)
Bring things online for Cyber Monday
For business owners who don't know, Cyber Monday is the Monday following Thanksgiving. It's the day where consumers do a majority of their shopping online.
But you don't have to be a big-name online retailer to participate in Cyber Monday. If you have an e-commerce side to your business, you can come up with an offer of your own and promote it to your list of email contacts.
Here are our "Cyber Monday" email templates: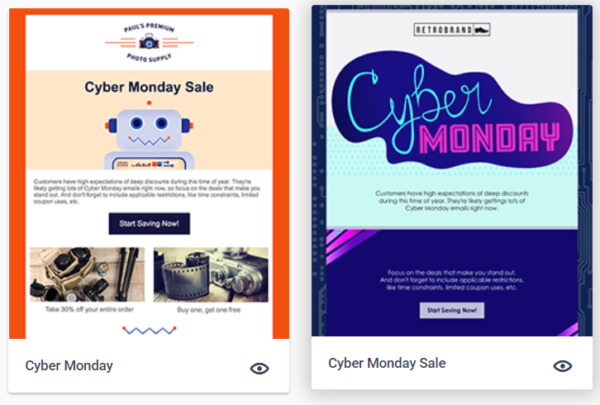 Even if you don't have an e-commerce business, there are ways that you can take advantage of this busy shopping day. One of the best ways is to create an offer that can be purchased online and redeemed in-store.
If you own a retail store or restaurant, you may want to run a local deal offering a discount on gift certificates.
Don't procrastinate
Now that you know what to do, and where to find the templates that will make your email campaigns easier, login to your Constant Contact account and start creating your marketing campaigns today — and schedule them to send later.
Tip: Marketing works best if you use multiple outlets and platforms. Include your social media platforms in your marketing plan this holiday season.