"What every business owner seems to miss is that the most important part of a business is marketing."
– Grant Cardone on Discovery's Undercover Billionaire
Marketing advice is important, especially these days where information is plentiful and reaching your customers digitally is vital. No matter if you are just starting your company or if you're experienced in business, there are many factors to consider when seeking marketing advice to get closer towards your goals.
So let us help you. In this article, I'll show you the best way to approach getting marketing advice that actually helps drive results for your business.
In this article, we'll go over what to look for when seeking out marketing advice, types of marketing advice to start with including online and offline resources, and how to determine the best option for your business.
What to look for when seeking out marketing advice
Since marketing can mean many things to different people, ask yourself first what's your ultimate goal? Some common business goals are:
Increasing revenue or leads
Gaining visibility amongst your target audience/community
Staying top of mind with your customers
Maximizing your return on investment
Getting more donations (For nonprofits)
Once your goals are established, even though you have a vision for a business or a product, you may not necessarily know how to get there. It's great to start small and build with that end vision in mind. Other times, it may be helpful to have a second opinion on your framework and how to get to your ultimate destination. If this is the case, stay tuned — we will be covering this later.
When you are going through this process of determining your marketing plan, it's important to keep in mind that marketing is constantly changing. There are many new ways to access customers and your best path forward can change based on whom you talk to.
It's important to know your audience because it can help determine your direction based on the advice you are given. For example, for a BBQ restaurant, the audience is typically local, as this type of business is focused on providing food to the local community. A product like food is universal so you can find your customers everywhere.
If your product or service isn't as universal, it's especially important to identify which channels (i.e. email, websites or social media) are going to be the most likely place where you can reach your audience. Some additional factors that can define your audience are age demographics, primary device (i.e. mobile or desktop), and how frequently they might buy your product. Based on understanding your target audience, you can better seek marketing advice that will be relevant to your marketing goals.
When seeking out marketing advice from individuals, the more questions you can prepare ahead of time, the better. This allows the person that you are working with to pinpoint exactly what you need a lot faster, and provide the best possible recommendations. Additional questions can come up in real-time, but having those topics that you want to cover prepared will help you get the most out of your marketing advice session.
Some example questions to ask when seeking marketing advice
In addition, there are so many resources online, so let's go through a few of them to get you started including the format you prefer and your learning style.
Types of marketing advice
Marketing advice blogs
With so much information available online these days, you are bound to find a few sources that you like. Keep in mind of the source that the article is coming from so you know the information is going to be helpful based on their reputation and they can cater towards your business needs.
Constant Contact's marketing blog covers many different topics including industry-specific information so you can get marketing advice specific to your type of business. In addition to finding advice specific to your industry, you can find advice based on specific categories of marketing using the dropdown menu at the top of our blog. For example, if you are focused on how your email blasts are doing, you might find this post on measuring your email marketing success helpful.
Digital marketing guides
Along the same lines as blogs, there are many different sources for guides available in just a few clicks. Just like with blogs, it's important to understand the source of the guide, as it can be from larger established organizations or smaller newer organizations.
If you prefer not to scour the internet our free guide is called The Download: Making Sense of Online Marketing. This covers everything from digital marketing aspects like appearing in search results to best practices with social media and much more. This is a great option if you prefer learning from A-Z, almost like taking a mini-course in digital marketing.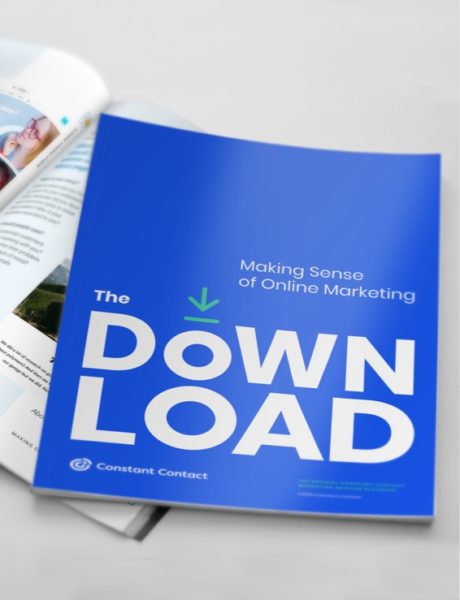 Not sure where to start with marketing? That's why we created The Download.
The Download is the ultimate practical, step-by-step guide to online marketing. In this free guide, we'll show you how people find you online and how to set yourself up for success to meet your business or nonprofit goals.
Social media networking groups
If you are familiar with social media, there are over 15,000 LinkedIn and Facebook groups where you can interact with other marketers to identify any changes or practices that they are gaining success with. If you find great advice in these groups, you can gain more by accessing the poster's profile or their previous posts to gain an idea of their background and why they might be making a recommendation based on it.
This is such a neat way of going about this because there are so many potential relationships with just a few clicks. Other small business owners and marketers in these groups can help you and you can help them.
Just keep in mind that the advice you are seeking may not be gathered most efficiently through this channel because while you do have lots of options of people to connect with, they may not be the most appropriate people for your business. For example, they could be less experienced, not in a capacity to give extensive knowledge, or they could operate in a different industry.
National and local business and marketing organizations
There are many nonprofit marketing organizations including American Marketing Association which can help you learn how to effectively market your business.
Most metro areas have a chapter for finding local individuals. This approach is similar to social media, where you do get access to many more people than you were anticipating to address a specific challenge initially.
Think of it like this: You will come into contact with several people, but what you are looking for in terms of advice/guidance may take longer than using a specific source or service. You'll still need to sift through different advice to find what works best for your unique business.
Keep an eye out for your local Chamber of Commerce, which can still be a source for people researching products and services in their local area.
Also, SCORE provides complimentary mentoring for your business. They have an extensive network and are available to meet in various capacities including virtual sessions. 
Personal marketing advice and support
The sources mentioned above may fit what you are looking for, but you may prefer a more dedicated and personalized approach — someone who can work with you individually to get the results you are looking for.
Finding a professional marketing consultant to provide marketing advice to your business is a great first step to consider. If you can, identify someone who has been in your industry or has experience marketing in your industry that's going to give you a specific focus to work from.
One option we offer at Constant Contact is in-house Marketing Advisors ready to help you get going in the right direction. These Marketing Advisors are ready to provide guidance in a 60-minute format each month. You'll be matched with an experienced Marketing Advisor that knows your specific industry, so you'll get the advice and guidance that's going to help you the most. For example, if you are in Real Estate, they will cater your program to the world of Real Estate! For more information, check out our article on what it's like to work with a Marketing Advisor.
These Marketing Advisors combine the knowledge of your Constant Contact account but also overall marketing knowledge applied to your specific business. One drawback would be you have a busy schedule and you'd like to learn at your own pace versus having to schedule calls. But if you could use one-on-one support and guidance, a Marketing Advisor might be the best option for you!
Beyond just marketing advice: When it's time to have someone do your marketing for you.
You might be saying to yourself as you read these options, I don't have much time to give to research and/or learn more about marketing yet it's still vital to my business.
If this is the case, Constant Contact knows that your time is limited so there are services that can essentially hire Constant Contact to do these practices for you. This would be similar to the Marketing Advisor Program mentioned above, but where we would take things a step further and actually execute your marketing plan for you. Based on your needs, we might create a campaign based on your specific guidelines and send your campaign to your contacts.
For more information on our "do it for me" services, check out our professional marketing services page.
How to determine the best way to get marketing advice for your business
Now that you know some of the options available to you when it comes to marketing advice, it's time to take action towards your goals! No matter where you are on the marketing journey, there is a resource that can help. When in doubt, give our Marketing helpline a call to get started at 1-888-IDK-MKTG. Or schedule a call with a Marketing Advisor here.