If you're wondering how to start an ecommerce business, you've come to the right place at the right time. Online selling has been in a rapid growth curve for years, and it's showing no signs of slowing down. In the first quarter of 2021, online sales grew by a whopping 39%.
What's more, starting an ecommerce business has never been easier. In the past, you had to spend months — sometimes years — building a brand with a brick-and-mortar store before getting your first sale. But now, thanks to technology and the internet, there are many ways that you can get started right away — and for just a few dollars.
If you're interested in how to start an ecommerce business but don't know where to begin, this article is for you. We'll walk you through everything from defining your brand to making your first sale so that it's easy and straightforward.
Get all the tools you need to quickly find new customers and grow your retail store's sales.
What is an ecommerce business?
An ecommerce business is a type of small or medium-sized enterprise that primarily focuses on online selling. Amazon is an example of a giant ecommerce business, but there are millions of smaller stores on the internet, started by people just like you.
Here are some examples of successful small companies that are using ecommerce to build their businesses:
Leesa: This mattress company made people rethink how to buy a mattress. As an infrequent and expensive purchase, mattresses often take a lot of online research before people choose one. Leesa turned that tendency into a profitable business.
Modcloth: Can you believe this popular online retailer got its start in the founder's dorm room?
Dollar Shave Club: This company uses a subscription model to make it easy to replace your razor regularly.
Ipsy: Who knew people would pay to receive free samples of cosmetics? Companies are thrilled to get testers into new hands, and customers love receiving little gifts from themselves in the mail each month.
When it comes to how to start an ecommerce business, there are many different ways, and the cost of starting up is extremely flexible. Some people start out with just a few dollars, by setting up a simple website with WordPress, Shopify, or Wix, and selling items from other manufacturers. Other businesses start out on a larger scale, designing and manufacturing products and hiring developers to build unique ecommerce sites.
Learning how to start an ecommerce business ‌
The foundation of your business will be your brand, product line, and target audience. You can think of these three items as the three legs of a stool — each depends to some extent on the other two, and all three have to be equally strong.
For that reason, you'll need to work on the first three steps — brand identity, target market, and product line — simultaneously, going back and forth to find the perfect blend.
Where to begin is up to you. Some businesses start with a product line in mind and then build a brand around it. Others start with the branding and then seek out products that are a good fit for their target market.
Define your brand‌
Your brand identity will set you apart from others and provide a cohesive look for all of your marketing materials. When you're looking at how to start an ecommerce business, this is a great place to begin.
Your brand identity will be most successful if it's a natural outgrowth of your personality. A quiet, buttoned-down type may not be able to breathe life into a quirky, vivacious brand and may do better with a solid, stable brand persona (think JC Penney instead of Target). On the other hand, if you have an edgy sense of humor and eclectic interests, let your unique energy shine through.
Here are some brand personality spectrums to consider:
Youth vs. maturity
Vibrant vs. peaceful
Funny vs. serious
Stable vs. fresh
Grounded vs. high-energy
Formal vs. casual
It can be helpful to think of your brand as an archetype, pet, or person. What does it look and sound like?
Your brand identity will help you choose colors, fonts, design elements like logos or illustrations, tone, and other elements of your brand's personality. Your company name and logo should encapsulate your brand.
But brand identity can also shape the word choices you use in your emails, phone messages, and marketing materials. Every interaction your customers have with your business is another opportunity to reinforce your brand identity, so refine it early and build it into your business from the ground up.
Clarify your target market
Your target market is a group of people with shared interests, values, or demographics who you expect to be interested in your products.
For example, you might be selling to college students or retirees, to city dwellers or rural folk. The more closely you can define your target market, the more effectively you can tailor your product offering and marketing message.
This means that if you're selling products for college students, you'll want to choose photos of successful college students for your ads, and if you're selling to retirees, you're better off with happy, active seniors.
The more specific you can be about your target market, the easier it is to choose appropriate marketing messages and make sure that your product offerings are relevant for them.
Keep in mind that if you buy advertising on Google or Facebook, you'll be able to identify your audience by age, income level, industry, region, education level, and interests/hobbies. Use categories like this to paint a clear picture of your market.
Some businesses go even further and create a specific customer persona. Here are some examples of customer personas:
Beth, The Outdoorsy Mama: A woman who loves outdoor adventure with her kids. She's 38, married, and works part-time from home. Her interests include hiking, yoga, and crafts. She lives in Kentucky and her household income is $72,000.
Bob, The Exhausted Entrepreneur: A man who started his own business five years ago. He's somewhat successful but hasn't been able to find the right staff to take his business to the next level. He lives in Chicago, earns $125,000 a year, and the only hobby he makes time for is trying to find the right project management software. He has a wife and two children but rarely sees them.
Your brand identity and target market should go hand in hand. For example, some consumers are attracted to brands that push boundaries and have a rebellious tone; others prefer more formal styles.
Decide what to sell
Of course, when you're thinking about how to start an ecommerce business, one of the most obvious elements is the products you will offer.
Perhaps you already have a product idea and you're building the business around that. Or maybe you're not sure what you want to sell but have a target market in mind. Either way, it's essential that you narrow down your focus before making any decisions about where the business will go.
As you create a more detailed picture of your brand persona and target market, your product ideas will evolve as well. You'll be able to see what items are in demand for your demographic and which ones will make the most sense as part of your brand.
Your decisions will also be influenced by your personal history and style. Don't hesitate to bring any experience or knowledge you have to your product line.
There are three primary sources for products: dropshipping, wholesale, and owner-created.
Dropshipping
Dropshipping is an easy way to get started. You sell the products, but the wholesaler or manufacturer ships them directly to the customer — you never touch the products. You can sell online this way without paying for a warehouse, investing in inventory, or managing any shipping.
Be aware, though, that you'll be competing with many other dropship companies for limited customer attention for the same products. Your control over quality and service is also more limited.
Wholesale
Most traditional retailers buy wholesale. This is buying items directly from the manufacturer or distributor, and then selling them to the customers.
Wholesalers offer a wide range of products in different categories that might meet your needs better than drop shipping does. You can order from a variety of wholesalers to create the perfect product line mix for your brand, with lots of opportunities to cross-sell or put together bundles that will appeal to your customers.
But wholesale also has its drawbacks: You'll need to invest in inventory, have space to store the items, and handle shipping yourself.
Owner-created
Some small ecommerce businesses are both the retailer and the manufacturer. For example, many people start an Etsy shop selling handcrafted items they create themselves. But there are other ways to sell original items as well.
You might design your products and then have them manufactured by a factory that makes similar merchandise. Some sellers create products through 3D printing.
Creating original items is generally a more expensive way to enter the ecommerce space, but it can be a good way to build a unique business that is an extension of your values and interests.
Solidify your product offerings
Keep refining your ideas about the products you want to offer. Make sure you have a cohesive product line that makes sense for your target market and your brand.
The best way to do that is by leaving out anything questionable. Don't waste one second of your site visitors' time on products that won't delight and engage them.
Try to build a collection across a variety of price points, and look for ways to cross-sell and upsell, or bundle things together into appealing packages.
Above all, make sure that you are only selling products you're excited about. Live with the products, use them, see how you feel about them when you first receive them and how you feel about them two weeks later. You'll be much more effective at marketing things you genuinely love.
Research your market
When you're learning how to start an ecommerce business, you don't want to skip this very important step.
You need to be sure that there will be demand for your products. You can do that by researching the industry to see if it's growing or stagnant and by looking at similar products your competitor offers. Is there an underserved niche open for you to operate in?
Read reviews, both on seller websites like Amazon and on independent review sites. Take note of the features users get most excited about, the ways they use the product, and their complaints. At what price point do they consider a product expensive? What needs do they have that aren't being met by the products on the market currently?
Next, take a look at your competitors to see if there is room in the market for you. Are they growing and doing well, or do they seem to be struggling? Are they asking for full price for their products or offering steep discounts? How is each competitor positioned in terms of its pricing, unique features, and target market?
All of this helps you figure out how to start an ecommerce business that stands out in the market.
Test your product ideas
To find out how the market will receive your brand and products, you'll want to do some testing. This is especially important if you're creating original products.
One affordable way to get great feedback is to take out a booth at an event that will attract your target market, like an industry convention, health fair, parenting fair, bridal show, or home show. Decorate your booth with as much brand personality as you can, set out your products, and wait. When people come to your booth with a friend or partner, stay silent. Listen to their conversations and you'll learn a lot about how they react to your products, your brand, and your price point. If someone comes to the booth alone, chat with them. Don't try to sell them anything, just discuss your products.
You can also do research in relevant groups on Facebook, Reddit, or Quora. Be straightforward about what you want, and ask people to give you honest feedback. Would they buy this product? Why or why not?
Marketing agencies can help you set up more formal focus groups, if you think that will help more.
Make a business plan
Often, the goal of a business plan is to provide investors or bankers with enough details to convince them to fund your company. However, even if you're not talking with a bank or investor about starting your own business, it's a good idea to create a business plan.
A business plan will identify your products and processes, determine the cost of the initial launch, and forecast ongoing expenses.
Your ecommerce business plan should have the following sections:
Company description
Structure (sole proprietorship, partnership, LLC, corporation)
Your key team members
Goals and objectives
Startup costs (equipment, software, etc.)
Marketing strategy (who is your target market, how will you reach them, and how much will that cost)
Operations plan (include details about your inventory, distribution channels, how you'll handle shipping)
Financial projections (project your income and expenses for the first year)
Projecting income and expenses can be overwhelming for new entrepreneurs. It helps to remember that everyone is only guessing when they put these estimates together. The important thing is that you spend the time to really think through all the potential issues.
When you're done, you'll have a clear plan for what to do next. Building your ecommerce business plan gives you a strong base for launching your business.
Create your website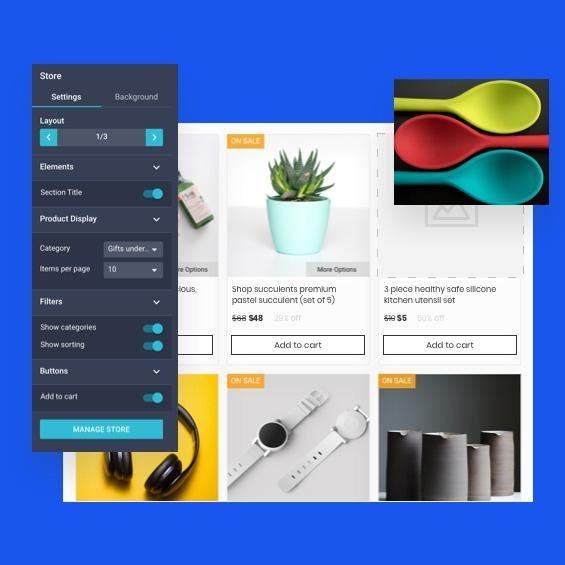 Finally, it's time to create your business's home on the web. The good news is that it doesn't have to be expensive or time-consuming. There are plenty of solutions out there for how to start an ecommerce business with a professional-looking website, even if you have little technical expertise.
Popular ecommerce site builders give you templates that you can modify and fill to create your site. They will also help you calculate sales tax and shipping costs, and some have inventory features as well.
If you're working with a dropshipper or wholesaler, they can provide you with high-quality photography for your site. Otherwise, you should put some effort into taking really beautiful photos before you start site-building.
As you create your site, focus on making it reflect your brand persona. You want your website to make a good first impression to people checking out your store.
The content should be organized in three main sections:
Your products (what you sell)
How to buy from you (order process, shipping info)
Questions about your company (contact info, refund policy)
Ask friends, relatives, or hired research subjects to test the site for you. Give them specific jobs to complete, like finding a specific product or checking out as a guest, and see which aspects of your site navigation slow them down or confuse them.
Don't forget to look at the options your site builder offers for acknowledgment emails, receipts, and other settings.
Market your site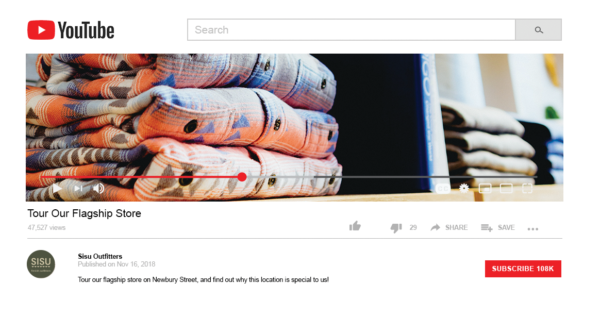 When your site is tested and ready, it's time to start marketing. One of the best places to begin is with Google ads. Google lets you pay per click, which means you only pay for ads that get responses. You can specify your audience by demographics, interest, and intent.
Some of the ad types that are effective for ecommerce include:
Display ads: Show up on websites related to your products or market
Search ads: Your text-based ads will appear at the top of the search engine results page for the keywords you choose
Video ads: Play your commercials when people are watching Youtube clips
Remarketing ads: After someone has visited your site, they see the products they were browsing in ads on other sites
You set a budget and a top bid that you're willing to pay every time someone clicks through to your site. If other advertisers have set higher bids than yours, their ads will appear first. When you set up your campaign, Google will suggest bid amounts for you based on the keywords you choose. When your budget runs out, your ads simply stop appearing until the next billing cycle begins.
Constant Contact has video tutorials that can help you set up your Google ads simply and easily.
You can also bring traffic to your site through social media posts, ads on social media, posts in groups, email campaigns, and organic search traffic from SEO.
Make your first sale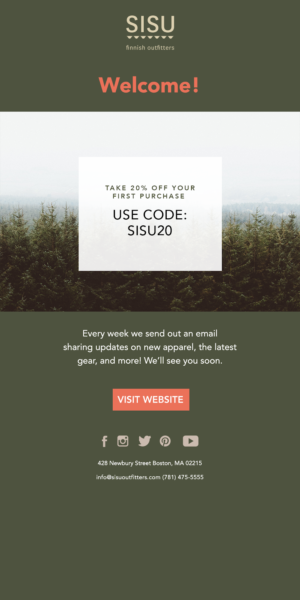 Selling your very first product is exciting. If you're not working with a dropshipper, package the item carefully and ship it out quickly.
This is a good time to look back through your settings and make sure that the customer was sent a receipt and/or thank-you email letting them know what to expect.
Set up an automation series that welcomes your new customer and tells them where to go for any help or support they need. Your automation might also follow up with them after they've received the product to ask if they have any questions and invite them to leave a review.
Alternatively, you could set up a survey to ask for your customers' feedback about your products and website.
Then, stay in touch with regular emails that offer extra value, like discounts, industry news, or helpful tips.
After the first sale
Once you've made your first sale, you've officially learned how to start an ecommerce business.
Now, you'll need to focus on integrating your ecommerce platform with bookkeeping software like Quickbooks or Wave so you can track your profits, understand your expenses, and pay your taxes.
FAQs about how to start an ecommerce business
Now that I've given you the "how-to" of how to start an ecommerce business, you likely have a few more lingering questions. So, here are the answers to the most frequently asked questions when starting a new ecommerce business:
How much does it cost to start an ecommerce business?
The costs are up to the seller. It's possible to set up a dropshipping site on a popular ecommerce platform for just a few dollars a month, but some sellers also invest thousands of dollars in inventory and hire developers to create custom sites before they launch.
What is the best ecommerce business to start?‌
Online courses, training, and coaching are very profitable because they don't require a big investment in inventory. For physical products, clothing, beauty supplies, and electronics are always popular.
What skills do you need to start an ecommerce business?
You need a good grasp of marketing concepts, especially digital marketing. It's also very helpful to understand accounting principles so you can track your expenses and price your products properly.
Surprisingly, you don't really need web development skills, since most platforms are designed for users without that background.
Getting Started
Now you have a complete playbook about how to start an ecommerce business and make your first sale, and you're ready to begin.

Start by sketching out your brand identity, target market, and product line, and keep ironing out the details until those three pieces fit together seamlessly.

Refining your product line, brand identity, target market, and advertising is an ongoing process that will continue to evolve while you manage your business. Check out our retail marketing guide, The Download, for more on digital marketing for online sellers.

Share with your network