As the weather gets cooler, the days get shorter, and anticipation of the holidays starts to loom, you may be thinking of ways to get ahead before the new season sets in.
When it comes to your marketing content, there are simple steps you can take now to drive results in the fall and set yourself up for success in the months ahead.
And the best part is, these steps won't get in the way of all the important work you're already involved in.
Ready to fill your fall content calendar? Here are eight steps you can take:
1. Create a schedule
The best way to overcome your content challenges is to come up with a plan that works for you.
Follow through with your social media plans this fall by creating a content calendar and sticking with it. Don't overestimate the amount of time and energy you will be able to dedicate to your content schedule. Be realistic.
You can accomplish a lot by simply being consistent. Having a schedule is only half the battle; following through with it is something completely different.
Here are two helpful resources to get the ball rolling:
2. Find your inspiration
If you're not excited about the content you're creating, it's unlikely that the people seeing it will be inspired to take action.
The good news is that there are tons of sources of content inspiration that you can tap into throughout the fall months.
Check out the cheat sheet below for tons of new content ideas: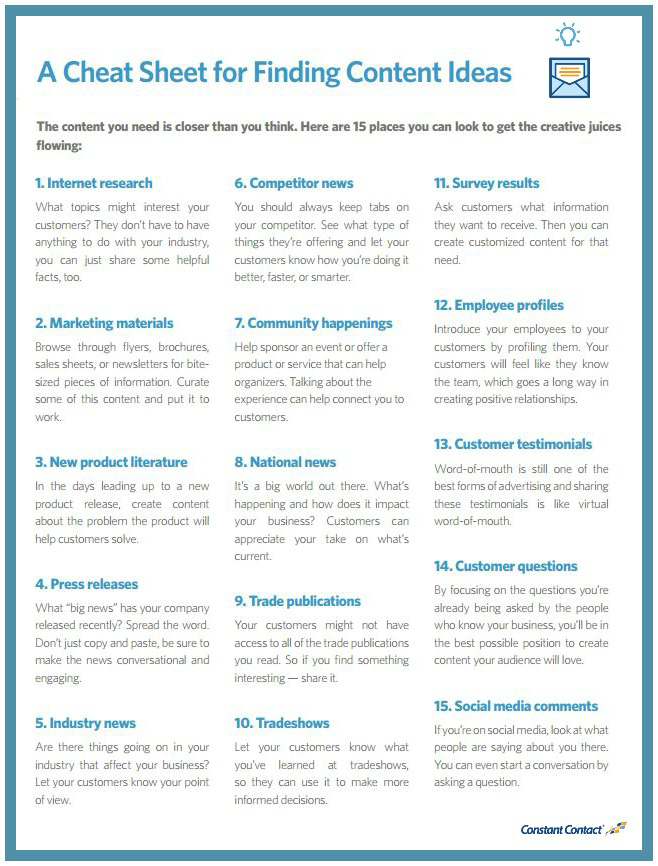 3. Tap into seasonal topics and traditions
Depending on where your business is located, there are a number of fall activities that your audience can relate to.
Look for opportunities to use these seasonal topics and traditions to engage your audience in a timely and relevant way. This can humanize your business and help customers connect with you in a whole new way.
Here are a few ideas to get you started:
Fall activities. The new season means new colors, activities, weather, and foods. Create content inspired by things that make this season special to you.
Football. Although it's been put on hold this year, that doesn't mean you have to lose your spirit. For generations of American households, fall weekends have centered around high school, college, or professional football games. To keep that spirit alive, share your best tailgating recipes or 'touchdown-worthy' tip for making the most of your weekend.
Shopping. A lot of shopping takes place in the fall — from back-to-school shopping, to shopping for Halloween candy and costumes, to the biggest shopping days for the holidays. Offer your fans and followers content that helps with fall budgeting, smart ways to shop, or ways to save money with DIY projects.
4. Repurpose existing assets
Don't forget that everything you share on social media or in your email newsletter doesn't need to be brand new.
By repurposing the great content you already have and delivering it in new ways, you can get more out of the content you've already created. Not only will you save time, but it can help create brand consistency, build authority, and raise awareness in a whole new way.
Here's a tip on how to create engaging content.
5. Share someone else's content
Chances are you already have places you look to find entertaining and informative content online.
When you find something that you think your audience will also be interested in, don't be afraid to share it! This is a simple way to fill your content calendar, and can also help position your business as a source of valuable information.
Here are some helpful tips for sharing other people's content.
6. Build holiday buzz early
The holidays may seem far off now, but they'll be here before you know it.
With your social media calendar planned in advance and ready to execute, you can scratch one of your biggest marketing responsibilities off your to-do list and focus on your other holiday marketing plans.
Aside from the usual rush around the big traditional holidays, don't forget the big shopping days that kick off the season:
Black Friday – November 27th
Small Business Saturday – November 28th
Cyber Monday – November 30th
Talking about Black Friday or Small Business Saturday — rather than specific holidays — in September or October is a great way to start getting your customers ready for the season.
7. Look at the calendar
Beyond the big holidays in November and December, there are a ton of lesser-known days that happen during the fall months. Here are some you should be aware of: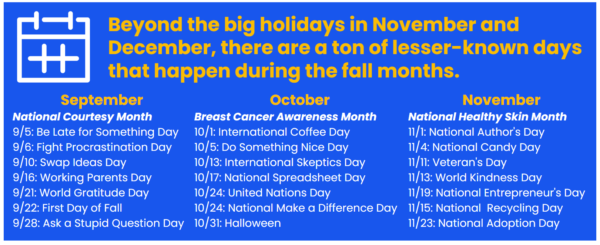 To explore other holidays that may be more relevant to your business, check out Days of the Year or Holiday Insights — two of my favorite resources.
8. Challenge yourself
Okay, you've outlined a schedule and found the ideas and inspiration you need to fill your content calendar, now it's time to challenge yourself to make sure you actually see things through.
Need help? Try our 30-day social media content challenge. This is a fun way to challenge yourself to create new content on a regular basis. Or set up your own challenge to make sure you see things through.
Looking to streamline your online marketing ever further? Check out our free guide to online marketing, The Download!
Ready to get started?
Don't wait to start planning for the months ahead. Before you know it, the seasons will be changing again and the holidays will be here!
With these 8 tips in mind, filling up your fall content will be a breeze!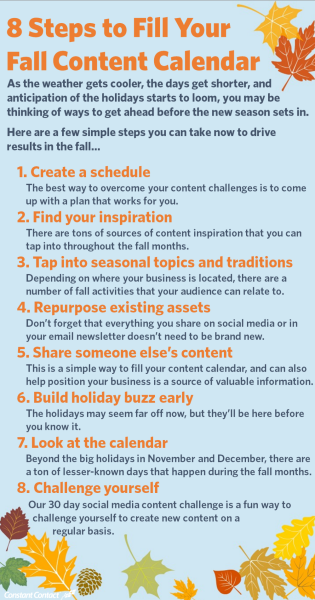 Put these tips to work today. Log in to your Constant Contact account to get started!
Editor's Note: Originally posted in 2014, this article has been updated for relevance and accuracy.
Share with your network