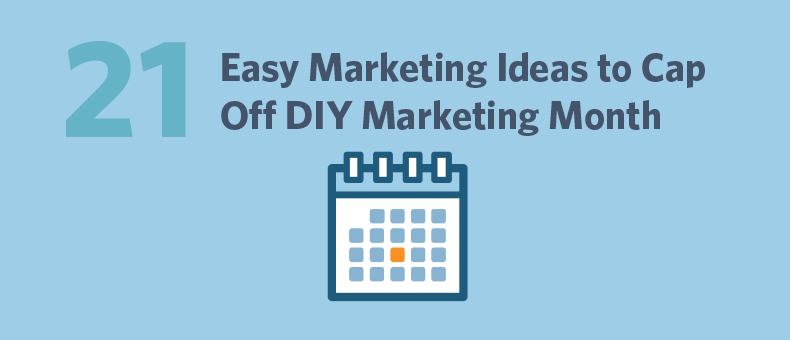 June has been DIY (do it yourself) marketing month.
I know, for many small business owners, every month is DIY marketing month. I highlighted what a few small businesses were doing a couple of weeks ago.
But before June totally fades from our memory, let me share with you some ideas that I've been collecting throughout the month.
Take a few that look good and put them on the top of your "to-do" list or pull in one of your best employees to get the job done.
1. Get yourself on a local radio show.
A friend with a money-saving-tips blog did a regular 15-minute call-in spot on a local radio talk show. Find this kind of opportunity in your community.
2. Create multi-use content.
When you do a blog, massage it into different formats for wider distribution — shorten for Twitter, give it a newspaper style for a press release (don't forget to send to local publications), and translate into an infographic whenever possible.
3. Help a Reporter Out.
Register as a source on Help a Reporter Out (HARO) and volunteer information when requests match your expertise.
4. Join forums related to your business.
Follow discussions and post useful information.
Be sure to format your forum "signature" to promote your business. (See next item.)
5. Create an email and forum signature that links to your website and/or social media pages.
Use comments to promote your business when relevant.
6. Redouble your keyword efforts.
Take another look at your keywords. Use Übersuggest to find long-tail keywords.
7. Spruce up your website.
Web styles change and for many small businesses their website is a prospect's first impression…how many chances do you get to make a first impression?
8. Join LinkedIn groups.
There are two types to join: the ones your customers are in and local groups. Local groups will often hold networking events. Attend.
9. Exchange links with noncompeting but related businesses.
Create a directory on your website for other local businesses that would interest your clients. Encourage them to do the same.
10. Double-check your business listings around the Internet.
11. Dedicate your social media marketing to two platforms.
If you've allowed social media marketing for your small business to become an afterthought, think again. Design the best way for you to keep everything fresh and informative.
12. Listen to a marketing podcast every day.
Marketing is like a shark: if it's not moving forward it dies. Find a marketing podcast that you enjoy, subscribe and listen during your commute or while you exercise.
You can subscribe and listen to the newest podcast from Constant Contact, Small Biz Stories, now.
13. Create a survey, either online or at your location.
People love to voice their opinions. If you're hosting a survey on your website, promote it through the social media platforms you use.
14. Do a contest.
Host a contest in-store or try an online contest to engage your fans and followers on social media.
15. Offer a free ebook or white paper download.
Combine several blogs on related topics into a whitepaper or ebook and offer it as a free download in return for giving you an email address.
16. Plan out seasonal promotions for the rest of the year.
Get a marketing/editorial calendar going so you aren't always doing things at the last minute. With a calendar you can also assign tasks to other employees more easily.
17. Check out the weird, wacky, and lesser known special days and have some fun with them.
You'll find that at Days of the Year.
18. Volunteer to give at least one talk at a local community, business, or university group.
Build your authority and your visibility.
19. Donate something to a worthy group.
Create a a long-lasting relationship with the group.
20. Give your customers incentives to refer friends and buy more.
Find a good loyalty program strategy that will work for you.
21. Contact influential bloggers in your industry.
Compliment them. Start building relationships with thought leaders.
Pick 5 ideas and get started today!
Some of the items on my list are simple and can be accomplished in minutes. Others take a little more time. However, none are difficult or costly.
How about you, do you have some good DIY marketing ideas?
About the Author: Susan Solovic is THE Small Business Expert. Sign up for Susan's Success Tips Newsletter and get your free copy of "Smart Marketing Strategies for Small Biz" ebook.
Share with your network