It's one thing to have an idea for a business, but another thing entirely to secure the small business startup funding needed to make that dream a reality. Financial ups and downs are common, with 66% of small businesses reporting financial challenges. Still, each year, 582 million entrepreneurs find a way to secure funding and keep their businesses running.
Whether you're a microbusiness, with fewer than nine employees on your team, or a small business with up to 1,500 employees, this guide will help you learn new strategies to secure funding, improve sales, and grow your business.
8 strategies for funding a small business startup
One of the best ways to armor yourself against financial challenges is to be proactive when it comes to securing funding. Having a number of different funding strategies up your sleeve can protect you against unexpected expenses or hardships.
Here are eight creative strategies for small business startup funding that you can use to maintain a steady income stream from a variety of sources.
1. Offer product pre-sales
If you offer a product, begin your small business funding by offering product pre-sales. This strategy only requires a website and can be a great way to get your small business off the ground.
The goal of product pre-sales is to begin establishing your brand, get people excited for your product, and receive feedback before your business goes live.
2. Look for investors in your community
Your community can be a great source of funding. Consider holding an investors meeting to see if any big names in your community are willing to invest in your company.
For this strategy to work, you have to have a strong business pitch, including who your competitors are, how you plan to market your business, and estimates for how long it will take for your company to turn a profit.
3. Apply for grants
Small businesses are one of the cornerstones of the American Dream. Each year, small businesses provide approximately 67% of all new jobs in the United States. As a result, the federal government allocates a portion of funds each year to help small businesses reach their full potential.
This small business startup funding is available in the form of grants. You can apply for grants by drafting a strong grant proposal.
Get started by examining the list of available federal grants and determining which ones might be a good fit for your business. Then, work on your grant applications. It may be a good idea to hire an experienced grant proposal writer to help you.
4. Use purchase order financing
Purchase order financing (PO financing) helps businesses pay suppliers in advance for the supplies they need to create their products. This is a short-term funding source for small businesses that need to improve their cash flow until they're able to sell their first products.
5. Try crowdfunding
More than half of consumers agree that shopping at small businesses gives back to the community, and 74% look for ways to support small businesses in their community.
How does this help your business secure funding? It means that your community most likely wants you to succeed. They simply may not know how to make it happen.
Creating crowdfunding campaigns through sites like Crowdfunder, Fundable, or Kickstarter can offer members in your community a feel-good opportunity to invest in your brand. Once your crowdfunding page is set up, you can use startup marketing initiatives to advertise it on social media or at community events.
6. Ask for peer-to-peer lending
Peer-to-peer lending allows small business owners to get loans from individuals rather than banks in order to avoid credit card payments. This is a good option if you don't have a lot of credit with your business or a proven track record of success and can't secure a small business loan through your local credit union.
7. Enter contests
The federal government isn't the only entity willing to fund small businesses. Numerous large businesses offer contests to help small businesses get off the ground.
Prizes for small business contests generally range from $5,000 to $100,000. Although winning a small business contest isn't a steady source of income, it can help you overcome a current expense, invest in a business upgrade, or secure the funding you need to launch your business.
8. Host fundraisers
Fundraisers aren't just for nonprofits and schools. Hosting a fundraiser in the community is a good way to gain recognition for your brand while also securing money for your small business.
Whether you choose season-specific fundraising ideas or a virtual fundraising event, the key to a successful fundraiser is to plan ahead and create a strong advertising platform.
3 tips to continue growing your business
Although it's always a good idea to leverage multiple strategies for funding a small business startup, your business will ultimately live or die based on your ability to grow and support it.
This is where many businesses struggle. For most small businesses, cash flow is the biggest issue, with 86% reporting that they would need to supplement funding or cut costs if they lost revenue for a mere two months.
1. Invest in your social media marketing strategy
Social media marketing is a great way to grow your small business. Facebook is the most popular social media tool for small businesses, but don't discount other sites. Instagram can be especially profitable, with 60% of people discovering new products on the platform.
2. Provide customer service worth raving about
Word-of-mouth recommendations and referrals are still a strong way to grow your business. One survey found that 61% of people recommended a local business to someone else, while 73% of customers looked at reviews written in the last month when deciding on making a purchase.
The best way to get people talking about your business is to offer both value and service worth raving about. You'll also want to know how to ask for referrals to help your business thrive.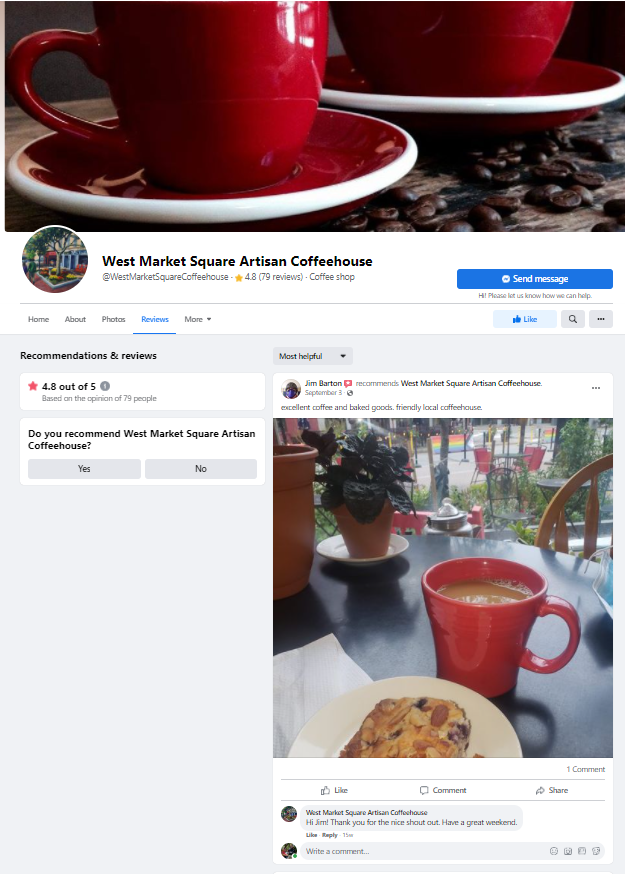 3. Look for creative ways to grow your business without spending money
Even if you don't have any extra funding to invest in your business, you can still help it thrive. Look for creative ways to grow your business for free, such as:
Spending more time posting on social media
Crafting high-quality blog content to improve your website's search engine results
Spending time out in your community so that people can get a sense of what your brand represents
Creating a mutually beneficial barter system with other local businesses
Begin securing your small business startup funding today
The more revenue sources you can find for your small business, the more likely it will thrive.

Get started today by creating a small business startup funding calendar to plan out which fundraising strategies you want to focus on throughout the upcoming year.

Once you've established your small business startup funding plan, begin working on your first strategy to help get your business off the ground.

Share with your network