Save time with suggested content and schedule
After creating or scheduling an email campaign and choosing to share it using Social Share, you will see a series of posts automatically created for you to post or schedule later.
These posts include suggested messaging, and images from your Constant Contact photo library. If you prefer to customize your social posts, you can easily customize the messaging and image to match your business's unique voice and brand.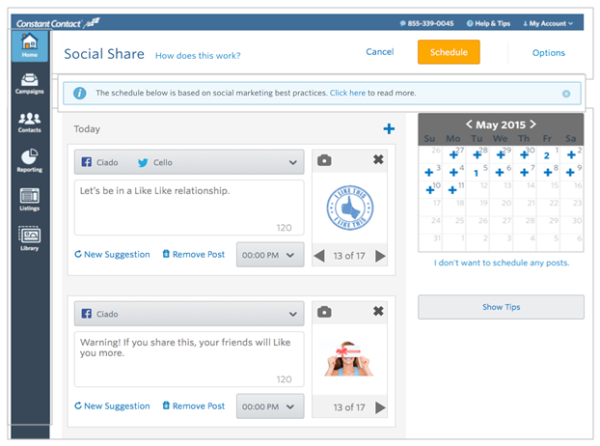 Easily plan and manage social posts for your email campaigns
Social Share allows you to schedule multiple social posts per day for multiple social channels.
Simply connect your Facebook, Twitter, or LinkedIn channels and you can create posts that go to all your channels or just one. You can also schedule social posts to go out up to six months after your email goes out, giving you the ability to engage with your social audience well into the future.
Get new insights with detailed reporting
After your social posts are published to your social networks, you can track the engagement for each post. You can see the engagements, clicks, and reach that each post received, giving you the ability to see what connected with your audience and what to change for your next campaign.
These are just a few of the many new features that will give you even more control over your social sharing.
Try Social Share for yourself!
Next time you send an email campaign in Constant Contact, you'll see the option to "Schedule Posts."
Click on the blue button to activate Social Share and make sure you've connected the right social networks to your Constant Contact account. In just a few minutes, you'll be able to schedule a series of social posts which will help extend the reach of your next campaign and drive more results for your business or organization.

Share with your network