The perfect donor thank-you email is an art form. You want to sincerely thank the donor, justify their contribution, acknowledge the gift for tax purposes, and establish or continue a long-term relationship. Oh, and you want to do everything succinctly without sacrificing either brevity or content.
Thank-yous are vital to nonprofit marketing. A generic form letter doesn't get the job done.
But there are guidelines you can follow to craft a powerful thank-you message for different occasions and types of donations.
How to write the perfect donor thank-you email
Make your donor thank-you email an effective tool, integrating it into your donor retention strategies. Follow these best practices, and show your gratitude with grace and style.
Send one now and another one later
When should you send thank-you emails for donations? First of all, any thank-you is better than no thank-you. If you ever miss your window of opportunity, create a new one and send them a message. Not that you should have this problem if you are taking advantage of email marketing automation, but it's nice to know you have a solution at the ready.
Ideally, send a donor one thank-you email now and at least one more as part of your year-end email campaign. More significant donations may also require a more personal follow-up.
Always be on the lookout for other thank-you opportunities. You want to connect with your donors multiple times throughout the year and incorporate those magic words.
Say "thank you":
In a birthday note
With invitations to donor-recognition events
When you ask for future donations
When you reach major milestones
Thank-you may not be the focus of all these emails, but it should be incorporated into the message.
Send personalized donor thank-you emails at just the right time — without taking any more of your time — with email marketing automation.
Follow basic email marketing guidelines
A good thank-you email to a donor may be a particular art, but it still belongs to a larger genre. Don't neglect fundamental email marketing best practices in your gratitude.
Send a thank-you email "from" the organization
You underscore your professionalism when you send it from the official email account. You also let them know the email's context. They won't skim past it due to an unrecognized name or email address.
Use a subject line that's short, sweet, and to the point
Your subject line should — wait for it — establish the subject. Keep your donor thank-you email subject line short and direct so that it fully displays in their inboxes.
No need to overthink this. "Thank you for your donation!" often gets the job done.
Segment and personalize
"Automatic" doesn't mean "impersonal." No one wants to be addressed as "Friend" or "Donor." Use your email tools to personalize your donor thank-you email with their name and the donation amount.
Use email segmentation for nonprofits to further tailor your message. Distinguish between recurring donations and one-time gifts. During particular fundraising campaigns, you can also focus the email's body on your immediate goals and how their generosity makes them possible.
Review and edit before sending
Review, edit, have someone else look at it, and review again. Typos and poor construction constantly undermine an organization, but in a thank-you-for-your-donation email, they also damage your gratitude.
Sloppiness sends the message that you couldn't be bothered to take the time to do the task properly. Slow down and get it right — particularly when you're working on a donor thank-you email template you intend to use multiple times.
Nobody's perfect. Even professional writers use online grammar checkers like Grammarly or Linguix. Some email marketing services also provide error-checker tools.
Start by genuinely saying "thank you"
I could say a lot about how to say "thank you," the right way, but Emily Lefferts from DonorPerfect says it best.
"Remember that your donors specifically gave to YOU. They want to hear a "thank you" in your voice, so make sure your tone and language match what makes your mission special. Your donors want to know that their generosity matters to a nonprofit whose mission speaks to their hearts.
If you feel stuck or don't particularly enjoy writing, try recording a voice memo and speak as if you're thanking a donor personally for their gift. It helps to imagine a specific donor with whom you have a friendly relationship. Activating feelings of fondness for your donors will help you craft a beautiful and genuine message."
When creating your perfect donor thank you email, setting and maintaining a grateful and personable tone throughout, is key to letting your donors know that you are truly thankful for their contribution to your organization.
Tell the story about how the donation will help
Along those same lines, you want to talk about the good that will come from the donation. This isn't the time to harp on the urgency of your mission or your nonprofit's need for ever more funds. They probably know these things already — after all, they donated.
Instead, highlight the positive change they've helped enable. How are you going to use these funds? Try to take the reader at least one step beyond what they already know and provide details. Tell them their money has been earmarked for blankets or a new computer if they contributed to a fundraiser that benefits the local homeless shelter.
The more specific and concrete you can be, the better. If you're raising money to support women in STEM, don't simply repeat your mission statement. Tell them about a specific scholarship recipient and how the donations made a difference. Seize this opportunity for nonprofit storytelling, and your recipient will be more likely to keep you in mind throughout the year.
Illustrate your story with compelling photos
Pictures are persuasive, entertaining, and efficient. They prove your impact more quickly and effectively than a description could. Adding a visual element makes it more likely that the donor will stay engaged all the way through.
When possible, give your cause a face. Use photographs of your animal or human beneficiaries — make sure to get the proper permissions. For local clean-up or restoration projects, put a volunteer in the frame to add that personal element.
Thank you videos are also becoming more popular with nonprofits. Videos work particularly well when you ask one of your beneficiaries to share their story. It's a way of allowing your donors to engage with the people they support.
Let them know if you'll be following up
Tell them when they can expect to hear from you again. Will you share a special report on the results of this campaign or other success stories? Have they signed up for your newsletter? The anticipation will keep you in their minds, and they'll be more likely to engage with follow-up communication.
This is also the point in the thank-you email when you should ask them if they'd like to be included in public acknowledgments — whatever form that may take for your organization.
If you've already collected that information, repeat your promise here. Let them know when and where they can expect to see their names or assure them of their anonymity. Nonprofit leaders need to protect donor privacy vigilantly. Reassure them that you do.
Provide a way for them to contact your organization
While it's important to recognize donors as individuals, you also want to let them do the same. Let them reach out with any concerns or questions.
Give them a name and the corresponding email address or phone number. By providing them with more direct access, you signal that you take them seriously as a partner in your work and invite them to deepen that connection.
Include a call to action
Don't forget your nonprofit's call to action as you come to a close. Give them one thing that they can do right now. Invite them to:
Connect on social media
Sign up for your newsletter
Spread the word about your organization or current project
Visit your website
Avoid asking for further funds at this time. You want to focus on your gratitude for what they've already given.
Using a nonprofit call to action lets your generous donors know what to do after you've properly thanked them for their donation.
Use the signature of someone important in your organization
It's not that you don't value Bob, your summer intern. But his value isn't widely known, and his name isn't the right one to put in your donor thank-you email template.
Get the signature of the head of the organization or the head of a local chapter. It demonstrates that you take them and their contribution seriously.
If this is also their receipt, disclose that at the bottom of the email
Don't make them contact you around tax time to ask for a receipt. If this is their receipt for tax deduction purposes, say so at the bottom of the email.
Remember that the IRS requires the following information to substantiate charitable contributions of $250 or more:
A statement that no goods or services were provided by the organization or description and good faith estimate of the value of provided goods or services
Amount of cash donation
Description of non-cash donation
Name of the organization
Make sure your email checks all the necessary boxes.
Great donor thank-you email examples
When a donor thank-you email is done well, it honors both the recipient and the occasion. It champions the nonprofit's success and illustrates these stories with real photos. It's clear, concise, and upbeat. And it prominently displays the words "thank you."
It looks a lot like the following.
One-time donations
A simple thank-you email template suits the contributions that trickle in throughout the year and allows you to customize it for particular fundraising efforts.
Note that the template includes a short note on a recent fundraiser and invites the recipient to "READ MORE," providing a link to a longer piece. Such a call to action (CTA) allows you to keep the message short and sweet while still giving interested parties all the particulars.
A new recurring donation setup
Donating monthly accounts for 20% of online revenue for nonprofits. The amount might be small at an average of $21 a month, but at $252 a year, that number is more than twice the amount of the average one-time gift — $97.
Thank these fantastic human beings with a message that recognizes their importance to your organization, which can look like: "Thank you for becoming part of our recurring donor community! Your monthly contribution of [$X] will allow us to [Y]." Follow up with a short story about recent accomplishments, and then tell them how they can get updates on your excellent work. You also should provide a link to your social media or newsletter signup.
One idea is to collect the names of recurring donors to post on your website. In addition to a private thank-you message, you might post a virtual plaque honoring their commitment on your website.
Recurring donations from long-time donors
Keep track of repeat donors and let them know you see their generosity. When they give again, acknowledge that this isn't their first contribution.
You can even provide information on lifetime impact. While it wouldn't be ideal to include the count in every monthly email, you can celebrate major milestones, annual donations, or cumulative giving throughout the year.
Holiday donations
Incorporate the holiday into your thank-you emails for donors. You can add a festive border, wish them happy holidays, or refer to a seasonal campaign.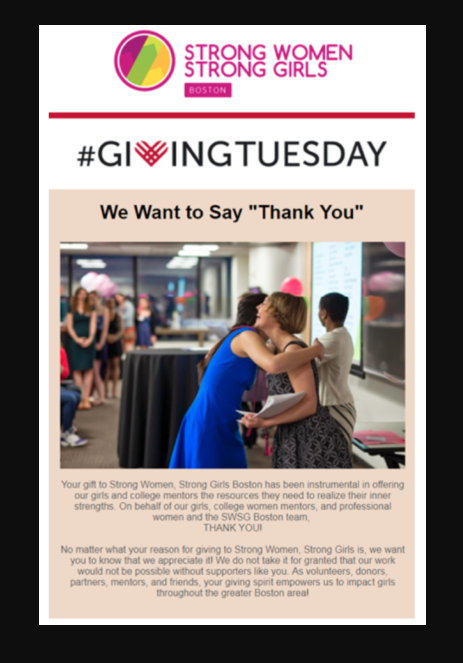 In Giving Tuesday thank you emails and other holiday donations, gently let your patrons know you rely on their support all year long. Don't be pushy. Just remind them that your need isn't a seasonal one.
Year-end "thank yous"
Do something special for year-end "thank yous." You could deliver a full-year report on your organization. How much have you raised? How much have you accomplished? Or go the more personal route and spotlight a particularly compelling impact story.
Changing your format can also help you create a compelling tribute to the year behind you. Make a collage or craft a video message to include in your donor thank-you email. The extra effort pays off.
Start saying thanks
Think of this article as a checklist for donor thank-you email success. As you review your thank-yous, scan them for these best practices. Have you included the magic words "thank you," your contact information, and a call to action?

Start by drafting or revisiting your template for one-time donations. It will serve as the basis for many of the others. Think about how it feels to be thanked for all the charity or nonprofit-related work you do to make the world a better one and pass that gratitude on to your donors.

Share with your network