Thanksgiving is not only a time to spend with family and friends being grateful for what you have, but it's also the unofficial kickoff to the holiday shopping season. It's currently estimated that approximately 158.3 million people will shop online this Thanksgiving weekend.
As a small business owner, you don't want to miss out on what is arguably the biggest shopping weekend of the year.
Capture this audience early and get them ready to log on to your store with these Thanksgiving marketing ideas.
10 Thanksgiving marketing ideas to promote your store
Large retail chains with robust marketing budgets offer and promote Thanksgiving discounts. And, while it may seem intimidating, you can compete with large businesses.
Running your own Thanksgiving promotion can offer a local alternative to a big box store for holiday shopping. Online marketing through email, social media, and paid ads, can help you get the word out. Use these Thanksgiving marketing ideas to bring people into your shop and onto your website.
1. Thanksgiving-related email
Use a Thanksgiving-themed email template to wish your customers a happy holiday and remind them of the deals you have coming up. Mention Black Friday, Small Business Saturday, and Cyber Monday in your email and announce any special deals or in-store and online promotions you've planned.
‌‌Use your online marketing calendar as a reminder to create your Thanksgiving messaging.
‌‌2. Create a holiday-themed livestream
Thanksgiving marketing ideas don't have to be relegated to discounts and shopping events. They can also help you drive traffic to your website. Create holiday-themed videos or live stream an event to drum up interest in your store.
If you sell kitchen supplies and other housewares, host a cooking video teaching customers to create a special Thanksgiving dish. Use items from your shop and talk about them in the video. Teach customers to decorate for the holidays or offer fashion tips for dinner.
3. Host a contest
Gain more followers on social media with a Thanksgiving-themed contest. Ask them to share their favorite recipes, photogenic desserts, or tablescapes, and post them on social media using a special hashtag. Clearly specify the rules and offer a prize to the winner.
Encourage people to enter using a branded hashtag and other common hashtags like #ThanksgivingTable for more visibility.
‌‌4. Encourage people to give back
Thanksgiving is all about giving, and it's the perfect time to host a charitable event. Partner with a local charity and encourage your customers to donate. Host a fundraising event like a charity fun run or canned food drive.
While many Thanksgiving marketing ideas revolve around getting people into your store, this one is more about building your standing in the community and connecting with potential new customers. If possible, tie the charity in with your business. If you run a clothing boutique, raise money for an organization like Dress for Success, which dresses people for interviews to help get them back on their feet.‌
‌5. Run paid ads on social media
Since Thanksgiving weekend is such a lucrative retail period, your customers are likely being inundated with ads. Stand out with Thanksgiving-themed social media ads.
Facebook and Instagram offer auction pricing based on the number of impressions. You can set your budget based on your desired reach and set which audiences to target. Create multiple test ads and track your analytics to see which messages generate the best response.
‌‌6. Host an event
Another way to stand out among larger retailers in your area is to host a Thanksgiving event. These events draw people into your store, and they can serve as a thank-you to your most loyal customers. You could host a Thanksgiving-themed shopping party with hourly giveaways and special discounts.
Make sure you market your event. And if you sell merchandise that can be used to enhance the holiday, use the products to create holiday displays, encouraging shoppers to buy these items.
TIP: Want to bring local shoppers to your e-commerce store? Host a virtual event!
‌‌7. Update your listings
Optimizing your local SEO will help customers find you when they are out and about. Thanksgiving is a great time to update your online listings, including holiday hours and website links. Search the internet to make sure your contact information is correctly listed on Google My Business, Yelp, and Apple Maps.‌‌
‌Updating your listings makes you more likely to pop up on people's phones when they're looking for retail businesses on the go.
8. Create Thanksgiving-related content
Another way to boost your SEO for the holidays is to create regular content. Some Thanksgiving marketing ideas you can implement on social media include recipe swaps, employee spotlights, Thanksgiving decorating ideas, and teasers about your upcoming promotions.
‌‌Mix up your social media posts. Tease promotions and deals to get your customers excited for Thanksgiving weekend, and post-holiday ideas and tips to build a relationship with your customers.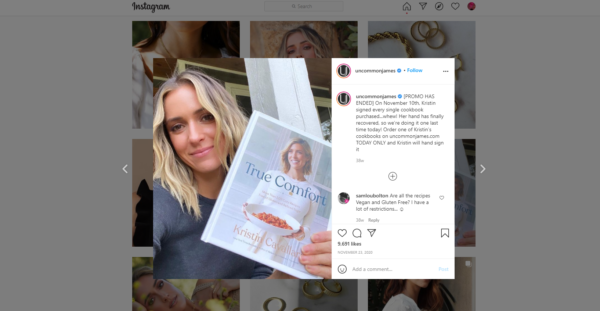 ‌‌9. Promote other small businesses
Since Thanksgiving is often associated with friends and family, use your Thanksgiving promotion to promote other businesses in your area. You can create co-branded content for your website and social media or use videos to introduce people to your partner business.
If there is an adjacent business in your area, you could team up on a co-promotion. For example, if you own a hair salon, you might partner with a nail salon in your area to offer discounted pampering sessions.
‌‌10. Give thanks to your customers
You probably track your most loyal customers. You might have a customer loyalty program in place or simply know them by name. Host a special shopping event for the customers who contribute the most to your success. If you have your email list segmented using your loyalty program, you can send a special discount offer to your top-tier clients.
‌‌Hosting a special event for your best customers helps make your loyalty program more credible, and it can encourage others to shop more often and move up a tier. It's also the perfect way to thank your best customers for their support.
‌‌Stand out this Thanksgiving
Thanksgiving is fast approaching, and it's time to start planning your marketing campaigns to bring customers into your store. Use Thanksgiving promotions including events, email campaigns, and social media posts to get customers excited about your holiday shopping deals.

‌‌Add variety to your holiday marketing by mixing themed social media posts with promotional materials specifically geared toward capturing holiday shoppers. These promotions help you compete with large retailers who spend a lot of money to bring customers into their stores. Stand out by building relationships with your customers and making them excited about your holiday specials.

Share with your network