Live video — be it Instagram Live, Facebook Live, or Zoom — is huge right now. Even before the coronavirus pandemic pushed us all into a more virtual way of doing business, live streaming was taking off.
In fact, Americans stream about 8 hours of content every day, and generally, they "watch live video 10 to 20 times longer than on-demand content." So, if you're wondering if you should experiment with live streaming for your business, the answer is yes.
But before you go live, you'll want to make sure you are aware of some basic best practices for live streaming, especially since you'll be representing your business or brand.
In this article, we'll go over the best way to live stream for your business, show you how to get started, and give you some best practices to consider when going live.
What is live streaming?
You can think of live streaming as a one-way video chat, a live video blog of sorts. The main difference between live streaming and other forms of video marketing is that your audience will be watching you in real-time as you stream, and viewers will have the chance to interact with you.
Depending on the platform you're using, viewers of your live stream can chat, comment, ask questions, or even join your stream for a panel-style discussion.
When you're live streaming, you can (and should) ask questions of your viewers, and encourage them to participate by asking questions of their own in the stream's chat.
Depending on the platform you use to live stream, the video of your stream might be available long after you go live for additional followers to watch after the fact. You might also choose not to make your stream available after you've gone live, so no one is able to see it who wasn't present for the original stream.
Where is the best place to go live?
The short answer is that the best place to go live is where you'll have an audience. Determining the best social media platform for your business involves thinking about your target customer and what platforms they use.
For your first few live streams, start on the social platform where you have the most followers. That way, you'll have the easiest time building an audience and getting feedback to improve future streams.
For now, here is a basic overview of the top places to live stream:
Facebook Live – Facebook is the most popular social media platform and, as such, is a great place to get started with live streaming.
Instagram Live – Instagram's Live feature is increasingly popular, and the app prioritizes live-streaming content more prominently than Facebook. If you have a large Instagram following, Instagram Live is a great way to engage with them, especially on a mobile device.
Twitch – Twitch is the leading live streaming platform for video gamers and is incredibly popular. If you are looking to reach gamers, Twitch is the best platform to use.
YouTube Live – Just like with regular YouTube videos, a YouTube Live broadcast offers the additional benefit of being searchable on YouTube, which also means it's searchable on Google. YouTube Live is a good option if you're hoping to reach new customers that aren't already following you.
TikTok LIVE – Since TikTok integrated with Streamlabs, it's more difficult than ever to pry ourselves away from the platform. Heavily trafficked by the 18-34 crowd, TikTok reaches an audience of over 1 billion monthly users around the globe. Perfect for an online business to grow its customer base.
LinkedIn Live – This is the place to live stream with professionals. And, if you are a b2b business, LinkedIn Live may be the best place for you to "go live."
Why should a small business consider live streaming?
Like a lot of social media, live streaming provides a great way to make content more personal and to humanize your business. It has the potential to be a great marketing asset because it allows you to bring your audience behind the scenes of your business and show them what's going on.
Live streaming offers small businesses an additional benefit over regular video marketing: The ability for viewers to interact with you in real time.
When you live stream for your business, you're inviting viewers not only to watch you but to have a conversation with you. You should ask them for their comments and feedback, but even if you don't, it's likely they'll give it to you. Live streaming happens online, and when people are online, they don't often hold back their opinions. But don't let that deter you — those opinions can be extremely valuable and can be used to tailor your future live streams, your other marketing content, and maybe even your business's offerings.
Remember that people like to do business with people they know, like, and trust, so the more content you can provide that shows your personality and the people behind the business the better.
Best practices for live streaming
Now that you know why you might live stream, hopefully you have some goals in mind for what you'd like to accomplish with your first (or next) live stream. Follow the best practices for live streaming below to make sure you're on track to hit those goals and present your business professionally.
1. Choose the right tool
There are lots of options for live streaming tools, but you'll want to stick with the most popular ones, where you have the best chance of capturing an audience.
Let's revisit the top live-streaming tools from above.
Top live streaming tools
Still not sure where to start? The best place to experiment with live streaming if you're just getting started is usually Facebook or Instagram. Look at those two platforms, see where you have the most followers, and try live streaming there. Better yet — do a shorter live stream on both platforms and see how it goes. Keep experimenting to determine which platform lends itself best to your individual goals.
2. Promote your live stream in advance
If no one knows about your live stream, you won't have an audience! So don't leave it up to chance — make sure to promote your live stream days in advance to your existing followers via email and social media.
Prepare for your promotion by gathering the key information you need to share with your followers in promoting your live stream:
What day and time your live stream will begin.
Where they can find your live stream – Share a link to where your live stream will be hosted. For Instagram, Periscope (via Twitter), or Twitch, you can simply share a link to your profile. Users who visit at the designated time will be able to see that you're live and can tune in. If you're using Facebook or YouTube, you can send a link to your specific stream in advance.
What they can expect from your live stream – Share the topics you'll cover and who will be joining your stream, and let followers know that you'll be taking questions from the audience.
Promoting your live stream with email
Before your live stream, make sure to send an email (at least 48 hours in advance) to your subscribers that lists the essential information above. Use this as an opportunity to get them excited about the upcoming live stream. Better yet — ask them to send you any questions they might have related to your stream's topic in advance. That way, you can prepare to give the best possible answer to them when you're ready to go live.
To promote your live stream, consider using an event invitation email template like the one below from Constant Contact. Since a live stream is basically a virtual event, and not in-person, you'll want to change the primary call-to-action button to something like "Click here to watch the stream at [insert date and time]" and link that button to the platform where you're hosting your live stream.
Promoting your live stream on social media
Don't forget to also promote your live stream on social media. Create images using tools like Canva or PicMonkey that list your live stream's topic, time, date, and platform and post those images in advance on social media.
3. Create a plan for engagement
Live video works because viewers want the opportunity to interact with the people behind the brand. They're eager for a chance to connect with you, and they're going to ask you a lot of questions. Do your best to answer what you can.
Prepare yourself by anticipating some of the questions your audience might ask ahead of time. Prepare a thorough response to those questions, but also be prepared to answer new questions on the fly. You can't always anticipate everything your audience will want to know.
In addition to answering questions, you can greet viewers by name as they arrive to your live stream. Ask them to share where they're watching you from in the comments, and note the locations out loud. You may be surprised to see viewers tune in from across the world! Greeting your viewers and discussing where they are is a nice icebreaker to start off your broadcast.
Social media marketing expert Kim Garst often starts her Periscope broadcasts by asking viewers where they're from, and it gets the conversation going right away: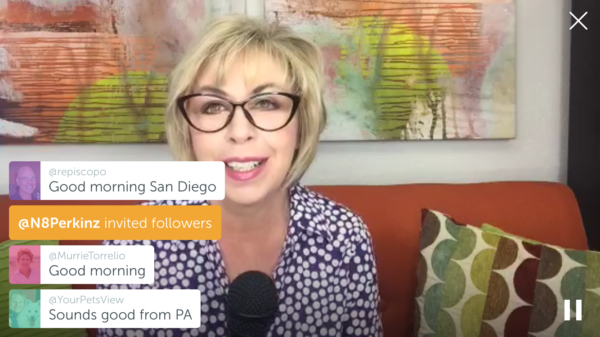 Whether you're starting out with a small audience or have been live streaming for a while, it's always a good idea to have a list of questions and talking points that you want to cover in case your viewers are shy and don't ask questions right away.
4. Include a call to action
Why are you doing your live stream? What do you want viewers who tune into your stream to do? Have something specific in mind, whether it be to make a purchase, donate to your cause, or reach out to you for a one-on-one meeting. This is your call-to-action, and you should reference it regularly throughout your live stream. After all, how will viewers know what you want them to do if you don't tell them?
If you don't have a specific action in mind for your next live stream, tell viewers about other ways they can keep in touch by following you on other social networks or subscribing to your newsletter. Provide them with some valuable content — you can add a link in your profile to a free download, an informational video, or to your email signup page — the list is endless.
5. Extend the life of your live stream
Your live stream can have a long shelf life after the broadcast is over. Facebook Live, Instagram, and Youtube will save your videos to your profile for people to watch on-demand.
Facebook marketing expert Mari Smith is a regular Facebook Live broadcaster, and she's organized all of her livestreams in one playlist in the video section of her Facebook page:
Link to your live stream videos in social media posts, email newsletters, and blog posts.
Send a follow-up email
And if you promoted your live stream via email, make sure to follow up to email that same group of people. Remind your followers about your event, and let them know they can view it if they missed it. If they were able to tune in live, ask them to share what they thought and if they have any requests for future live streams.
Tip: You can also write a blog post that recaps what you talked about in your live stream and embed the stream in your post. Then share your recap blog post using all of your marketing tools.
Live streaming ideas to get you started
What to live stream about will depend on your goals, your audience, and what you're hoping to communicate. To get you started in thinking about what to live stream, here are some ideas based on different types of businesses.
Retail live-stream ideas
Show off your new products
Give tips on how to use or maintain products effectively
Interview an influencer or a customer with a large social media following about their favorite product(s)
Restaurant live-stream ideas
Show the process of preparing a signature dish in realtime
Conduct an interview with a chef and take live audience questions
Interview a frequent customer (preferably one with a social following of their own) about their favorite dishes
Nonprofit live-stream ideas
Show your programs in action to give viewers an idea of the impact of their donations
Interview a client who has been deeply impacted by your organization
Interview a donor who has a large following about why they donate to your cause
Salon and spa live-streaming ideas
Stream a before and after in real-time, showing the impact of your work on a real customer or client
Share your best beauty tips and secrets
Ask a frequent customer about their favorite services
Business-to-business (b2b) live-streaming ideas
Share your top business tips on a weekly live stream
Have an expert interview your employees about their work and services
Have an interview with a customer as a live testimonial of your work
Interested in more video marketing tips?
Video is one of the most engaging tools you can use, whether you're reaching out to your audience through a live broadcast or an edited recording. For more tips on using video on social media and in your email marketing, check out our blog post on how to create a video marketing strategy.