Being a real estate agent isn't a seasonal occupation. However, you can use the seasons to your advantage to help make a sale. With Valentine's Day approaching, you have a great opportunity to engage clients, generate leads, and encourage repeat business and referrals. That's because Valentine's Day focuses on love, and there's no better way to show commitment to someone like buying property together.
We make it easy for you to have a growing and connected client base with all the marketing tools you need, synced to the tools you're already using.
10 Valentine's Day Real Estate Marketing Ideas
No matter what real estate business you operate, it's essential to market your real estate company. There are plenty of tips floating around, but there's a surprising lack of Valentine's Day-specific suggestions. Below you'll find advice on getting more business and making more sales when love is in the air. So, take a look and think about how you can use any or all of these 10 tips to help your real estate company.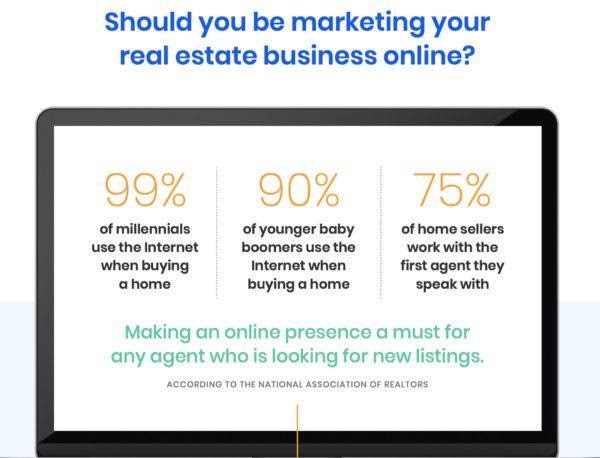 1. Social media campaigns
Social media is your best friend as a real estate company. Social media marketing is one of the newer tactics that convert to real results, and it works even better for holiday real estate marketing.
The great part about real estate social media accounts is that you can connect with the right people. Your social media followers and friends represent interested parties already, and many live in your area. When it comes to buying property, they'll likely look to you for guidance. This means that your posts and messages need to specifically talk to these people.
Around Valentine's Day, use quips and clever wordplay to draw the reader's attention. A Valentine's Day real estate post can help advertise an open house, promote your services, or remind people that you're still selling houses.
2. Email marketing campaigns with Valentine's Day templates
Don't overlook a strong Valentine's Day email real estate marketing campaign.
An email template offers a quick way to fill out information and send themed messages to subscribers on your real estate mailing list. When it comes to Valentine's Day, a themed message works especially well.
By using a Valentine's Day email template for your marketing campaign, you can save time while sending out a message that was created by professionals in the marketing industry.
3. Mail Valentine's cards
Who can forget the thrill of getting a Valentine's Day card from your crush in middle school? You can play on this nostalgia and good feeling by sending out a themed card to your mailing list.
The best method is to send a physical card. An e-card might work too, but the message isn't as impactful. Try to emulate the overall theme of a standard V-day card with this note. But don't forget to promote yourself and your business on the card too.
4. Charitable partnerships
Charity is always a great thing for any person or company to partake in. If you're planning to contribute your money or time to a certain cause, Valentine's Day might be a good time to do it. It shows that you love the community, and you want to give back.
You might also consider giving back to a specific client and advertising it on your page. This builds your connection with the rest of your clients while still giving you an opportunity to be charitable.
5. Valentine's Day content ideas
Another way to generate some buzz is by creating helpful content and posting it on your blog, website, or social media. In the days leading up to Valentine's Day, consider creating content specific to this day and your community.
One idea involves developing a guide to the best Valentine's Day date ideas. Alternatively, you can put together a recipe or generate a list of at-home date ideas. This works even better if you can partner with a local restaurant to work out a referral incentive.
Make sure that the content is shareable and genuinely helpful.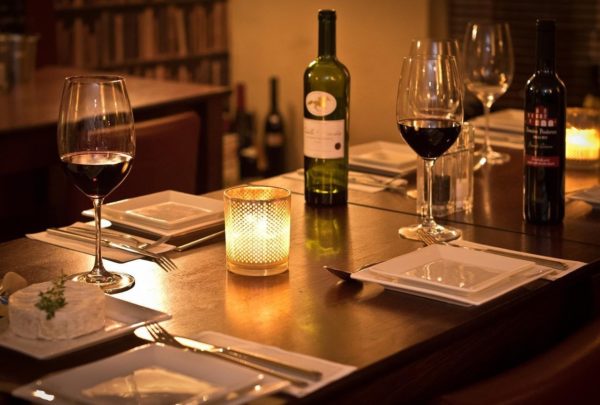 6. Raffle a romantic dinner at your open house
There are a lot of marketing ideas for your real estate business, but few are as sweet as raffling a romantic dinner. This Valentine's Day real estate idea entails raffling a dinner at your next open house. An open house provides a perfect platform to host this raffle because it will get more people to attend.
It doesn't have to be too fancy — a simple gift card or voucher to a local restaurant will do the trick. This is another opportunity for you to partner with a local restaurant, florist, or chocolate company. You can work together and generate a great bundle to give to one lucky winner.
7. Put together a real estate Valentine's Day blog
Content on your site is always a good thing. Put together some Valentine's Day content for your blog — just don't forget to include SEO to get more traffic on your blog.
Your real estate Valentine's Day blog can discuss details about your company and what you have to offer. The blog itself can cover a lot of different topics, themed or not. The best kind of blog proves your knowledge in the world of real estate while giving helpful tips to the reader.
By doing this, you'll establish authority in the space and let people know that you're here to help. You'll also get more traffic to your site, which leads to stronger brand awareness across the board. If you don't already have a blog, now is the perfect time to start one.
8. Host a themed contest on your social media account
Everyone loves free things. For that reason, a contest will work wonders for you. A themed social media contest could entail users sharing pictures of their Valentine's Day decorations, meals, outfits, or anything else you can imagine.
The user who gets the most likes wins a prize of your choosing. You might also do a random winner so everyone has a fair shot. Either way, you'll want participants to use special hashtags and tag your company's Instagram account to be in the drawing. The tags, hashtags, and interactions in this contest will get more eyes on your real estate company's account.
9. Use a romantic theme on your site
When love is in the air, you can use that to your advantage on your site. Putting together a simple theme for some of your pages is a fun way to get viewers talking.
This could mean flowers, hearts, or chocolates making their way onto your site. Bonus points if you put different animations on your site that relate to Valentine's Day. A Valentine's Day real estate site will help you stand apart from your competitors.
10. Host a themed special on your site
If you want to roll out a seasonal deal or special, Valentine's Day might be perfect. People are always looking for a new listing, so maybe you can put together a special on your site and adorn it with a real estate Valentine's Day theme.
The special itself doesn't have to do with Valentine's Day at all. As long as the page has the right theme, you have the right idea.
Working wonders
Rolling out the right Valentine's Day real estate tactic can work wonders for your company. It will get your clients engaged and excited. These 10 Valentine's Day ideas have been proven to work over the years, and they'll work for you too. Enjoy more interaction, more excited clients, and repeat business when you use these tips.

Share with your network