Today, people rely on electronic devices to search for food options near them. And for a restaurant to succeed in these times, they have to have an online presence. That's why a sophisticated and robust restaurant website is essential for any food establishment.
However, trying to understand how to make a restaurant website with all the nuances of coding and web development backend can feel daunting. That is unless you utilize the power of a website builder. Then, frankly, bringing your restaurant online is easy!
To help you get started, our guide will break down the following:
How to create a restaurant website
The benefits of bringing your restaurant online
How to create a restaurant website
To create restaurant website magic, all you need is Constant Contact's website builder. Ready to begin? Here are the eight steps to website creation:
Answer a few questions about your restaurant business. The A.I.-driven website builder will then generate a few potential website templates. Choose a template based on preferences for layout and navigation.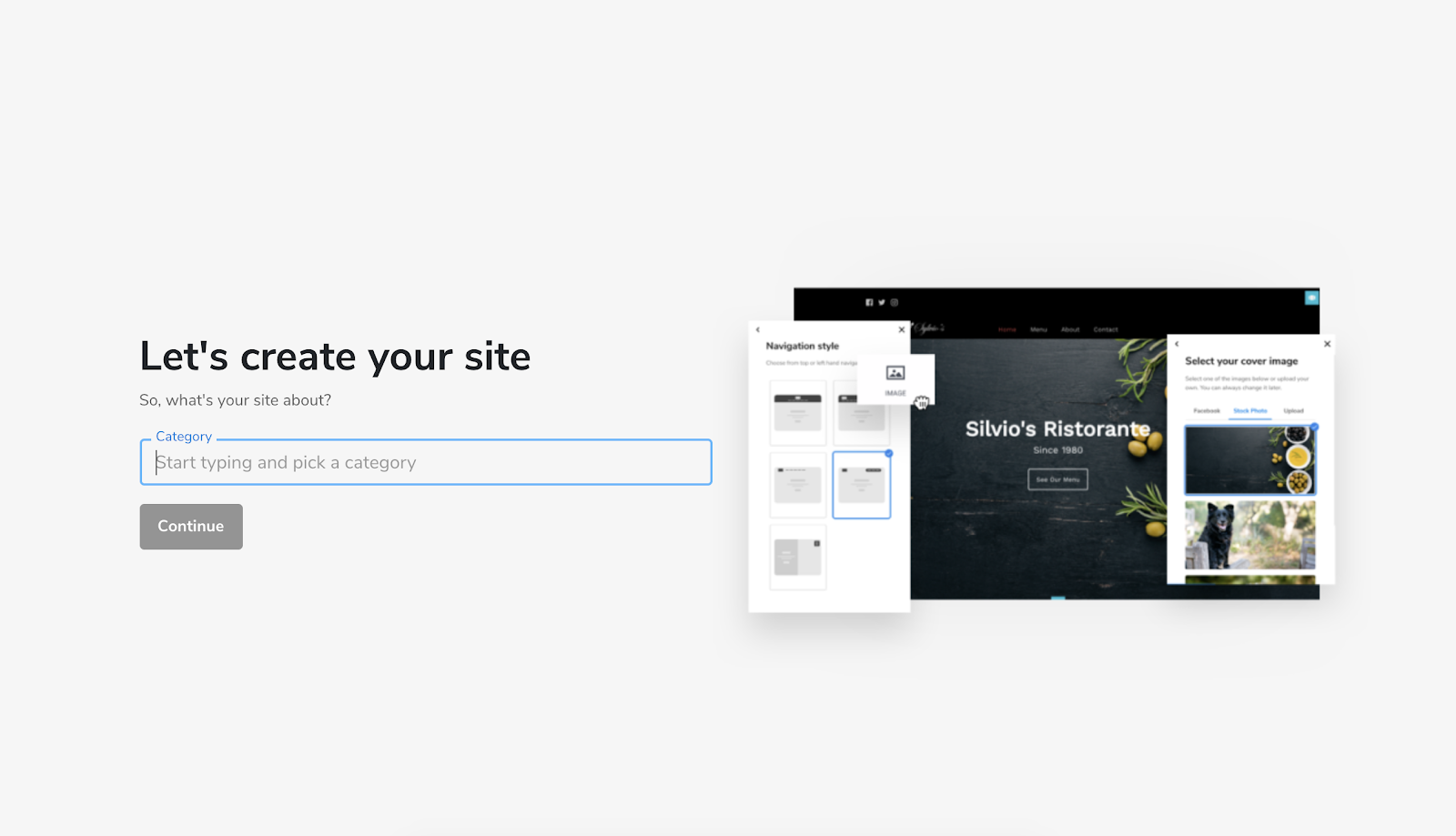 Customize the template to your liking. The generated template is just that — a template. With the easy-to-use interface, edit, change, adjust, and customize the site to match your style.
Create the pages you want for your restaurant. The four essential pages you should include on your website are a home page, an about page, a contact page, and a menu page. Add additional pages to your site such as a blog as needed.
Fill in the content for each page. Your potential customers will look for a few key pieces of information like your hours of operation, location, and menu items. Make sure each page is accurate and readable.
Include images of your food and restaurant. A great way to entice hungry customers is to show off how delicious your best-sellers look. Put these images throughout your menu and home page.
Create and buy a domain name. Your domain name should ideally match your restaurant name. If it's unavailable, add your location to your domain name. For example, if your restaurant name is Lotus Flower Thai, perhaps you could use a domain like:

www.LotusFlowerThaiCA.com
www.LotusFlowerThaiSF.com

Use the logo maker to generate a logo if you don't have one already. Building a logo with Constant Contact is as easy as building a website. Our logo maker will take your restaurant name and slogan (optional), and generate images, fonts, and color schemes to choose from. Then, customize it to fit your brand.
Publish your site. Once you have everything positioned how you'd like, it's time to publish the website and give the people what they want! (And what they want is your delicious food.)
Key features to include in your restaurant website
There are a few key features you should include to take your restaurant website to the next level — all conveniently available on Constant Contact's platform. You can check out our in-depth guide on must-haves for restaurant websites, but we've also put together a quick list of the top five features to make your website pop:
Essential information like phone number, email, address, hours of operation, and menu. With easy-to-modify restaurant menu designs and smart layouts, Constant Contact not only makes basic information accessible but beautiful too.
Online bookings and delivery. The website builder also features smooth integration with delivery services like GrubHub and UberEats so that you don't have to spend unnecessary time or money building out a separate restaurant app. Or embed your OpenTable URL directly into your site so customers can make reservations without leaving your page.
A mobile-responsive interface. Once you make a website with Constant Contact, it automatically comes with a 100% mobile-responsive design. That means it intelligently adapts to any screen size without diminishing the website aesthetics, readability, or user experience.
Gorgeous, eye-catching visuals. If you have limited website design experience, worry not: the A.I.-powered website builder makes personalized suggestions for images and content to get your restaurant's website up and running without a hitch.
SEO capabilities. Search engine optimization, or SEO, helps your website be visible to search engines. With Constant Contact's built-in SEO tools, you can optimize and increase your visibility regardless of what marketing experience you may have.
While there are plenty of other beneficial features to add to your website, these five provide a great foundation for what will be an excellent tool in your marketing belt. With a well-designed website, your restaurant will reach its full potential.
The world deserves to see (and taste) what you do best.
The benefits of bringing your restaurant online
Here are five reasons why you need to bring your restaurant online today:
Showcase customer testimonials directly on your website
Take control of your web presence, once and for all
Increase your restaurant's online visibility with SEO
Provide up-to-date information about your restaurant
Promote additional products and services
1. Showcase customer testimonials directly on your website
Word of mouth remains an essential part of any business' success. With the world going increasingly digital, however, online reviews become increasingly important each day. You love what you do — and, most importantly, what you cook— and so do your customers. Now it's time to take the next step: attract new customers by showcasing your online reviews. If you want to grow, let potential new customers know why your restaurant is worth visiting.
It's okay to brag. No judgments here.
Here are some quick stats about the importance of online reviews:
90% of customers discover local businesses through internet searches, with 82% reading online reviews before deciding which ones to trust.
A one-star increase in customer ratings on popular review sites results in a revenue increase of about 5-9%.
About 93% of people say that reviews affect where they spend their money.
The average customer is willing to spend a whopping 31% more on businesses with stellar reviews.
This information presents restaurant owners with a heart-racing opportunity: if you take your business online and collect stellar reviews, you can capitalize on potential business.
2. Take control of your web presence, once and for all
Would you let a stranger decide your menu for you? Or, would you have random people come into your restaurant and start waiting on customers?
Of course not! Because that would be bad for your business… and also quite weird.
In the same way, why let third-party sites serve as your primary online representation?
Many restaurants unknowingly leave their online presence in the hands of third-party sites like review websites or blogs, which dilutes their internet traffic and hurts brand cohesion. Others use their social media as their primary web presence, limiting their SEO capabilities. By having your online visibility spread out between sites you don't control, you run the risk of hurting your business and wasting precious online visits on content you didn't specially curate.
Just like how your smiling staff and snazzy decor serve as a customer's positive first impression of your restaurant when they walk in, so should your online presence when consumers are researching what to eat or looking your restaurant up, specifically. To take your restaurant to the next level, you need to ensure that you are in full control of that first online impression.
With the help of Constant Contact, build your website, customize your brand and logo, and showcase your restaurant on your own terms.
3. Increase your restaurant's online visibility with SEO
While many marketing strategies involve a business reaching out to a customer, search engine optimization does the opposite: it makes it easier for the customer to find you. Having your website online is the ideal way to take full advantage of SEO and drive more traffic to your restaurant. SEO is about crafting valuable content that contains specific keywords and phrases that relate to your brand and can help place your site high on search engine results pages (SERPs).
For example, if you own a farm-to-table restaurant, your SEO keywords might be "farm to table" and "organic food restaurant." Without a website, you wouldn't be able to make the best of the new marketing opportunities of the digital age.
While online marketing and SEO aren't easy on their own, Constant Contact makes the process as simple as a few clicks. With SEO tools built into the website builder, track your search rankings and access real-time performance reports on website visitors, all within your account — no expensive third-party software or consultant needed.
Here's why SEO implementation is worth your while:
Research shows that the first three search result pages on Google make up 60% of web traffic.
Just a few content tweaks can take you from online invisibility to a dominant force on local searches.
50% of "near me" searches lead to customer visits in-person — imagine the business you would get if your restaurant showed up at the top of one of these results pages!
Controlling the descriptions and SEO titles on your web pages allows you to manage what type of information search engines display on their results pages.
Take advantage of online trends and the changing seasons by tweaking your SEO strategy to drive more traffic to your site.
Appearing higher than competitors in search results increases your restaurant's competitive advantage.
With the right tools and SEO tips, you're able to increase your restaurant's visibility far more than you could with traditional marketing techniques. Without this, you are missing out on new site visits from people that are looking for things related to your restaurant. And with each new visit, you could potentially have a new diner.
4. Provide up-to-date information about your restaurant
Even if your food is flawless and your service is amazing, it's possible to disappoint customers before they step through the door. If your address is listed incorrectly online, they might never even reach the door. If your hours are off, you could face some bad reviews despite your delicious recipes.
Fortunately, there's an easy way to prevent these mishaps: create and host your own restaurant site.
With a website, you get to control the key information you display online, like your hours of operation, contact information, and menu. That way, you avoid any inconvenience, disappointment, and confusion consumers may feel when dealing with out-of-date information about your restaurant. While you should still monitor third-party sites for incorrect information, rest assured that your website serves as the primary spot for curious consumers to reference.
Constant Contact seamlessly integrates your website with a Google Business Profile listing, putting your restaurant on the map for everyone to see. With this feature comes added benefits like:
Respond to customer reviews directly from your website interface or the Google Business Profile app, building trust and credibility.
Easy access to directions makes consumer navigation to your physical location easier, faster, and less stressful — customers in a good mood tend to eat more (and pay more). 
Customer reviews, photos, and website URL can be linked directly to the Google Maps location, making customer engagement smoother than ever.
Having a specific location tag and icon makes your restaurant visible to consumers scrolling through Google Maps for food options. 
The new Google Maps "favorite dish" feature allows restaurants to grow their revenue by targeting consumers more precisely than ever before — this feature automatically displays a picture of your restaurant's top-rated dish on your Google Maps tag.  
Seamless Google Maps integration through Constant Contact is already an excellent reason to put your restaurant online. Otherwise, you'll be relying solely on word-of-mouth and happenstance for new customers. In this day and age, there is a far better method for driving foot traffic to your restaurant — and it all starts with a website.
5. Promote additional products and services
You may wish to expand your business to include products and services outside your usual menu. Whether you want to attract more customers or take advantage of new trends, this can be an excellent way to continue branding your restaurant.
These additional items may include:
Gift vouchers
T-shirts
Branded cooking equipment
Recipe books
Catering services
Private events
Special offers
Cooking lessons
While not every restaurant offers these added features, these items can be used to draw in more potential customers and foster a stronger sense of community around your restaurant.
The benefits of bringing your restaurant online
To recap, take a look at this infographic for the benefits of creating an online presence for your restaurant.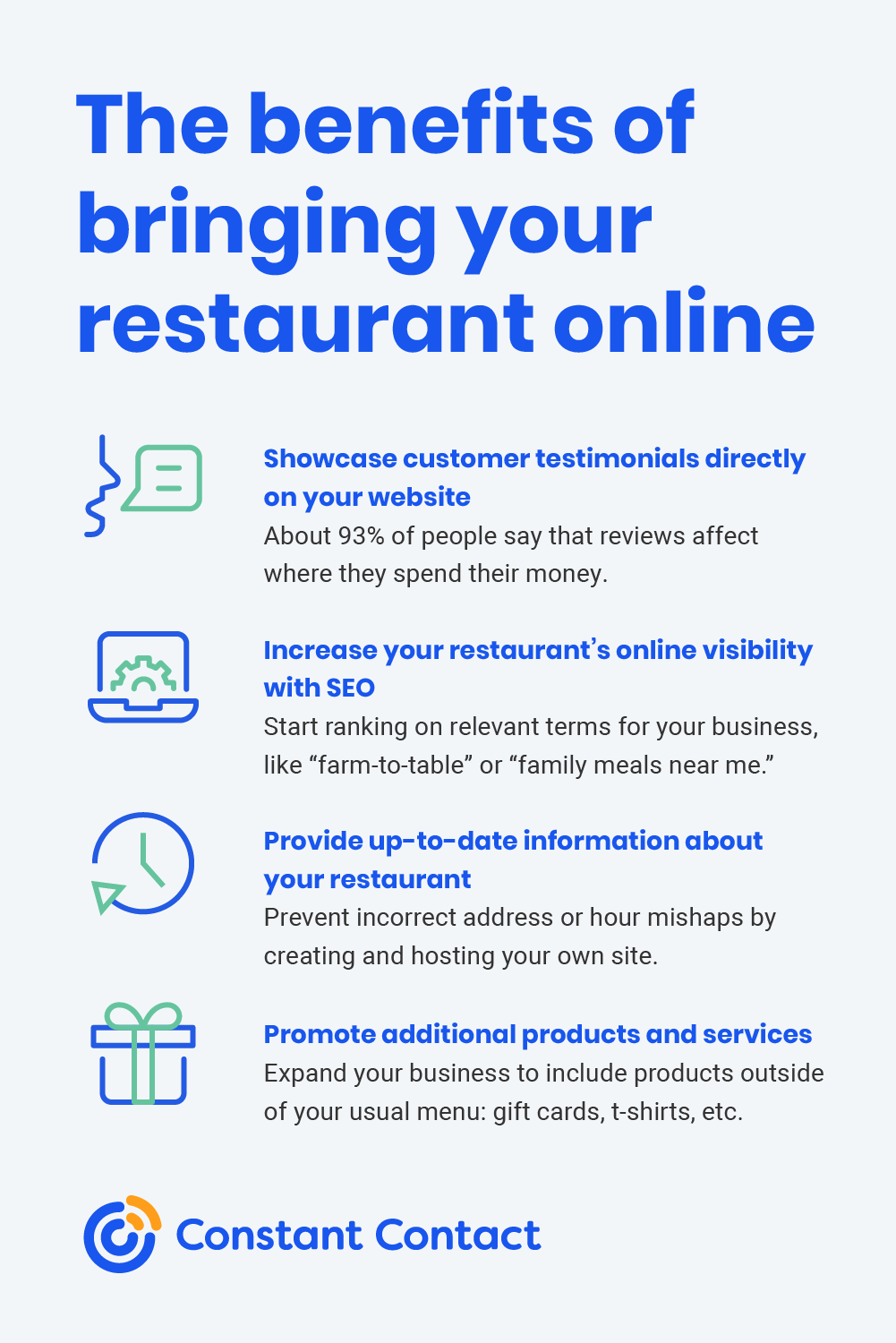 Create a new restaurant website as fresh as your food
Our website builder allows you to create your site, host it, and register the domain at the same time, with no added effort.
To get started, just take a few minutes to complete these steps:
Get started with the web builder and register the domain name of your choice
Play around with layout and design — choose colors that align with your brand and style
Use Constant Contact's built-in SEO feature to cater your content for maximum visibility
Add your contact information on your site for when the reservations start rolling in!
Now, here's the fun part: go work on your passion. Yep, that's it! From now on, your website is working for you, with automatic, real-time website performance tools continually tracking visitor action and smart layouts creating flawless user experiences across devices. While there is always more optimization to do and features to add, Constant Contact has you covered.
Excited? You don't have to wait any longer. Go ahead and create a restaurant site that showcases your breathtaking food and your unique culinary style!
Try Our Website Builder
Get a custom-designed site in just minutes with our intelligent website builder. You can use the tool and see what your website would look like for free. If you like your site, sign up for Constant Contact to make it live and share it with the world!