When it comes to running an auto repair shop, one of the essential elements of your business is gaining new customers. While word-of-mouth recommendations are still important, pairing them with a solid print and online marketing plan for your auto repair shop will help you stand out from your local competitors.
Even if you're new to marketing, developing auto repair shop advertising ideas doesn't need to be stressful!
This article provides five tips for advertising your auto repair shop that will help boost your business's visibility and connect with new customers:
Knowing what info to include in your ads
Using Yelp
Utilizing Google Local Services ads
Advertising online
Attracting new customers
We make it easy to find new customers and get repeat business with marketing tools and expert advice.
1. Knowing what info to include in your ads
First things first — you need to make sure your ads provide potential customers with the information they need. As straightforward as it may seem, including the right information can make all the difference when gaining new clients. You can include:
Your business name: In any advertisements you create — whether online or in print— it is important to clearly state your business name to allow prospective clients to easily find you via Google search or other means.
Your up-to-date address: Your address should be clearly listed so that potential clients can quickly locate your storefront.
A well-designed logo and consistent branding: A creative logo is an essential part of cohesive branding. Consider using a logo-making tool to develop consistent artwork for all of your branding.
Social media handles or web address: The essential purpose of advertising is to connect clients with your business. Providing the handles to your social media channels and auto repair website gives prospective clients another way to connect with you.
Clear hours of operation: Always include the most up-to-date version of your store hours to avoid confusion and unhappy customers.
A detailed list of services offered: Make it easy for customers to see the services that you provide at a glance.
Positive photography: If you have any professional photos of stunning auto transformations, use them in your advertisement to grab the customer's attention. Many auto repair shops use photos of happy employees and customers to develop a personable, family-friendly brand.
Appealing discounts: Your advertisements are the place to promote any upcoming promotions, discounts, or campaigns at your auto repair shop. Attract repeat and new customers with seasonal or coupon-based deals.
Link appointment portal: When it comes to advertising, your goal is to lead customers to your business. Make your appointment portal easy to access and easy to use to keep customers moving through the process. A seamless appointment portal is a crucial part of the website building process.
In this ad, Casey Kia's auto service department uses a special promotion to attract customers. By leaning into their February savings campaigns, they provide a friendly sense of urgency for prospective clients. Notice the "Book Now" link, which directs clients right to their appointment-scheduling portal!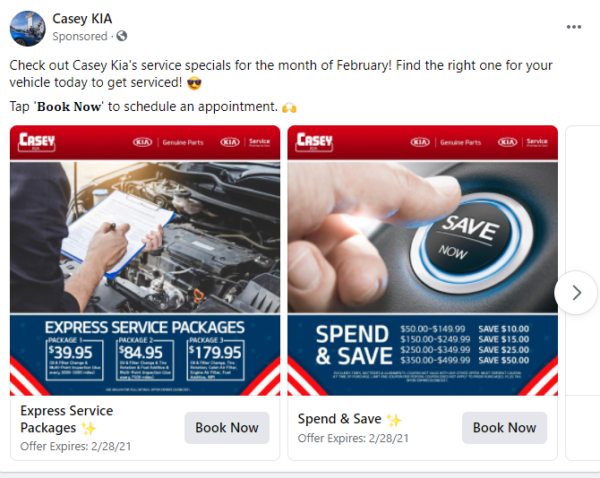 In this example, Villa Automotive & Autobody highlights their auto repair shop's family values by using bright and friendly imagery that showcases their employees. They also utilize positive family-centered language to appeal to new customers. This ad features an easy-to-use "Learn More" button that directs prospective clients to their website.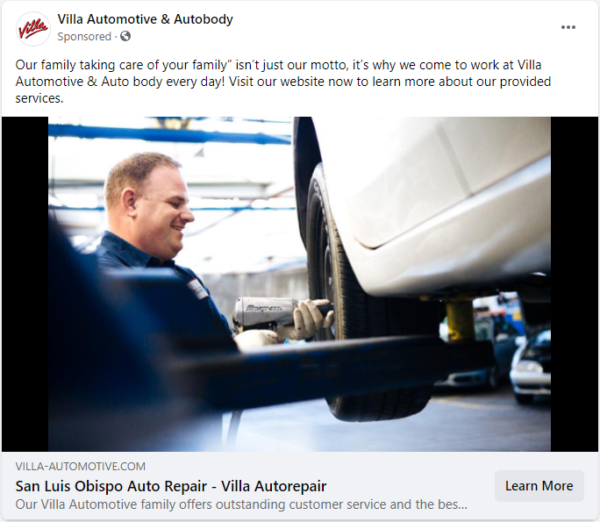 2. Using Yelp
With nearly 30 million mobile users, Yelp is an essential platform for connecting with your local market. Yelp is especially popular among users searching for local services — gain visibility among these users by claiming your Yelp profile and optimizing it.
As an auto repair business owner, you have access to paid and free tools that help you connect with local consumers via the Yelp app. Some essential tips include:
Claim your business on Yelp: Visit the "Add Your Business" page or find your business's existing page on Yelp and click "Manage My Free Profile." This essential step will help you manage the way that your business appears to prospective clients.
Optimize your business profile: Once you've claimed your auto repair shop page, optimize your profile by updating all relevant contact info, business hours, and links. Include professional photos that will help your business look polished.
Encourage customer reviews: When you encounter a satisfied customer, encourage them to leave you a positive review on Yelp. While you can't incentivize reviews, you can encourage them by placing a Yelp sticker in your business window, verbally requesting reviews, and being generally personable!
Stay active and responsive: Being responsive to customer reviews — both good and bad — shows customers that you value their feedback. It also helps you build a connection with clients online.
Utilize the Yelp dashboard: Your Yelp dashboard provides valuable insights concerning essential analytics like engagement, views, and more. This tool helps you explore the efficacy of your Yelp profile at funneling customers to your business website.
Use Yelp Ads: Yelp Ads is a paid tool that helps you reach exponentially more clients than your profile alone. Using an auto repair Yelp advertiser makes it easier to rank near the top of your prospective customers' search, and you only pay after a customer clicks on the ad.
3. Utilizing Google Local Services Ads
Google Local Services Ads is an indispensable tool for helping you connect with people in your area who are looking for services like yours. Features include:
Local targeting: By using Local Services Ads, you are marketing to customers specifically in your area. This tool helps you appear to searchers when they need your services the most.
Pay per connection: Perhaps the best feature of Local Services Ads is that you only pay when a customer calls you directly by clicking on the ad.
4. Advertising online
Beyond Yelp and Google ads, the digital world is rich with advertising opportunities. Once you've developed your next advertisement, consider placing it in online spaces such as:
Your social media channels: Social media is a powerful tool for advertising. Whether you're using Facebook and Instagram ads or content marketing, social media offers massive potential for reaching your niche audience.
Your blog: Creating a blog is an excellent way to attract customers to your website. Include advertisements and promotions within your content as a way to drive business.
5. Attracting new customers
Ultimately, attracting new auto repair customers is all about being visible to those people who need your services at the right time.
Maximize your online visibility by using SEO tools to optimize your content. Establish your social media channels, website, and blog as a resource for content like driver safety, car maintenance, travel tips, and information about local events.
In addition, you can use tried and true tactics, such as creating an advertising auto repair shop flyer and mailing it to local neighborhoods, placing it in nearby stores and community centers, or even simply handing them out at local events.
Next Steps
Now that you've checked out auto repair shop advertising ideas and how to use them effectively, do you feel ready to develop your own ads?

Coming up with auto repair shop advertising ideas is just one step towards creating a comprehensive marketing plan for your business. If you want to read more about repair and maintenance services marketing, check out The Download, a free marketing guide for repair service professionals.

Share with your network