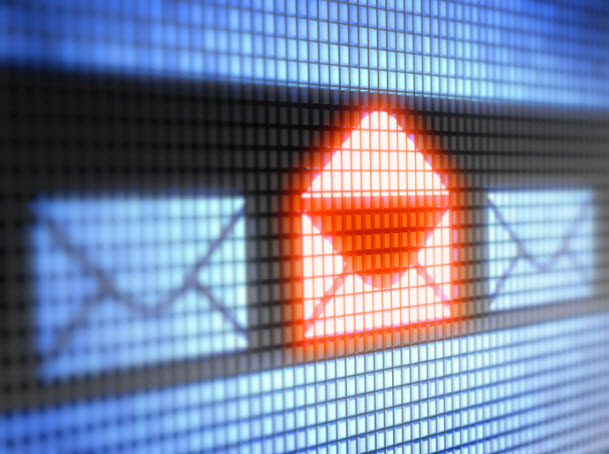 Usually at Constant Contact, we like to say that the average email marketing open rate across all industries is around 20%.
That's why I was so impressed when I spoke with Nicola Hopper, Digital Marketing Officer for the Festival City Theatres Trust in Edinburgh, Scotland.
The trust consistently sees open rates of about 50% and strikes an average of about 35%.
The best part? The organization, which uses email marketing for both the King's Theatre and Festival Theatre, has nearly 140,000 contacts. That means that about 49,000 people are opening each email on average.
Here's how Nicola and the rest of the team do it:
1. Get customer information up-front
If you're going to the King's Theatre for a hip-hop dance show, there's probably a good chance you may not be crazy about opera.
Nicola knows that, which is why when someone registers for a performance, she puts them on a specific list for that kind of show.
That way, people who saw a comedian will only get emails about upcoming comedy shows and jazz enthusiasts won't get campaigns about dances
This strategy hinges on getting a guest's preference as soon as he or she joins the email list.
"At the box office, we ask people if they're interested in joining our email list, then we put them into the list that corresponds with the show they're attending," she says.
If you sign up for the list on the theatre website, you'll find that you have more than 15 options to choose from: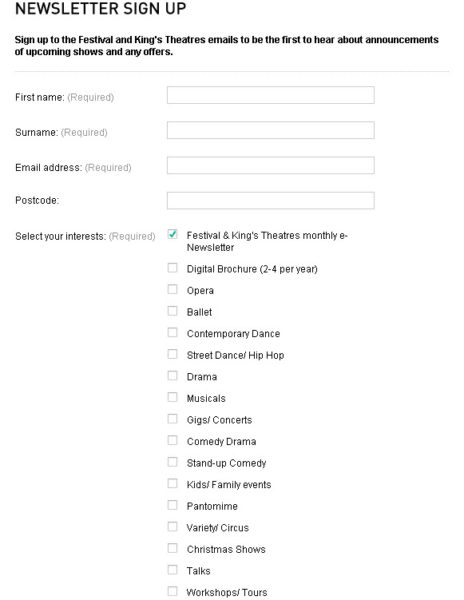 What this means for small businesses: If a customer purchases a product from your business, put them on a specific list that pertains to that product. You can still send a general newsletter, too, but this way you'll know what they're interested in and will be able to send them targeted promotions in the future.
2. Make a list for loyalists
Loyal theatre-goers and trustees who have been supporting the theatres for a few years also get placed on an exclusive list.
Every so often, they get a personalized email acknowledging them and thanking them for their continued support.
Those emails can include special brochures, offers, and news about the Festival City Theatres Trust in general.
What this means for small businesses: Repeat customers are a huge source of business, so make sure to show them they're appreciated.
Having a list for veterans can help give them a personal experience and, every once in a while, a reward for their loyalty.
3. Create a personalized email for a personalized experience
Nicola's newest innovation is creating a list for people who book a specific show. We can take a look at this by examining the customer experience for theatre-goers who booked a ticket for Susan Boyle's "I Dreamed a Dream" show.
First, the Friends of the theatre were offered a special discount on the tickets:
Then, everyone who purchased a ticket was put into the "IDAD Thankyou for booking" list.

In turn, this list was sent a comprehensive email that shared all the details of the show as well as information about a special event that went along with the "I Dreamed a Dream" show:
What this means for small businesses: If customers purchased a certain product or service, follow up with an email specific to that product or service.
That way, you can build on the initial relationship, provide them with your expertise, and leave a lasting impression that will carry over long after the purchase.
Making a list and checking it twice
Lists are not just handy for keeping contacts organized. If they're made with customer information in mind, they can be important relationship-building tools.
As the holiday marketing campaigns begin, keep the power of a list in mind as new customers walk through the door.
Asking people if they'd like to receive email updates about the product they just bought can be a great way to build a certain list and help ensure that, even after the holiday rush, people will keep coming back.
Want to learn more about building your lists? Check out our free webinar, "How to Grow Your List."