Could Facebook travel ads bring new customers to your tourism business? Social media reaches millions of people during their leisure time — when they're most open to thinking about travel. But business pages don't reach many customers without paid advertising, so it's wise to consider tourism Facebook ads.
How can you create Facebook ads that will perform well enough to bring you new business? Read on to learn why Facebook advertising is a great investment, plus everything you need to know to create effective campaigns.
Do Facebook ads work for travel and tourism?
Facebook advertising is a very effective channel for reaching new customers. People see your ads when they're feeling relaxed and open to new ideas. Check out these statistics, too:
Are you curious how those numbers translate to the travel and tourism industries?
According to research done last year, the average click-through rate for the Travel and Hospitality industry is 0.9%, which gives this industry an average cost-per-click of just 63¢.
The average conversion rate for Facebook travel ads is 2.8%, and the average cost per action is $22.50. An "action" in this case could mean anything from purchasing a tour package to signing up for a newsletter, depending on the goals the advertisers set for themselves.

Compare that $22.50 cost to the lifetime value of a new customer by multiplying your average customer purchase by the number of repeat purchases you expect from each customer. In most cases, tourism Facebook ads are a bargain.
How to set up a strategy for your Facebook travel ads
Think about what you hope to accomplish and how these ads will fit your overall digital marketing strategy.
Set advertising goals
You can set the following as goals:
Sales
Website visits
New social media followers
New email subscribers
If you're marketing lower-ticket items like day tours, your ads may be able to stimulate sales on the spot. Expensive items like package tours won't usually sell in a single visit, so it's better to focus on building your email list or fan base to forge relationships.
Define your brand image
Does your brand have a clear personality? Well-known travel brands usually have an image that can be summarized in a word or two, like:
National Geographic — adventure, culture
Disney World — magic, family
Club Med — indulgence
Think about your brand image before you start choosing the words and images for your Facebook ads.
Know your audience
What is your niche in the travel industry? You can figure that out by looking at who your best potential customers are. Ask yourself:
What is their age range?
Are they married? Do they have children?
What is their average annual income?
What are their interests?
One of the advantages of online advertising is having the ability to target a very specific audience. You'll save a lot of money by aiming your ads at the people most likely to respond.
Determine an overall budget
Think about how much you'd like to spend each week or month. You can experiment with advertising on Facebook using a small budget, and increase your spending as you discover what works for your business.
How to create Facebook travel ads
You can use Facebook's Ad Manager or Constant Contact's built-in Facebook Ads Tool to build your ads for Facebook and Instagram simultaneously.
If you use Constant Contact's tool, you'll find a simpler interface that gives you just the features you want — as you'll see in the screenshots below. You'll also have access to stock photography, or you can use your own image library.
Decide what to feature
Choose a very specific focus for each ad. You can create a variety of specific ads — each with its own image and message, to highlight different aspects of your business.
Rather than focusing all ads on "save on travel," for instance, some of your advertisements can focus on:
Travel to Europe
Cruises
Family trips
Identify an audience that will respond to each specific message, and serve images and words that will appeal to them.
Choose a specific audience
Think about the exact person you're trying to reach with the ad you're creating.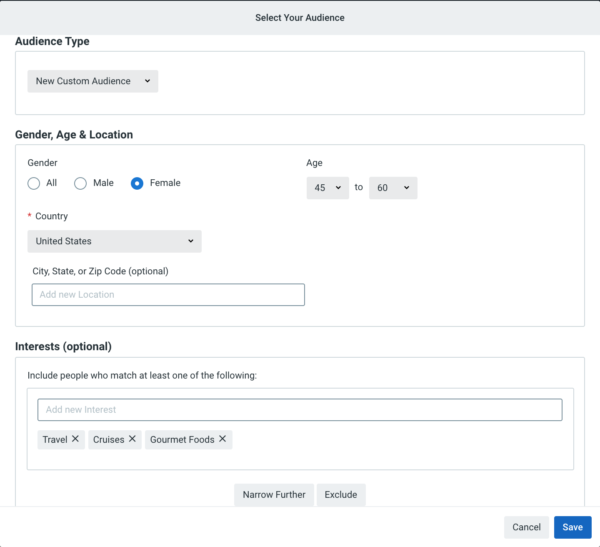 In the example above, the ad will be for discount trips to Europe. The advertiser has decided that an older, female market will most likely respond to the ad. Facebook also allows narrowing the audience by interest, so this ad also targets women who like travel, cruises, and gourmet foods in hopes of finding upscale customers who would enjoy European travel, specifically.
If you were targeting young families, you might specify men and women age 25–45 whose interests include children's clothing and family.
Create your messaging
Now that you've chosen a very specific audience, you can personalize your copy for them.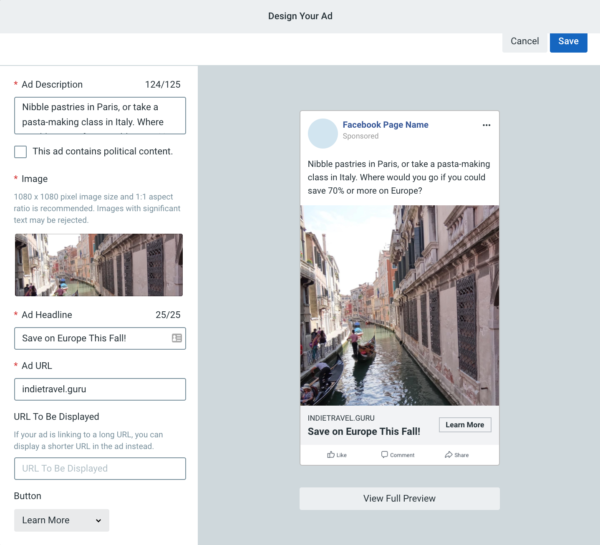 In the example above, the advertiser has written copy specifically for people who love both travel and gourmet food.
Connecting your message to the audience you've chosen will boost your clickthrough rate. Be sure to invite people to click on your ad in your last sentence — with a call-to-action phrase.
Choose an image
The image in your ad will entice people to read the words you've written. Luckily for the tourism industry, people love to see travel-related photos in their social media feeds.
Choose a photo that fits your brand image well and will appeal to your target market. Experiment with using scenery shots or photos with people in them, but make sure the people in your image match your target demographics.
Set each ad's budget
Each ad you create can have its own budget. If you're running four ads, you could set each one to spend 25% of your overall budget.
Facebook's minimum spend is $1 per day, so you can run an ad for $7 a week. Once enough people have clicked on your ad to spend your whole budget, Facebook won't show your ad again that day. The more you spend, the more people will see your ad.
Test and tweak
Try out different combinations of text, images, and audience to see what works. If you create a different landing page for each ad, you can track your results while using landing pages to segment your email list for more targeted campaigns.
As you find combinations that work well, you can create new ads. Keep testing and refining until you find a strategy that takes your travel business to the next level.
Make Facebook part of your digital marketing strategy
Facebook advertising is an important tool for growing your business. It's not difficult to create your own campaigns, either — especially if you use Constant Contact's ad-building tools.

Want to further improve your digital marketing strategy? Learn more by going through The Download, our free guide for travel and tourism businesses.

Share with your network