Most people who are involved in an enterprise of some sort – for-profit business, nonprofit, community-based, etc. – recognize the need for an online presence. With 90% of adults in the U.S. using the internet, there is no question that the world wide web has infiltrated our daily lives.
It has become something of a personal mission to help local community organizations develop the knowledge they need to stake a claim on digital real estate of their own. With so many people relying on the internet for information, it is critical that your nonprofit is accessible digitally, as well as physically.
The ultimate guide to your nonprofit organization's website, online marketing, and more
I am so glad that Constant Contact created the ultimate free guide to marketing for nonprofit organizations. The Download: Making Sense of Online Marketing for Nonprofit Organizations details the must-knows of the entire nonprofit branding and online marketing mix, including:
How people find your organization online
How to approach social media, email, and website content
How to set yourself up for successful fundraising
How you can make online marketing work for you
I highly recommend downloading the free guide for an overview of how your website, social media, and other marketing efforts come together to advance your mission. But for now, let's dive into the importance of a great nonprofit website.
Why your nonprofit needs a website – and why it needs to be mobile-friendly
Think about it: the first thing most of us do when we want information, about everything from local restaurants to major universities, is to look to the Internet. And if we can't find the information online, aren't we inclined to ask, "Does it even exist?"
This means that all the work you are doing to promote your nonprofit organization will be lost every time someone searches online to learn more about your work but is unable to find you there.
Oh, and your site needs to be mobile-friendly. Today, a little more than half of people who access the internet do so via their phones; that number is expected to increase to three quarters by 2025! This means that your site should look and function as beautifully from a smartphone or tablet as it does on a desktop.
If you're setting up your first website in 2020, it will be easy to make sure it is mobile-friendly from the get-go. If your site hasn't been updated in more than three or four years, then there is a good chance that you will need to upgrade.
Not sure if your site is mobile-responsive? Test it yourself. Visit your site from a couple of different smartphones and tablets. How does it look? How easy is it to find your menus and links? If you are struggling to find basic information, then your visitors will, too. Most website visitors will leave within 15 seconds if they can't find what they are looking for. 15 seconds.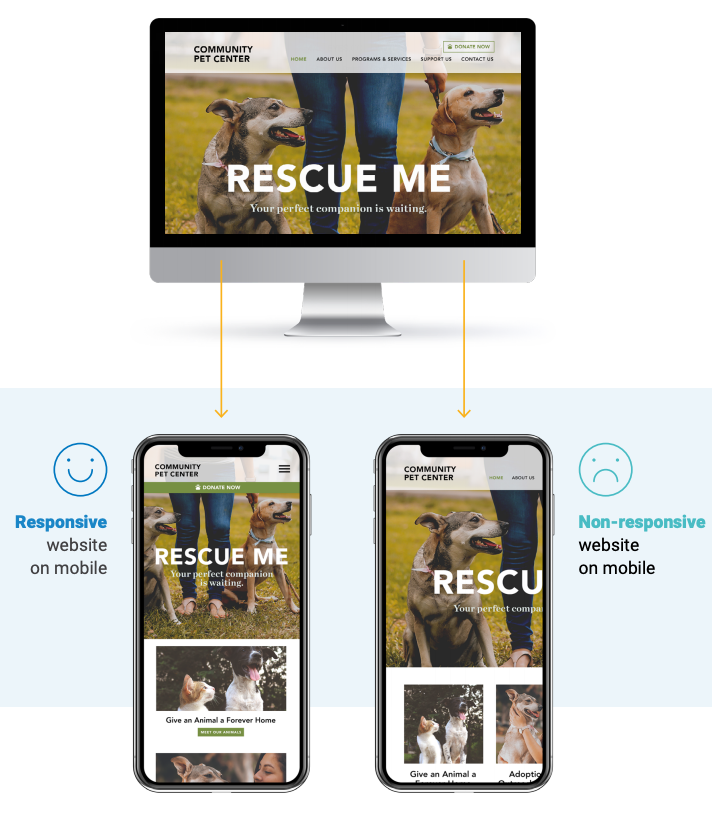 The other day, I used my phone to check out the website of a local business that clearly hadn't paid attention to its site in a while. The site was unattractive, and it was hard to find the links that I needed. Furthermore, several of the links were broken.
All in all, it did not reflect well on the business. In fact, I wondered whether or not the business was still operating (it was). But how many other visitors will take the time to find out?
The five pages every nonprofit website should have
Here's my main guideline for you in developing content for your website: Keep. It. Simple.
You don't need – and believe me, you don't want – a dense, complex website. Five pages are all you really need. Each page should stay focused on answering just a few key questions.
Home Page
Who is your ideal client/volunteer/donor?
Why should this person choose to stay on your website?
What do you want your visitors to do next?
About Us Page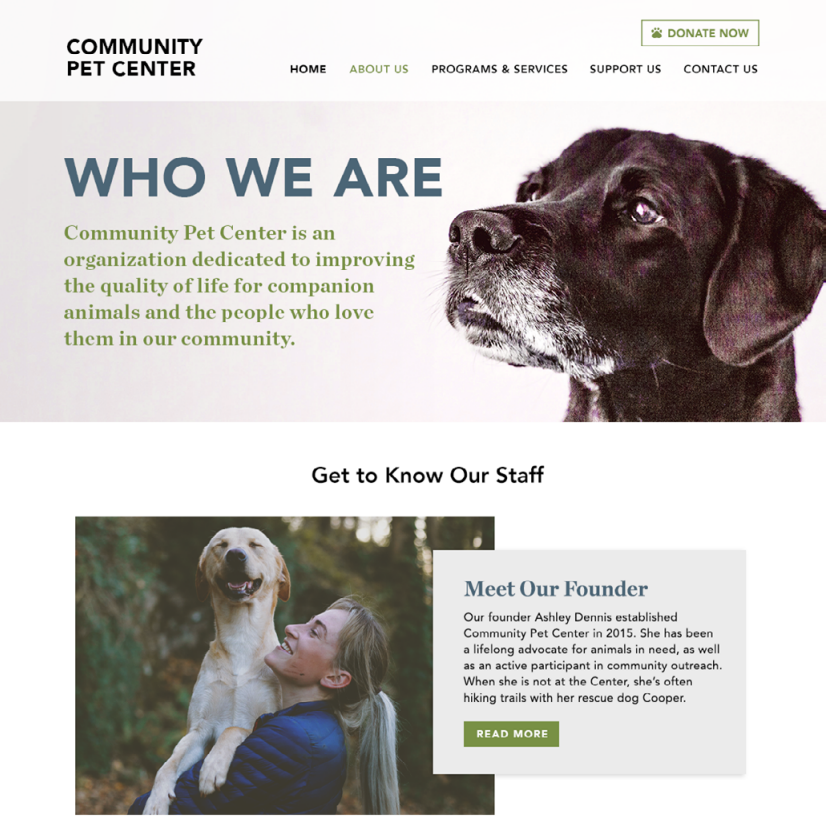 What's your story?
What problems are you trying to solve for the community?
Why is your work important?
Why should anyone care?
Programs and Services Page
What do you do?
Where and when are your programs and services offered?
How does someone enroll or sign up?
Who are your programs and services for?
Support Us Page
How does someone support your organization, right now?
What will their support accomplish?
Why is it important?
Contact Us Page
Where and when can people find you?
How can people contact you?
How will you reply?
Tips for using images on your nonprofit website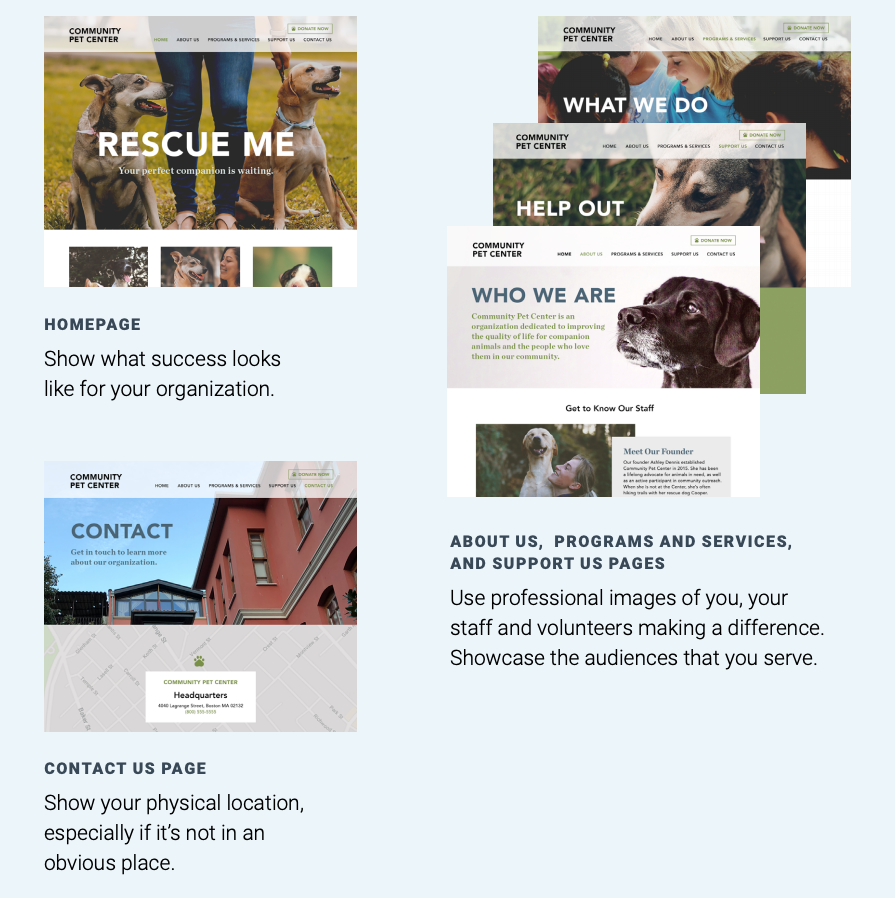 Pictures speak volumes about your organization. Photos showing your mission in action will engage visitors on an emotional level.
Make sure that the photos are of good quality, and that you have the appropriate permission from any people who are pictured, especially if they are children.
Last, but definitely not least: Calls to action for every page.
While it's important to stay focused on answering the page-specific questions listed above, there are a few things that every page should have in common. As a nonprofit marketer, your online marketing efforts (and your website) will usually focus on two key goals:
Make it easy to donate
It is easy and inexpensive to include a "donate now" button on every page of your website. Transaction services such as PayPal require no set-up charges; rather, they will charge a nominal fee per transaction. And before you balk at the fee, consider this: if you receive ten new donations online that you wouldn't have received otherwise, hasn't the transaction fee paid for itself?
Build your mailing list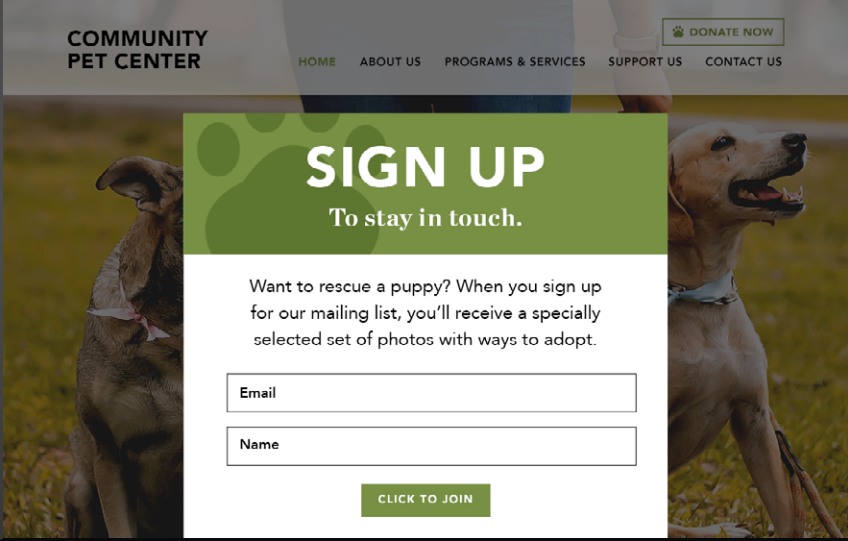 Don't forget to collect email addresses! Include a "Join Our List" button on every page of your site. This will bring followers into your loop so that you can begin a real and lasting dialogue with them.
Take the time to plan, and make the commitment to going digital
Creating a website is not a "one-and-done" proposition any more than setting up a storefront is. Take a little time to create a website plan that includes goals, strategies, and measurable outcomes.

Think about who your audience is, and who you are trying to reach with your digital materials, and tailor your design and content to their needs.

Choose digital marketing tools that are manageable. Prepare for ongoing maintenance of your site so that it is always fresh, accurate, and up to date. Integrate the website into a larger vision for marketing and promoting your organization.

And finally, have fun with it!

Share with your network