As the owner of an insurance agency, you can spend thousands of dollars to design digital and print advertisements. You can pay even more for every set of eyes that may look at your paid advertising campaigns. But it's hard to know if it's all worth the money.
Although marketing is foundational to the growth of an insurance agency, it can be challenging to decide where to put resources and energy. Even if you end up allocating money toward campaigns that may or may not work, creating a concurrent plan to cultivate free insurance leads would be a sound strategy.
Find more leads and drive policy renewals with expert marketing advice and all the tools you need, all in one place.
Many modern and comprehensive marketing outreach initiatives are designed for organic lead generation. You can get more clicks on your insurance business website without spending money. Even with a small or nonexistent marketing budget, it's possible to connect with your target audience — both online and offline — to sell new policies, while strengthening your relationships with already-loyal customers.
In this guide, you'll learn about the following tips to generate free insurance leads:
Network in community and industry events
Create new online resources for prospects
Write guest blogs
Participate in directories and listing sites
Ask for referrals
Stay active on social media
Learn more organic marketing tactics
Before you start applying all of these marketing methods to your business, you should have a clear understanding of who you want to target for new policies. Consider not only general demographics — including geography and age — but also the needs, concerns, and behaviors of your targeted audience.
These ideas may not cost money to execute, but you should expend effort and time to focus and strategize for maximum effectiveness.
Network in community and industry events
In the post-COVID-19 world, in-person networking events can seem few and far between. But if you know where to look, you'll still find opportunities for you to get in front of people who could benefit from your services. Target socially distant meetups in local parks or outdoor venues where you can wear a mask and connect with future clients.
You can also search the internet for online events and conferences that are focused on the insurance industry. If you're so inclined, you might try hosting a webinar to share what you've learned while earning new qualified leads for your business.
The more you learn about new safety procedures and policies, the more valuable you'll be to your community — virtually or otherwise.
Create new online resources for prospects
Content marketing is an important way to get noticed when people use search engines to find insurance agencies like yours.
The process is straightforward: Instead of paying for digital ads, you can write informative, educational, and engaging blogs to be published on your website. If you're struggling to think of topics to tackle, look to established industry websites for inspiration.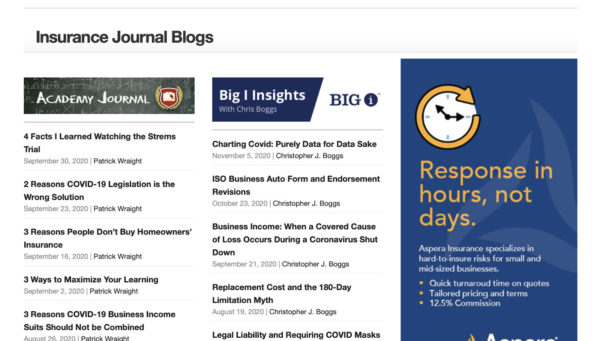 When you include keywords — for example, "life insurance agent in Virginia Beach" — you make it possible for the Google algorithm to pick up your blog when someone types in certain words and phrases. You can also include these keywords in image descriptions if you prefer to create infographics instead.
At first, it may seem counterintuitive to give away your valuable information. But by providing new online resources that your target audience is searching for, you'll drive traffic and awareness to your business.
Write guest blogs
Another powerful and free way to gain exposure and position yourself as an expert in your field is by writing guest blogs. Collaborate with relevant websites where your future clients spend their time. Brainstorm a few topics based on what your current customers frequently ask and draft articles to submit.
Crafting guest blogs is a two-pronged approach to generating free insurance leads.
You may find people reaching out to you because they happened to visit the relevant websites and they liked what you have to say.
What you write in your guest blogs can be picked up by a search engine like Google. That's why you must include strategic keywords in all your blog posts.
Above all, don't forget your backlinks. Including links to your website within your guest blog's content is crucial to driving traffic to your business.
Participate in directories and listing sites
Make sure your business information is current and comprehensive on every directory and listing platform possible, as this is yet another way to rank organically higher in online searches.
Directories such as TrustedChoice, Neilson Marketing, and US Insurance Agents may require a fee to be included — but other listing sites like Angie's List, Yelp, Google My Business, and Facebook Business Pages are free.
With each of these platforms, fill out the information carefully. Double-check the spelling of your business name, your address on both Google and Apple Maps, your phone number, and website. Provide a list of all the services and policies you offer. Make sure to include some keywords in your business description as you share how you stand out from your competition.
Ask for referrals
You probably know that word-of-mouth marketing remains one of the best ways to gather free insurance leads for your business. But you may not realize that the best way to encourage these types of referrals is by partnering with other professionals in your community.
Connect with real estate agents, mortgage brokers, car salespeople, and medical professionals who may have the opportunity to recommend your services. You can also refer them to your customers, as well as offering them a chance to publish a guest blog on your website. Collaborating can bring in more business for everyone.
You should be asking your current clients to speak on your behalf to their friends and family, too. Encourage your satisfied customers to leave reviews on platforms like Google My Business, Yelp, and Facebook. After you've claimed your listing on these sites, make sure to respond to every review to show your strong customer service.
Stay active on social media
Social media is a free tool for finding new customers, but it can also be an overwhelming time suck that rips you away from more important tasks. To be strategic with your social media marketing, start by focusing on just one platform: LinkedIn.
LinkedIn is the social media choice for professionals. It's an ideal online location to post your blogs and share interesting news from within your industry. Start by optimizing your personal profile. Add links to your business website and include all relevant experience and education to show your expertise. Don't forget a professional headshot.
Start connecting with people within your community. You can reach out directly to those you've already done business with and ask them to recommend you under the "Skills & Endorsements" section of your profile. Next, you can begin to reach out to their contacts and ask them to schedule calls to discuss policy options.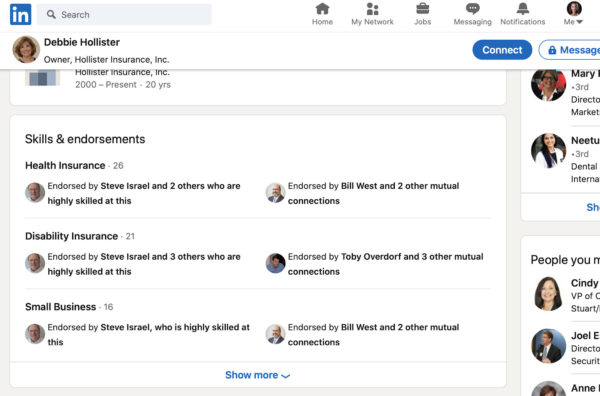 Watch for important life changes that are announced on social media, as well. New babies, marriages, and new professional positions are common milestones that may drive people to invest in their futures through insurance policies. Always congratulate your connections on their good fortune before using the conversation as an opportunity to pitch your services.
Learn more organic marketing tactics
There are many ways to market your business to prospective clients for free, but all outreach efforts require forethought and planning to be successful.
Before you begin to connect with your target audience, spend some time creating your comprehensive marketing plan for the year. Want to make sure you're covering your bases? Check out Constant Contact's The Download. It's a free guide to digital marketing designed just for entrepreneurs like you.

Share with your network