When looking to rank on Google, some business owners look at the 600 million blogs out there and think there's nothing else to contribute. And maybe you've seen other competitors targeting some of your keywords and got discouraged. Of all the life insurance marketing ideas, blogging can have the most impact and require one of the lowest investments.
But you don't have to be a search engine optimization (SEO) expert to start getting your blog posts read by large audiences. All you have to do is learn how to target low-competition life insurance keywords.
Not quite sure what life insurance keywords are or how to include them in your posts? Continue reading to learn what SEO is and how to differentiate low-competition keywords from more competitive ones. Plus, get a sneak peek at some keywords you could start targeting today.
Find more leads and drive policy renewals with expert marketing advice and all the tools you need, all in one place.
What is SEO?
Website SEO is the practice of making small changes in your content to increase its relevance to readers and its rank in search engine results. Within any industry, there are plenty of opportunities to optimize your content and get a piece of the pie. So, how can you get your share of views online within the realm of life insurance? Let's start by understanding competition.
Low- vs. high-competition keywords
Low-competition keywords have a relatively high search volume but don't have many valuable search engine results currently ranking. If you can provide better content, you can likely rank higher and get more traffic. On the other hand, high-competition keywords have such a high search volume that everyone in your industry — and often, many outside — are targeting them through high-quality content.
To understand keywords and why they're competitive, let's first establish what keywords are. They're the terms that you insert into your content to match search queries made by your potential customers. Queries are the actual searches like "average cost of life insurance."
When searchers look for life insurance solutions, you can be the one to inform them. You'll gain their trust and potentially provide them with the policy they need. This is search marketing — getting in front of your customer as they search for solutions.
If your content is optimized to answer the searcher's intended question, and your site is viewed as reputable, search engines like Google will push your website to the top of the search engine results page.
The way to improve your chances of ranking on the first page is to look for queries with high search volume and low competition. There should be lots of people interested in the topic but few high-quality results.
Ranking factors: Domain authority and backlinks
Targeting low-competition keywords isn't the only thing to focus on, however. You'll also want to keep an eye on two other elements: your domain authority (how reputable Google thinks your website is) and your link building (how many reputable sites link back to your website). These two components of your SEO strategy will boost rankings on your post in addition to the other ways to increase your SEO as a life insurance agent.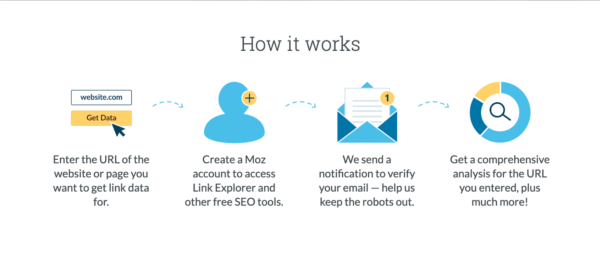 Use tools like Moz's link explorer to check your domain authority, the authority of a particular page, and how many backlinks your site has. From there, you can set a goal to gain more quality backlinks and improve your authority online.
6 life insurance keywords and topics
If you need time to learn more about SEO and you're in a bind for which topics to write about, here are a few lower-competition life insurance keywords that you can adapt to your location and audience.
1‌. Average death benefit for [insert profession]
With this topic, you can explore a variety of blog posts including specific benefits that certain professions get (teachers, construction workers, bus drivers, etc.). Life insurance policies according to professions won't have as many searches as more general life insurance terms, but they'll also have less competition.
‌2. Financial needs analysis [insert location]
If your ideal client is shopping for life insurance, they're going to want someone who understands not just where they are now, but also where they plan to be financially. They want someone who understands their goals.
Show them you're the best local option by writing an informative post on how to get this analysis quickly and efficiently. Include which questions to ask and common mistakes to avoid, and finish with how you could do this for them.
3. Digital life insurance for [insert profession/age group]
Traditional life insurance isn't for everyone. While some expect an in-person approach with an agent they trust, others want something convenient they can do online. Whether or not you provide a digital option to sign up, inform possible clients on how they can get insurance through you. If you don't offer a digital service, add a section at the bottom about why you're a better option. If you do, add a button asking the reader to contact you for a consultation.
4‌. Does life insurance cover hospital bills in [insert location]
Life insurance policies and laws vary depending on what country and state you're in. Offer the most helpful information about how life insurance will affect a family's ability to pay hospital bills after their loved one has deceased. If certain hospitals are easier to deal with bureaucratically, include that in your post. The more localized information you include, the more value you provide to readers.
5. Life insurance policy limitations
Creating a series of blog posts around common life insurance policy limitations can be one of your best tools. If there are circumstances that life insurance never covers or that must be negotiated in order to include, inform readers about them. This could mean specific travel accidents, preventable death, medical negligence, or whatever else is applicable.
6. Life insurance deductibles for freelancers
It's no secret that being a freelancer or contractor can make your benefits a little blurry. What exactly are you entitled to with your job? Often, very little. So how do life insurance deductibles work when you're the boss and the employee?
Explain what options freelancers have to get the most out of planning for the future. Make it approachable and offer to follow up with a call to get the process started for them.
How to find low-competition life insurance keywords
Use tools like Google Keyword Planner or Keywords Everywhere to test queries related to your services that are low-competition. These could be questions like "will life insurance cover travel accidents?" or other common questions you see in your everyday work. Long-tail keywords are generally easier to compete for, so try more specific topics you can answer thoroughly.
Topic-based
Take a topic that you often address with potential clients and turn it into a content opportunity. You'd be surprised just how often readers will trust the people answering their burning questions on a topic. This is especially true when they're about to spend money on a product or service.
Here are some ideas for creating content using topic-based keywords:
Seasonal keywords
‌As people start traveling for holidays, hosting events at home, and attending events, write about how their life insurance policy could use an update or a modification. This could even refer to a new season of life, like retirement.‌ Those life insurance keywords will come in handy as the season arrives and people look for answers.
Location-based keywords
As people move from one place to the next, they may wonder about life insurance options in their next destination. Instead of targeting "life insurance agencies," which will be highly competitive, you can try "life insurance agent in Detroit" or "life insurance agent in Greektown." This localization will increase your chances of appearing in a search result, especially if the current results for that query could be better.
Use AnswerThePublic
AnswerThePublic is a tool to put your finger on the pulse of a question. Add a topic into the search bar, and the content marketing tool will give you a map of questions asked around it. Here's an example of what that map looks like for the topic "life insurance for millennials":‌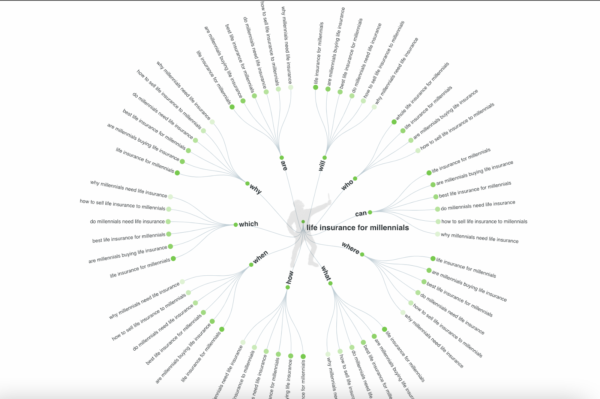 'People also ask' keywords
"People also ask" refers to the section of the search results where Google reveals what else people ask that's related to your query. Often, blog posts will center their sections or subheadings on these questions if they're relevant.
Common life insurance queries
If you want something concrete to target, consider trying these common queries.
What are the benefits of life insurance?
Sharing the downsides to not having life insurance is a way to explain to potential leads what they could prevent by taking a simple step now. You can make this easily accessible on your website as a way to tell visitors what you can help them with.
What happens if you don't have life insurance?
Share real-life stories that could have been avoided if only someone had life insurance. Usually, your clients will have reports from family members and friends. Use emotion to link policy to these severe situations — show them how you can help them prepare for anything.
What are basic life insurance policies?
Explain simple policies that your clients can choose in a matter of hours. These are your no-hesitation, easy-to-approve policies that won't break the bank and will help families prepare for a rainy day. List them on your website and explain the benefits.
‌Test an FAQ as a keyword
You've learned about SEO and what it means to have low and high-competition keywords. You have the tools ready to search many topics and test your own low-competition life insurance keywords.
After understanding more about domain authority and backlinks, you know which types of ranking websites will be strong competitors for keywords and which you can try to surpass by writing more valuable content. Now you can start putting this information into action.
To begin, list your blog post ideas around the keywords you want to target. Start by taking your FAQs, searching the keywords with the Google Keyword Planner to see if they're worth targeting. Then, draft content about those topics that provides value.
The more you offer your expertise while focusing on low-competition keywords, the more you'll see results in higher traffic, higher-quality leads, and increased business. Most importantly, you'll build your authority as an expert in your field right on your website for any visitor to see.