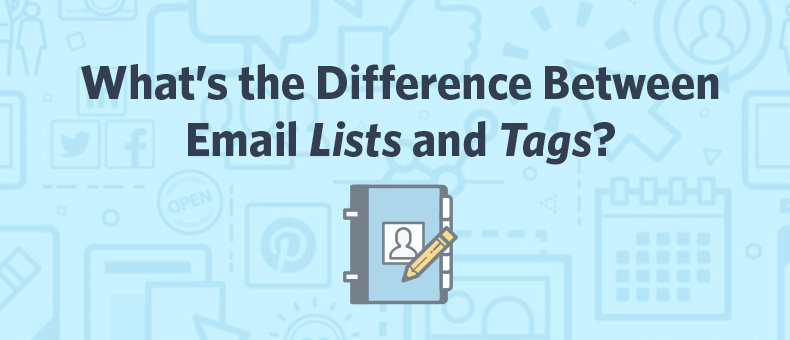 Think about the people on your email list.
While some of them have been receiving your email campaigns for years, there's a good chance others are very new to your business.
Or, whereas most of your contacts are local, others may only be in your area a few weeks out of the year.
Effectively communicating with your audience starts with realizing your contacts are not all the same.
If you're using Constant Contact for your online marketing, you know we make contact management easy so you can stay organized and focused on the parts of your business that matter most to you.
You can group your contacts into different lists and add tags to categorize your contacts even further for targeted and effective campaigns.
Let's look at the difference between email list segmentation and tagging, and how you can put these features to use in your own email marketing:
Email list segmentation
Rather than sending the same marketing messages to all of your contacts, you can send your audience more relevant content by segmenting your contacts into different email lists. This is especially useful for businesses with a variety of offerings who are speaking to different audiences.
Ask your contacts about their interests when they sign up, or send out an online survey to existing contacts to make sure you have a strong understanding of what they're looking for from you.
For example, if you're running an art gallery that holds regular professional exhibitions, as well as summer art classes for children, ask your new contacts what kind of information they'd be interested in receiving when they sign up.
Here's how a spa segments their email list to ensure their messages reach the right people:
In addition to interests, you can segment your list into different groups based on behavior. Use your email reports to see which contacts are regularly engaging with your emails, clicking on your links, and taking action.
If you have people who are regularly opening and engaging with your emails, you can easily add those contacts to a VIP list that includes your most loyal shoppers or donors. Rewarding their loyalty with a special offer when you need to drive sales, or targeting them with a message about recurring donations ensures you're reaching out to an engaged audience that will appreciate your message.
Tagging your contacts
Tags allow you to classify your contacts even further. While email lists are groups of people you repeatedly want to email, tags allow you to store additional information about your contacts so you can send to an even more targeted group when the time is right. You can tag individual contacts or groups of contacts at a time.
Think about what information would be valuable to you. For a business that attends a lot of tradeshows, tags could be useful for keeping track of the location of different audience members.
Mother Earth Pillows tags all the contacts they meet at conferences with specific locations, so they can follow-up with a targeted thank you email and reach out to those specific contacts if they are ever back in the area.
You could also tag contacts by their birthday month and reach out with a special offer at the beginning of each month.
Or, tag by preference or special interest. Do you have certain contacts that want an email every time you get a shipment of a certain product? You can keep track of these preferences easily with tags and send more personal messages to show your contacts just how well you know them.
Your reports can be useful for tags as well. Check back with a recent campaign and tag all the contacts that didn't open your email. Then, tweak the subject line slightly and resend your campaign to just those that didn't open it the first time.
Check out our tagging guide for additional ideas and a step-by-step look at how to add tags within your account.
Segmenting and tagging your contact list gives you the power to send more targeted and personal emails.
By paying attention to your audiences' unique interests, preferences, and behaviors you'll not only see better open and click-through rates — you'll gain your audience's trust by sending messages that feel tailored to them.

Start today by brainstorming three different groups that your contacts fall into and creating these new lists in your account.

Share with your network