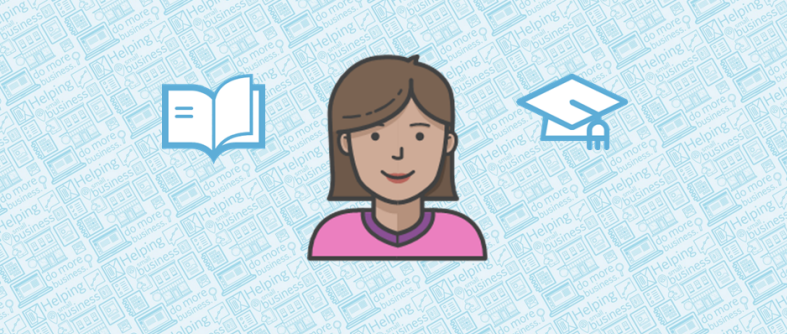 Learning about online marketing can be a challenge.
Learning about online marketing, while also trying to sort through all of the vocabulary that comes with it, can be downright scary.
From tired buzzwords to misused jargon, it can be hard to get to the bottom of what some marketing concepts actually mean and how exactly they can be applied to your business strategy.
To help you cut down on the confusion, here's a short list of some common marketing terms that are often misused or misunderstood.
1. Content
I like to think of content as a gift to your audience.
Whether it takes the form of a blog post, webinar, podcast, image, tweet, E-book, or infographic, content should be valuable to your audience. It should also help you build trust and authority with the people you share it with.
Think about the best gift you've ever received. Most likely what made the gift special was the feeling that the person who gave it to you knew you so well. When you're creating and sharing content, always have your audience in mind and offer them something meaningful.
If you get stuck, just remember that the best type of content is something your audience will thank you for.
2. Marketing
Think of marketing as the bridge you build to connect you and someone you want to develop a strong, long-lasting, professional relationship with.
Good marketing should effectively communicate what your business or organization can do for other people. The major goal of marketing is to share the right message with the right people at the right time in the hopes of building a mutually beneficial connection.
3. Content marketing
Ready to bring the two together?
Content marketing is giving people something valuable and relevant, to connect them with your business and create a strong relationship.
4. Marketing campaign
If marketing is the overarching philosophy you're working with, a campaign is marketing in action.
A marketing campaign is a specific, well planned, and concentrated effort to attract people to your business or organization.
Campaigns can take a lot of different forms. Here are some of the most effective:
Email campaign – Email is one of the most direct ways to reach your audience because you're sending to a place most people go every day — their inbox. Using a professional looking email template, adding engaging content, and providing a clear action for readers to take is a smart approach to building a connection.
Survey – Getting feedback regularly is the best way to know if your marketing is on track and to find out where there's room for improvement. Ask your audience what's working for them and what not and really listen to what they have to say. Making adjustments based on their input will go a long way in showing your audience that their opinion matters to you.
Local deal – Who doesn't like a good deal? Giving your audience a special offer or discount is a great way to inspire them to be generous with you. But be careful — making an offer without thinking it through could backfire and end up hurting your business and reputation. Take the time to formulate a plan and make sure you can deliver on what you're offering.
Event – You may not realize it, but events are one of the most effective marketing campaigns you can run. For small businesses, events provide an opportunity to take customer relationships offline, and bring new people into your store, restaurant, or office. With online marketing tools, you can easily promote your events through email and social media, collect registrations online, and send follow ups to keep relationships going, long after the event has ended.
5. Brand
For a campaign to be successful, it needs to be unique. In other words, it needs to incorporate your signature style or brand.
Branding is what sets you apart from your competitors. Building a brand is about identifying your strengths and making promises you know you can deliver on.
6. Lead
A lead is an individual or organization whose needs align well with what your business or organization has to offer. A lead has expressed interest in some way, whether that's visiting your website, coming into your store, or connecting with you on social media. You should actively be pursuing leads to grow your business.
7. Lead capture
As menacing as the word "capture" may sound, don't let it turn you off. Ultimately, lead capture ensures you are not ignoring people who are interested in your business or organization.
Encourage leads to share their contact information through a form to your website or utilize one of the many campaign types already mentioned. The next step is to nurture your leads.
8. Lead nurture
If marketing is the bridge between you and your target audience, think of lead nurturing as all the steps you're encouraging people to take to get on your side.
In more concrete terms: once a lead has connected with you, you need to cultivate that relationship by giving them relevant and consistent information to guide them to a place where they are comfortable with and committed to you.
9. Conversion
Throughout all your marketing efforts, one of your biggest goals will always be conversion. Conversion happens when someone performs a desired action based on your hard work.
Conversions can range from minor things like when a contact opens an email or clicks on a link, to larger actions like when a lead signs up for one of your services. Ideally, you want every minor conversion to bring your lead one step closer to a major conversion.
Hopefully this was helpful in making a few marketing terms less daunting.
Of course, there are plenty more marketing terms out there that could leave you scratching your head.

We're here to help! We're already at work, building our next list of marketing terms and want to make sure we're giving you the help you need to be successful.

Share with your network