Movie theaters were hit hard by COVID-19-related lockdowns, suffering losses when major studios bypassed theatrical releases for streaming services. Now that restrictions have been lifted, people are finding their way to the box office. In 2021, Cinemark's Labor Day weekend ticket sales were higher than those of 2019, signaling that people are ready to see movies in theaters again.
Here's how a movie theater marketing strategy can help you connect with local audiences to bring them back into your auditoriums. This article details:
Why you need a movie theater marketing strategy
Key tools needed for modern marketing
‌Tips on how to use these tools for marketing your theater
How to get started
Get the expert marketing advice and tools you need to increase visits and word of mouth.
Why you need a movie theater marketing strategy
Today's consumer has ample entertainment options at their fingers. As a movie theater owner, you're competing with other area theaters as well as social media, streaming services, and video games. The customer market for movie theaters in 2021 has projected revenue of $9.4 billion. A quality digital marketing strategy can help you draw these moviegoers into your theater.
Key tools needed for modern marketing
There are multiple tools at your disposal to reach customers in your area through their devices. Here are the most important ones you can use.
Email marketing software
If you have an online reservation system for ticketing and a loyalty program, you've already got the tools you need to grow your email list. Use your database to reach out to customers with personalized email messages that tell them about upcoming releases, promotions, and events.
To get started with email marketing, choose your service provider. Next, gather your email contacts and upload your list into your system. To collect more emails, add a sign-up form to your website with a call to action that encourages visitors to sign up for news, promotions, and trailers.
Social media management
Set up business profiles on popular social media platforms to connect with your audience. Posting content regularly through your branded account improves your visibility and enhances your credibility.
If you don't have time to log into and manage multiple social media accounts, sign up with a platform that lets you manage all of your accounts in one place. You can use these tools to create content, schedule posts, and track their performance. Use analytics to see which posts generate the most interest and create similar content to improve your visibility.
Tips on how to use digital tools to enhance your movie theater marketing
With multiple tools at your disposal, it can be overwhelming to figure out where to start. If you don't want to go it alone, work with a Marketing Advisor to help generate ideas.
Local SEO
Before creating email campaigns and posting on social media, make sure that your website follows guidelines for local search engine optimization (SEO). Local SEO helps customers in your area find you when they search with terms like "movie theaters near me." The first step in local SEO is to set up a Google My Business account.
Google My Business
Google My Business is a free service offered by Google that lets you manage your information so people can find you through internet searches and Google Maps. Simply create a listing and update your name, address, phone number, website, and hours. Once you've verified your listing, it will be live.
You can also use Google My Business to read and respond to customer reviews and see how people find you online. Improve your visibility on searches with photos and promotional information.
Business directories
Improve your local SEO by managing your other online business listings. Check Yelp, Yellow Pages, and more local databases to ensure that all information for your theater is accurate. Local SEO is more effective when your listing is consistent across platforms.
Most of these sites let you manage your listing by setting up an account for your business. Just log in and update your listing with any new information. Add photos and other personalized information to stand out among the competition.
Use these other movie theater marketing ideas to attract customers into your seats.
Segmented email lists for personalized email
Splitting your email contacts into segments lets you create more personalized and effective email campaigns. Your clients are more likely to open a personalized email, and categorizing similar customers lets you target different customer groups more effectively.
If you're a parent whose trips to the theater involve kids' movies, you probably won't open an email with the latest horror movie trailers. Solo moviegoers who frequent the box office won't be as receptive to an email promoting a family night event. Segmenting your list helps you deliver the right messages to the right audience.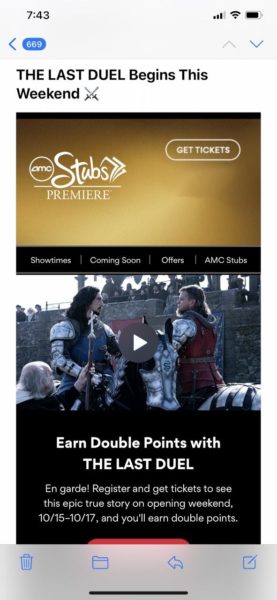 Social media advertising
Social media platforms like Facebook, Instagram, and Twitter offer paid advertising options you can use to place your posts in potential customers' feeds. Set up an account with Facebook Ads Manager to create campaigns for Facebook and Instagram.
To start, create some test ads and set a small budget to measure their performance. Facebook lets you set your own budget for ads. You can set your campaign budget for $5 and run the same ad with two different strategies.
Target one by age group and location and target another by location and interests. Once the ads have closed, use your analytics to see which one generated more traffic. Use these insights to refine your user targets and social media messaging so you can get the best results from your social media ads.
Google Ads
Buying Google Ads lets you bypass the competition and land on the first page of internet searches as a sponsored listing. Make your ads more effective using your headlines and meta descriptions. A headline is the blue part of the listing that catches the eye. Include your theater name and a small description of how you stand out.
The meta description is a few lines of text that appear under your headline. Write a short sentence about how you are different from your competitors and why people should visit your theater.
How to get started
Movie theater marketing is a critical part of getting people off the couch and into your theater. People are ready to go to the movies again, and a well-crafted marketing strategy helps you reach them. Start by improving your local SEO and updating your online database listings.

You can use your existing email list to remind customers that you're ready for their business. A call to action on your website will encourage new customers to sign up. Once you've started your marketing, keep practicing and get ready to welcome people back to your theater.

Share with your network