Did you know that people are two times more likely to share a negative interaction than a positive one?
In the age of smartphones and social media, people are quick to tweet about your business when things go wrong.
Luckily, a negative tweet doesn't have to be a disaster for your business.
Here at Constant Contact, we use our @CTCTHelp Twitter handle to provide customer support and transform negative feedback into a positive experience.
We'll show you how you can analyze, respond to, and resolve negative tweets and reviews on Twitter in three easy steps.
1. Analyze
Seeing a negative tweet — especially one that you feel is unwarranted — can be frustrating.
Realize that you can't take it personally. I repeat you CANNOT take it personally.
Take a step back, a deep breath, and a few minutes if you need to. The last thing you want to do is reply with an angry tone and escalate the problem.
With a calmer view, it's time to analyze the tweet — what exactly are they upset with? Can you tell or do you need more information?
140 characters is not a lot to work with, so it's best to gather all you can from their initial tweet. You can also take a peek at their Twitter profile to see if it offers any additional context of their conversation style and what's important to them.
2. Respond and Apologize
Even if you think the tweet is unwarranted, it's time to put yourself in your customer's shoes. They are taking the time out of their day to tweet a complaint because they believe they've somehow been wronged or slighted.
To have a customer or client feel that way, for any reason, is a big deal. There's always room for improvement and this tweet may be a sign of that.
If you need more information, you can send a tweet with an apology and ask for the details that you need to correct the situation.
Something like: "I'm so sorry! Please DM your username (details, information, etc.) so we can take a look & work on this for you."
However, if you can keep the interaction public then try your best to do so. You don't want your customer to feel as though you're trying to "hide" their complaint.
At @CTCTHelp, we try to keep our interactions public unless we have to ask for account specific information. (We'll never ask you to publicly send us your account details. Maintaining the privacy of a customer's information is essential!)
Either way, we usually see the tides of the interaction turn once the customer knows we're following up on the situation and working for them.
What if the customer is complaining about a process or procedure, but there isn't a way around the source of their aggravation?
We've found that simply sending off an apology isn't enough, and a trite, "We're sorry but that's our policy," doesn't carry over well at all.
Avoid the words "policy" and "procedure" as much as possible; there are no good connotations to be had there. Explain the reasoning behind the policy if you can.
We might say: "I'm sorry for any frustration! This is in place for the privacy & security of our customers' information."
Oftentimes, when you explain the reasoning behind an undesired process — especially when that reason is for your customer's benefit — they'll be more understanding and willing to work with you.
3. Resolve
Don't forget to follow through on what you've told your customer you'll do. If you've offered to look into the situation and make it right, then do it.
You can even follow up with a customer delighter if your customer had a really negative experience. Something like a discount or other gesture of goodwill shows you take a quality experience seriously.
If the interaction is publicly visible, you're not only making a good impression on the affected customer, but also every person who visits your Twitter profile and sees the interaction.
Customers are looking for exemplary experiences with businesses, so try to see a negative tweet as an opportunity to show off how responsive and authentic your brand and business can be.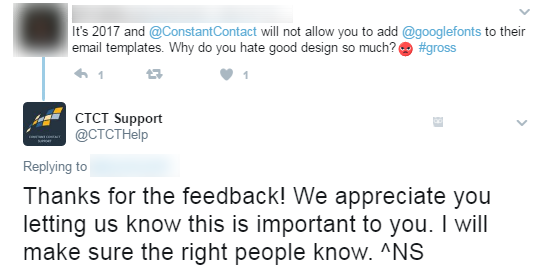 Don't leave your audience hanging! Twitter is a very fast paced network, so the faster you can address and resolve the issue the better.
Even if you can't resolve the issue right away, make sure to respond in some form as quickly as possible.
A short and sweet tweet saying, "Thank you again for taking the time to provide your feedback! We really appreciate that!" acknowledges their complaint and speaks volumes about how your business cares.
Transform negative feedback into a positive for your business.
9 times out of 10 you'll be able to repair a relationship with an angry tweeter, just remember to put yourself in their shoes, understand their complaint, and address it appropriately.

Remember that you're working for both your customer and your business and that this is your chance to show everyone on Twitter just how great a job you can do!

Following these practices has helped our support handle, @CTCTHelp, rank as #1 in an independent study of top SaaS companies providing support on Twitter, and I hope they'll help you, too!

Have questions about how you can use Twitter for customer support for your business? We're here to help! Leave us a comment with your questions.

Share with your network