According to Gartner, by 2025, as much as 80% of B2B sales interactions will occur online. Yet in 2021, many manufacturers are prioritizing an OEM marketing strategy that relies too heavily on traditional business models. These strategies can overlook the digital transformation of the OEM world, leaving money on the table.
By boosting digital marketing tactics in your advertising strategy, you can efficiently capitalize on online marketing and bring the customer to you. This can help you save time in the long run so you can focus more on what makes your business stand out.
Ready to get new manufacturing deals and repeat business — all in one place?
A digital OEM marketing strategy
One of the most important principles in OEM marketing is to remember the wealth of information available to your customers. Before any direct contact occurs, they've evaluated their own needs and researched available options. Many also prefer seller-free buying experiences.
When creating your marketing strategy, join the new generation of decision-makers with marketing plans that are:
Inbound-focused. When considering the buyer's journey, start from awareness, through consideration, and into conversion. Remain a resource that shows your care for the buyer's experience while promoting loyalty and advocacy.
Digital-first. Prioritize digital tools over more expensive traditional ones to reach more customers.
Content-rich. Create informative material that leverages your expertise. This will establish your brand as a trusted industry leader, building trust and brand awareness.
In addition, your marketing strategy should be cohesive. Think about the ways that different marketing channels work in concert to drive sales.
Key elements of an OEM marketing strategy
Develop your strategy with the tools on which its success will depend. Do this by setting goals for each channel and choosing the right means to accomplish them.
SEO and SEM
When that digital-savvy customer is searching online for answers to their problem, you want to show up as the answer. It's more important than ever to incorporate search engine optimization (SEO) and search engine marketing (SEM) into your strategy.
Industrial SEO practices will help you appear in the organic search results of potential customers and attract them to your website. This is essential for long-term success.
As for paid advertising, Google Ads is another powerful tool. Search ads allow you to show up on the first page of search results more quickly than with an SEO-only strategy.
But the two work best when they work together. By integrating SEO efforts with paid advertising, B2B companies can see an average of 25% more clicks and 27% more profit than in isolated campaigns.
Website optimization
In addition to SEO considerations, you should also set up your website to capture lead emails as part of your OEM marketing strategy. This will enable you to take full advantage of the next tool on this list. But first, SEO.
While offsite factors influence SEO, optimizing your website remains the best way to improve your performance in web searches. It's important to:
Perform regular website maintenance to maintain site speed and security
Create a user-friendly, mobile-responsive website
Link to non-competitor, authoritative websites
Establish links between your own pages and posts
Fill landing pages with content that highlights the right manufacturing SEO keywords
Continually update your website with additional keyword-rich, informative content
By providing high-quality information, you can enter into potential customers' field of vision. Answer their questions, provide guidance on the technical details of your specialty, and develop easy-to-reference infographics that break down complex ideas.
Do this well, and you can become a trusted resource for them — their go-to site for navigating the part of their own business that relates to yours.
Moreover, figure out what type of content makes the most sense for your site and industry and that provides value to your customers. A few examples include:
A blog filled with educational posts and FAQs
Ebooks or whitepapers
Product demonstrations or how-to videos
Webinars
Guides to help buyers select a provider or choose between products
Industry news or case studies
‌‌When it comes to long-form content such as a whitepaper or ebook, consider offering it to visitors for the low, low price of their email address. People can be hesitant to subscribe to mailing lists; a quality incentive often helps them commit.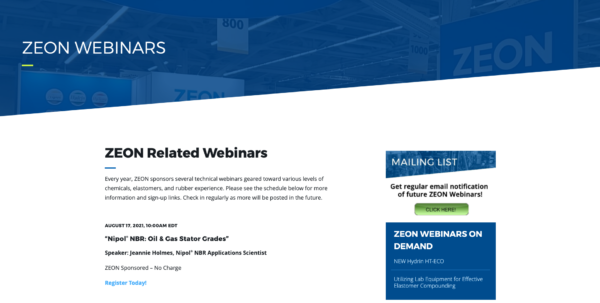 Email marketing
Email marketing is by far the most profitable marketing channel with an average return of $36 for every $1 spent. It's an essential part of your OEM marketing strategy.
It also provides the most popular form of content marketing for B2B companies: an email newsletter. A plus: more than 80% of manufacturing marketers use them.
A regular newsletter gives you a way to:
Develop customer loyalty
Generate leads
Stay in touch with your customer base
Advertise new products and promotions
Solicit customer feedback
In addition to a widely disseminated newsletter, email marketing allows you to personalize customer and advertising experience. With email marketing automation, you can contact your customers with relevant information and opportunities.
You can automate everything from welcome emails to birthday greetings. Plus, you can sort your customers according to past purchase history or interests. By sending people only information likely to appeal to them, you can increase the chances they'll open your emails and engage with your content.
Social media
It's easy to overlook the potential of social media for B2B businesses. But social media advertising topped the list of paid methods of content distribution in 2020.
As with search engine marketing, you're best served by a combined organic and paid OEM marketing strategy. Keep your accounts active, and promote posts with high engagement.
B2B companies particularly benefit from a strong presence on LinkedIn. However, your social media strategy shouldn't stop there. You can use other platforms to distribute short content or to promote longer content. For example, you might share a quick tip or link to a YouTube video.‌
Your accounts also provide a forum in which you can answer questions and connect with your market directly. Be sure to remain active on the platforms of choice as unanswered concerns can turn into complaints.
To get your business in front of new eyes, use Facebook and Instagram ads. These platforms use algorithms to curate a user's experiences, so be sure to target the right audiences according to their interests or demographics. Doing this can help you find new leads that are more likely to convert.
Your OEM brand identity
Throughout your marketing campaign, you need to maintain consistency. This means that you need a strong brand identity.
Your brand as a manufacturer lies in the product you provide and the things that distinguish your company from your competitors. What are your core values? What problem(s) do you solve? What attracts/would attract your customers to your business?
The temptation is to write essays on the subject. After all, you absolutely know and believe in your business. Resist this.
Instead, distill your message into a few words or a sentence that will linger in your customers' minds. Make it easy for them to understand and remember you. Incorporate this brand across your channels. Not only will it help you stand out, but the consistent messaging can also inspire trust in would-be customers.
Create a profitable OEM marketing campaign
There you have it — an overview of how to create an OEM marketing strategy that fosters awareness, trust, and loyalty. You've learned what determines OEM marketing success, which tools to use, and why branding matters.
One final tip: don't recreate the wheel when developing a content-rich strategy. Grab a piece of paper, and make a list of all the content you already have that can be incorporated or repurposed into your strategy. From there, you can begin implementing SEO, SEM, and other online optimization strategies that will attract new customers and expand your business.
If you'd like more insight into creating a profitable advertising campaign, check out The Download, a comprehensive guide to B2B sales marketing success.