Customers looking for a new fitness challenge have more options than ever, and it can be hard for Pilates studios to stand out when trying to attract new clients. Running promotions to draw people into your studio and using digital marketing tools can improve your reach and attract new clients. If you're ready to ramp up your customer base with different Pilates promotions, read on to learn
Why your Pilates studio should be running promotions
8 Pilates promotion ideas for your studio
How to attract new clients to your studio
Ready to find more customers and get expert fitness marketing advice, all in one place?
Why your Pilates studio should be running promotions
The fitness industry was one of the hardest hit by the COVID-19 pandemic. Shutdowns forced businesses to close, and many are still trying to attract new customers. Gyms across the country have reported that 60% of clients still have not returned to the gym.
Many gyms started offering classes online during pandemic-related lockdowns, and clients have come to appreciate the convenience of working out at home or blending in-person and online classes. Your studio also faces increasing competition from smart machines people can use in their homes and from other fitness centers in your area.
Now that people are ready to get back into their fitness routines, you have a chance to get them in the door by running a promotion. Promotions are an effective strategy to boost your business by bringing in customers. Tailor your promotion to benefit your desired customers. If you need help deciding where to start, here are some ideas to try.
8 Pilates promotion ideas for your studio
‌1. Offer a referral discount
Word of mouth remains one of the most popular and effective marketing strategies across industries. Get your existing customers to bring their friends into the studio. Offer a discount or other incentives to current members when they introduce friends who sign up.
‌You can stick with a limited-time offer and try to boost referrals, or you could offer a permanent referral bonus. Once you've decided on your terms and conditions, use your social media pages and your website to promote the referral. Notify members in person when they come in to take a class.
2. Set a challenge
As a gym owner, you're probably aware of challenge-style promotions that often run around New Year's Day. The popular Pilates advertising strategy of fitness challenges entices people to stay with you for the long haul.
You don't have to wait until the clock strikes midnight on December 31st to host a fitness challenge. These challenges are popular any time of year but particularly in the summer when people are more likely to wear fitted clothing instead of baggy winter sweaters.
Studio Pilates, a Pilates studio with locations in various locations throughout the world, hosts several 30-day challenges per year. Each challenge includes specialized programs, nutritional advice, and access to an app that lets users do workouts at home.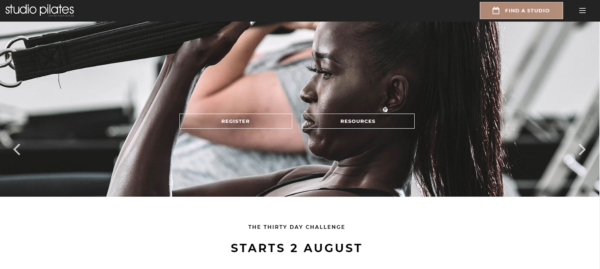 If you hold a challenge, encourage participation by offering a prize or additional services to help your clients succeed.
3. Offer specialty classes
You know that your clients aren't all the same. Some are more advanced, while others might be taking your classes to help strengthen their muscles after an injury. Some are likely new to Pilates and wouldn't be comfortable in a class full of advanced students.
Draw in more participants by offering specialty classes such as Pilates for athletes or "mommy and me" classes. If you're offering a modified class for people recovering from injuries, make sure your instructor knows how to adjust moves. Promote your specialty classes on social media or with sponsored ads on Facebook and Instagram to bring in students who fit your target demographic.
4. Offer a free or discounted trial
A Pilates promotion is more likely to be successful when customers see value in your offer. Give people a free trial membership to introduce them to the class. Or offer free days on which nonmembers can take classes.
Some new customers will be scared off by aggressive sales tactics, so don't pressure samplers to sign up for a membership right away. You can offer them an incentive if they sign up for a membership within a certain time, but don't push memberships on people coming in for a trial.
5. Hold a giveaway
Most people like getting things for free, so giveaways tend to attract a lot of attention. If you have merchandise, put a package together and hold a contest. You can also partner with other businesses in the area if they offer a desirable prize.
As well as getting people in the door, giveaways boost your social media. You can hold the contest online, letting people enter by liking and sharing your online content. Leading up to the draw, post content related to your prize, and include a call to action for people to enter.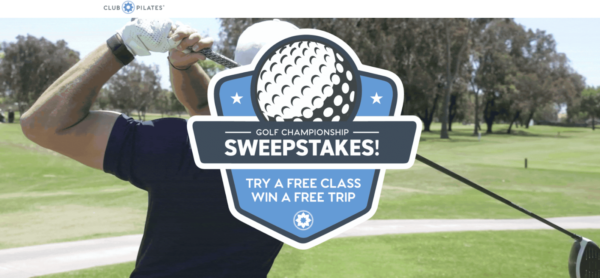 Club Pilates, a studio founded in San Diego, regularly hosts contests. In June 2021, the studio offered new members the chance to win a golf vacation by showing up and taking a free class.
6. Host an event
If you're new in town, you can use your studio to connect with others who are in the same boat or who just want to get to know their neighbors. Offer a discounted group class, and set up an area where people can mingle after the class. Your studio can help build your local community by connecting like-minded people.
Market your event to people in your area using local SEO strategies and targeted social media posts. Consider posting a sponsored ad on Instagram or Facebook for enhanced visibility.
7. Offer a punch card
You probably have loyal clients who show up for every class, while others sign up for one class, and then you never see them again. These clients are less likely to sign up for a membership, but they might attend more often if you offer them a punch card.
Flexible memberships that give people the chance to pay for a set number of classes without regularly attending will attract a different audience, which can help you supplement revenue from your die-hard members.
8. Tap into your email list
Your registration form includes email information for everyone who signs up for a class. Include a box that participants can check to be included on your email list. Then send regular Pilates promotion emails to people on your list.
‌Use your email list to announce your new specialty classes, introduce new instructors, or promote events. Vary your content by sending informative and helpful information to contacts on your newsletter list. You might share nutritional tips or methods for motivating yourself to get to the studio every week. Regular communication lets you build a rapport with everyone on your list.
Attracting new clients to your studio
‌Now you know some strategies to help you develop an effective Pilates promotion for your studio. But, before you start, be sure to work out what your goals are and who your target audience is. You might want to choose a promotion from this list, depending on which one best suits your target audience. Or, talk to your current customers to see what they like about your studio and tailor your promotion accordingly.

Once you've determined which tactic to use, promote your event or discount on all your digital platforms, including social media and your website. Highlight the benefits of attending your studio and create posts that show people having fun in your classes.

For more information on how to market your Pilates studio online, check out The Download: A Guide to Online Marketing.

Share with your network