As the economy rebounds from the COVID-19 pandemic, many are questioning their career choices. An estimated 26% of workers are planning on switching jobs, according to Forbes. They cite a lack of upward mobility in their jobs and are interested in careers with a better trajectory.
Professional education marketing lets you reach these workers to help them expand their skills and set themselves on a new path.
The fact is, adult students have busy lives and often want courses they can take online and on their own timeline. Online marketing makes your program visible to people in search of continuing education opportunities.
Stay connected to students, families, and staff with expert marketing advice and all the tools you need, all in one place.
Digital marketing strategies for promoting your adult learning program
‌Your website is your primary marketing tool. You can show prospective students everything they need to know, from course options to student benefits, right on your website. The following digital marketing strategies will help more students find it.
1. Search engine optimization (SEO)
SEO for schools and educators involves tailoring your website and other digital platforms so it's easier for Google and other search engines to find you. Your goal is to end up on the first page of web search results. Use keywords and phrases to help your website rank higher in searches.
Brainstorm keywords by answering questions such as:
‌What degree programs do we offer?
‌What types of continuing education classes are available?
‌How do students attend class, in person or online?
These and other questions will help you determine phrases to use so that users will find your program. Tailor headings, course descriptions, and other copy on your site to stand out. Users are more likely to search for "online MBA program" than a more specific term.
Georgia Tech's School of Professional Education, for example, uses key phrases such as "leading research universities" in its website copy, which helps this website appear on the first page of a search.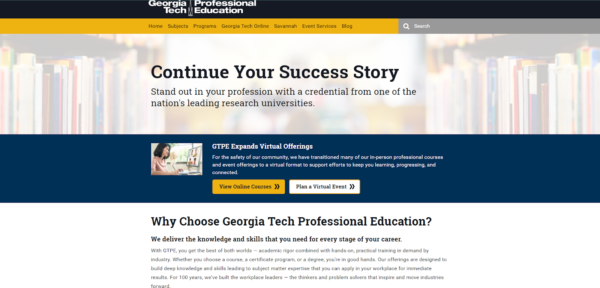 2. Program-specific landing pages
‌Since your website itself is a marketing tool, make it easy to navigate and create separate landing pages for different courses of study. Professional education marketing should clearly communicate details of your program and the benefits associated with each degree program or certification.
To tailor each page, consider your students' needs and include relevant information. Adult students will likely be interested in how long it takes to complete the program, its cost, and financing options. Make sure this information is easy to find. Include a form on each landing page that students can fill out to contact an advisor.
3. Content marketing
‌Along with improving your SEO, content marketing makes your program more visible to prospective students. Create a blog and a video channel and post regularly about a variety of topics related to education. Some topics to start with include:
‌Current adult student interviews
‌Alumni interviews
‌Tips on how to tailor your resume for a career switch
‌Interviews with guest lecturers
‌Professor profiles
‌The University of Colorado Boulder's Continuing Education program is active on its YouTube channel. The school posts topical videos that are relevant to students. For example, this video focuses on how to pivot your career.
‌Each time you've posted content, send out a link on social media and tag your school. As part of your professional education marketing, add generic and branded hashtags to improve visibility. The CU Boulder video above could be promoted with the hashtags #CUProfessionaEducation and #CareerChange.
4. Facebook ads
‌Posting your content to social media using keywords and hashtags in each description generates organic content, but you can reach more people on social media using sponsored posts. Facebook runs ads on targeted users' feeds even if they don't follow you.
To run a Facebook ad, create a post with a compelling image and copy explaining the benefits of your program for your target audience. Choose your objective, consideration, and conversion goals from the drop-down menu. Next, select a target audience. You can target people by demographics, geolocation, and interests.
Finally, set your budget. Facebook uses auction pricing for its ads. You can set a maximum dollar amount per day.
5. Other social media ads
‌Instagram, Twitter, and LinkedIn offer similar methods for targeting students with sponsored posts. When running an Instagram ad, make sure your image is interesting and stands out. Twitter limits your characters, so keep your messaging short. LinkedIn is a good platform for reaching people interested in switching careers.
6. Organic social media marketing
‌Improve your visibility on LinkedIn and other social media platforms by posting regularly. Since LinkedIn users primarily use the platform for career-related advice and connections, it is worth your focus. Start a business page for your professional education program, and post valuable content to get people clicking.
Start a LinkedIn group for current students and alumni, but open it up to prospective students. Networking opportunities are a valuable resource for adult learners, so highlight this function of the group.
7. Google ads
‌Google ads work like sponsored social media posts. They allow your professional education program to appear at the top of search results with a tag indicating that the post has been sponsored. Google operates on a pay-per-click basis, so what you pay depends on how many people click your ad.
Create a short description of your program. If you've run a sponsored Twitter post, use similar language to make sure you're within the desired character count. Google lets you set a budget cap based on your desired number of clicks. The site offers support to walk you through your first campaign.
8. Over-the-top (OTT) advertising
‌While the term OTT advertising is relatively new, the practice itself isn't. OTT ads are the commercials that run over YouTube videos and streaming content, including popular television streaming platforms. It's currently cheaper than traditional broadcast advertising. Each platform matches your ad with shows that will reach your target demographic.
9. Expert interviews
‌Becoming a topic expert establishes your credibility and broadens your audience. Have your professors and advisors write guest blogs for relevant websites, or contact local podcast hosts who cover topics addressed in your programs.
‌Many podcast-hosting platforms offer sponsorship options. If your staff doesn't have time for a full interview, take advantage of ad reads.
10. Create an alumni association
‌Your school's best advocates are former students. Start an online alumni association with member benefits to help former students connect with each other. Host open webinars, networking functions, and other events, and post about them through your various social media channels. Send out email marketing messages encouraging alumni to participate.
Attract adult learners online
‌Professional education marketing doesn't have to cost a lot to improve your visibility. Strategies including content marketing and social media marketing improve your online presence for free. Meanwhile, paid strategies, including social media ads and OTT advertising, are still affordable. They'll capture your target audience and inspire them to take the next step in their careers. So don't wait.

Now is the perfect time to reach out to the members of the workforce who want to level up their skills.

Share with your network