You dread it every year.
The busy season starts to wind down. The crowds begin to thin out; things get quieter.
And quieter…
How can you keep business from screeching to a halt during the long, slow offseason?
That was the challenge Donny and Jim Estes faced at Landfall Restaurant in Cape Cod. While business booms during the busy summer season, it's a challenge to draw customers to their oceanfront location during the colder months.
In addition to traditional word of mouth and print advertising, Donny and Jim were looking for new, creative ways to draw crowds to their restaurant.
That's when Donny decided to try some new strategies, using email and social media marketing.
"Email marketing and social media have been a great way for us to take word-of-mouth marketing to the next level," Donny says. "Getting in front of our customers with relevant information about what's going on at the restaurant is an easy way to get people talking about us to their friends, family, etc."
"Our email list has now grown to not only include regular customers, but also new people who are interested in dining with us for the first time," he says.
Let's take a look at how Donny and Jim boost new and repeat business all year long:
1. Create a custom coupon
Even if your business doesn't typically offer special deals or discounts, you might have to work a little harder to draw people in during the offseason. Donny and Jim decided to try an enticing 2-for-1 Lunch and Dinner Special using Constant Contact's Coupon feature.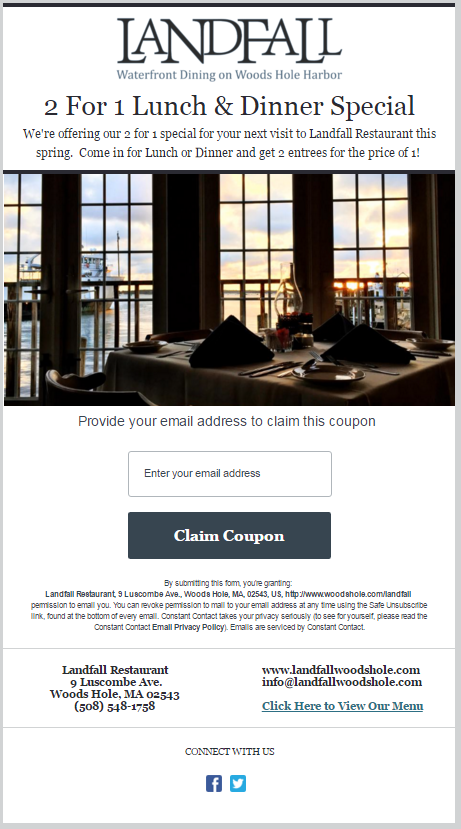 Donny customized his coupon with an image from the restaurant and added in relevant contact information and social buttons.
To claim the coupon, users had to provide an email address. Then, Donny could track the contacts that claimed, redeemed, and shared the coupon.
Tip: Find step-by-step instructions on how to create a Coupon within Constant Contact here.
2. Promote through social media
In addition to sending the coupon to his existing email subscribers, Donny wanted to reach a new audience.
He shared the coupon on his business Facebook Page to reach his social followers. New contacts were automatically added to the Landfall mailing list after claiming the coupon.
By bringing Facebook fans onto his email list, Donny now has a more direct way of reaching this customer base in the future. While organic reach on Facebook is dependent on an algorithm, by collecting contact information Donny has more control over how often his subscribers hear from him.
Donny also uses Facebook Advertising to reach a wider audience of brand new customers on Facebook. He uses his email list to target potential new customers that have traits and interests similar to the contacts already in his Constant Contact account.
Donny decided to create a Facebook Ad that was targeted at Facebook users who lived close to the restaurant.  In total, the 2-for-1 coupon was claimed by 1011 people, resulting in 563 new contacts.
Landfall Restaurant accumulated a database of over 2,000 email addresses in less than a year by using this approach a few times.
3. Turn email subscribers into repeat customers
With a quality list of engaged email subscribers, Donny and Jim are now able to regularly communicate with their audience and entice them to come back to Landfall all year long.
"The most important results we have seen through Constant Contact come from the number of people that we see engaging with the campaigns that we send out," Donny explains.
"We have a high percentage of email followers who are opening the emails, clicking on the links, and claiming our coupons. Throughout the year we send out an email promoting a happy hour or live music event and Constant Contact helps to generate a lot of buzz getting more people to make a reservation."
This year, to announce their season opening they sent an email with a special coupon and fun video, starring their staff members.
(You can check out the video on their Facebook Page.)
The email was enthusiastically received with an incredible open rate of 53 percent and a click-through rate of 48 percent!
It's safe to say Donny and Jim have kept their audience engaged throughout the offseason and will be welcoming back many loyal customers this summer.
You too can reach customers all year long.
Whether your slow season starts in the summer, winter, or somewhere in between — the offseason will always be a challenging time for seasonal businesses. But with a strong marketing plan, you can reach customers all year long and get them geared up for your busy season.
Start today by jotting down an offer that you think would work well for your audience. Use these worksheets to identify marketing opportunities for your business. And then start plugging your important dates into an email marketing calendar.
Ready to get started?
Log in to your Constant Contact account.

Not a Constant Contact customer? Try a free, 60-day trial.
Learn more restaurant marketing ideas here.