What's the first thing a customer sees when searching for your brand online?
Ideally, the answer is your website. But if you're like 28% of small business owners, that may not be the case. If you don't own a website, customers may have a hard time taking your brand seriously or learning what they need to know about your business. As a result, you could be leaving money on the table.
But even if you have a website, you may not be profiting from it as much as you should. Putting together the best ecommerce website design takes a careful eye and an understanding of ecommerce website trends. Here's a look at what you need to know about website design to create a high-ranking site.
What type of website is best for ecommerce?
Ecommerce websites are all about selling products to customers. Regardless of anything else, you need to research how to set up an online store. This will include knowing how to use story to sell products and how to create rich product descriptions. But those are just some of the many pieces that have to be housed inside a well-designed, easy-to-navigate website.
There's no one answer when it comes to the best ecommerce website design. Instead, building the best website for your needs relies on a combination of following ecommerce website best practices and your own personal flair for branding and storytelling.
Can I build my own ecommerce website?
Research shows that it only takes about 50 milliseconds — or 0.05 seconds — for people to form an opinion about your website. And lost revenue due to a poorly-designed website is estimated to cost anywhere from $4,000 to $14,000 per month.
While working with a professional designer can help create a beautiful site, it can be expensive.
Luckily, you no longer need a professional website designer to build a website from scratch. While you may want to invest money in owning your own domain or using a premium template, website builders like WordPress, Shopify, and Square can walk you through the website creation process. You don't need a background in coding or web design to create a beautiful, professional-quality website — and you don't need to drain the bank, either.
But knowing you can build a website on your own doesn't mean that you should throw something up in a single afternoon. By researching the foundation of ecommerce website design and considering the needs of your customers, you can design a website that's not just beautiful, but functional.
The foundation of the best ecommerce website design (what you want)
Creating a standout ecommerce website begins with a solid foundation. That means knowing what you want — and need — in your ecommerce site, and building on a platform that meets your needs.
Whether you're building your own ecommerce website from scratch or looking to ramp up an existing site with some extra flair, you need to know what to look for when it comes to your web design.
Having a handle on ecommerce website design tips and using a website builder can help you focus on the most important aspects of web design if you're building your site yourself. Beyond that, you need to address technical needs to make the website as functional as possible for your team. The easier you make things for yourself on the back end, the more readily you'll be able to address issues and make changes on the fly.
Platform options
Before you can create the best ecommerce website design, you first need to choose the best platform for your brand. Customers may not notice what platform you choose. But different platforms offer different levels of functionality for people operating your website behind-the-scened, from uploading content to adjusting navigation features.
Some of the most popular platform options for ecommerce web design include:
WordPress
Shopify
Square
Wix
Spend time exploring the different website platforms, watch tutorials online, or try free website trials to determine the best platform for your unique needs. Each one has different features that will help you make the decision about which is right for you.
Technical needs
The next thing you need to consider when building your website is what your technical needs are. These are the behind-the-scenes features and abilities that your customers might not notice, but that facilitate sales and keep your site operating at its best.
Mobile optimization is especially critical these days. In fact, 57% of users won't recommend a business if it has a poorly-designed mobile website. Look into strategies you can use to make your website mobile-responsive rather than just mobile-friendly. Having a site that functions well both on desktop and mobile devices will make it easy for customers to shop on whatever their preferred device is — increasing your chances of making a successful sale.
In addition to making your website mobile-responsive, you'll want to consider other technical needs, including:
Security features (to stay compliant and protect your customers' data)
Customization options
Templates
Many platforms allow you to create a beautiful website without learning to code. This is ideal if you'll be managing the website yourself in the future; you want to be able to make small adjustments without having to hire a designer every time.
B2B vs. B2C websites
There are two major types of ecommerce websites:
B2B websites: Sell products to other businesses
B2C websites: Sell products to consumers
While both of these ecommerce websites are focused on selling, they have slightly different needs when it comes to putting together the best ecommerce website design.
B2B businesses service fewer buyers and typically make their keep from high-profit, low-volume sales. B2C businesses, on the other hand, tend to have far more buyers and rely on low-profit, high-volume sales. This difference relies on different marketing techniques.
Both B2B and B2C businesses rely on visual modes of communication — including high-resolution images and product videos — to showcase products to customers, though their other marketing strategies may be slightly different.
For example, B2B businesses may need more in-depth buying guides on their websites so that business decision-makers can have all the facts upfront. They may have a lot of long-form content and direct visitors to speak to their sales team to get custom quotes.
B2C businesses, on the other hand, may rely heavily on social proof as a way to entice customers and may provide more opportunities for customers to answer their own questions before suggesting they contact customer service representatives.
Email collection strategies
Collecting emails from your customers can help you take digital marketing to the next level. Emails allow you to send automated marketing messages and nurture leads with weekly newsletters. But before you can get started with email marketing, you need to have a strategy for collecting customers' emails.
One way to do this is to ask for emails when customers are checking out. This can help them track their shipping, and gives you a way to stay connected post-purchase. But that only collects the emails from customers once they're ready to purchase.
The better option is to nurture leads while they're still in the decision-making process, you'll want to collect emails when they visit your site for the first time. Many ecommerce businesses handle this by offering a coupon to first-time visitors who provide their email addresses.
Integration with automated marketing emails
Although not technically part of your website, automated marketing emails are often connected to how your customers interact with your website. For example, if customers put items in their digital shopping cart and then don't check out, you also need to ensure that you're using abandoned cart best practices.
Customer journey automation can help funnel the right emails to the right customers. For example, you could send a welcome series to first-time users or a re-engagement series when a customer hasn't been around in a while.
The building blocks of ecommerce web design (what your customers want)
Ecommerce web design isn't simply about what functionality you need or how it serves your business. You also need to consider what your customers want.
At the end of the day, the entire point of putting together the best ecommerce website design is to attract customers. Those customers don't care about your ecommerce marketing strategies or whether you're using the best ecommerce tools. They care about the end result: the user experience.
Bearing that in mind, here's what your customers expect from your website design.
Clear and upfront shipping and return policies
One of the things your customers expect from your website is the ability to find the answers to their questions. This includes answers about your online policies, such as:
Shipping policies and timeframes
Returns policies
In addition to shipping and return policies, you should also outline personal information security policies.
Clear policies are one of the hallmarks of quality ecommerce websites because they allow customers to find the answers to their own questions. As stated in the Harvard Business Review: "Across industries, fully 81% of all customers attempt to take care of matters themselves before reaching out to a live representative."
Ensuring the policies on your website are clear and easy to locate makes it easy for customers to serve themselves. And when customers can find answers to questions on their own, it leads to a smoother customer experience and fewer phone calls for your service representatives to field.
Great imagery
Online customers aren't able to touch your products before they buy them. They can't feel how sturdy the material is or make sure the packaging isn't dented. The one thing they have to work with is the product image you provide. So if you want to make a sale, you need to make sure that the product image is clear, high-quality, and enticing.
Improve product images by taking pictures of the items from a few different angles. Having a few different pictures on your site is especially important so you can show consumers what different sides of a product look like. For example, buyers want to know if there is a design on the front and back of a shirt or where different compartments on a bag are.
Be sure to use natural lighting, so customers know what your products really look like under the light. There's nothing worse than ordering a new shirt only to realize that it doesn't match your pants as well as you thought it would or buying a new piece of wall art only to find out that it doesn't actually look good on your wall because the coloring was off in the product image. This is not only frustrating for customers but will also lead to more exchanges and returns for your brand — costing you more money.
Strong product descriptions
Paired with strong product images, great product descriptions serve to sell your product. Customers look to these descriptions to inform their purchases. A good product description should answer any questions a customer might have about a product, such as:
How does it work?
What are the measurements?
What is it made out of?
Are batteries included (if needed)?
How long can it be expected to last?
How does it compare to similar products?
In addition to answering customer questions, you want your product descriptions to use keywords to drive organic traffic to your website. Use a variety of long-form keywords and short-form keywords to help search engines, like Google, understand your product pages and make relevant recommendations to interested buyers.
Ease of use/navigation and checkout
If a customer makes it past the 50 millisecond judgment period for your website, the next big thing that could throw them off is the ease of use. If customers can't find the buttons to navigate your website or they keep clicking on broken links, they're not going to stick around for long.
And even if customers enjoy your branding and your products, if they have a hard time figuring out the checkout process, they will leave. While some shoppers will leave items in their carts if they're not ready to buy them, others will leave items in their carts if the website is taking too long to load. Customers may also abandon a purchase if they have to provide too much information in too many different locations.
Make it as easy as possible for customers to shop, and limit the number of pages they have to input their information on to make transactions smooth and simple.
Easy to spot CTAs
Along the same lines as creating easy-to-use pages, you also want to create pages on your website with clear calls to action (CTAs). The best ecommerce website design isn't one that expects customers to know what to do — it's a website that guides them through the buying process, holding their hand until they make a sale.
One of the easiest ways to implement CTAs into your website is to simply add a "Buy Now" button to your product descriptions that customers can click if they want to add an item to their shopping cart. Though small, this one change can increase conversion rates.
Consistent branding
The last thing you want your customers to do as they move from page to page is to ask themselves: "Am I even on the same site?"
Consistent branding from page to page matters because it helps build trust between you and your customers. Scam websites are unfortunately common, and customers are wary of where they're spending their money. Creating consistency from page to page assures customers that they're working with a legitimate business while reinforcing your brand image.
Great ecommerce website design examples
After learning what goes into designing a top ecommerce website, taking a look at some of the best ecommerce website design examples will give you inspiration for your own site. Although each of these websites sells different products at different price points, they all have been designed with the end user in mind.
1. YNAB
YNAB, which stands for "You Need a Budget," is a website that sells a service rather than a product. Specifically, YNAB sells a subscription to budget management software. You'll notice that their website focuses on proving the usefulness of their officering, from the tag lines to the navigation bar at the top.
YNAB doesn't shy away from FAQs and commonly sought-out information. "What is YNAB?" and "Pricing" are two of the main headers on their page. This shows a level of transparency that is attractive to customers who are thinking about making an important purchase.
2. Jones Bar-B-Q
If you're looking for an ecommerce website that does things a little bit differently, check out Jones Bar-B-Q. The vibrant red isn't a traditional, easy-on-the-eyes color scheme that you'll see in a lot of big-name ecommerce websites. But because the product they're selling is barbeque sauce, the color scheme works, highlighting their product offering in a unique way.
One glance at this website tells you most of what you need to know about this brand. By throwing the names of the owners right on the website, including the words "still owned by," they make it clear that Jones Bar-B-Q is a locally-owned restaurant with strong roots. And while there's an option to shop for products in their online store, they also offer information about visiting in person, beautifully melding their online shop with their brick-and-mortar presence.
3. Melula
Melula is a brand founded on the idea of creating quality, gender-neutral shoes for children. When you see their website for the first time, these ideologies shine through.
Melula uses a variety of colors, as well as a purple shoe, on its homepage to honor its mission toward gender-neutral shoes. If you go on to check out their product offerings, each shoe style is separated. The tagline "no tie laces" at the top of the page clarifies one of their other big selling features.
4. Torrid
Torrid is a plus-size women's clothing company that makes styles to fit women who wear sizes 10 to 30. To help communicate their brand vision of helping women of all sizes feel confident, they showcase confident women wearing their clothing right on the homepage. This helps customers visualize themselves in the same styles.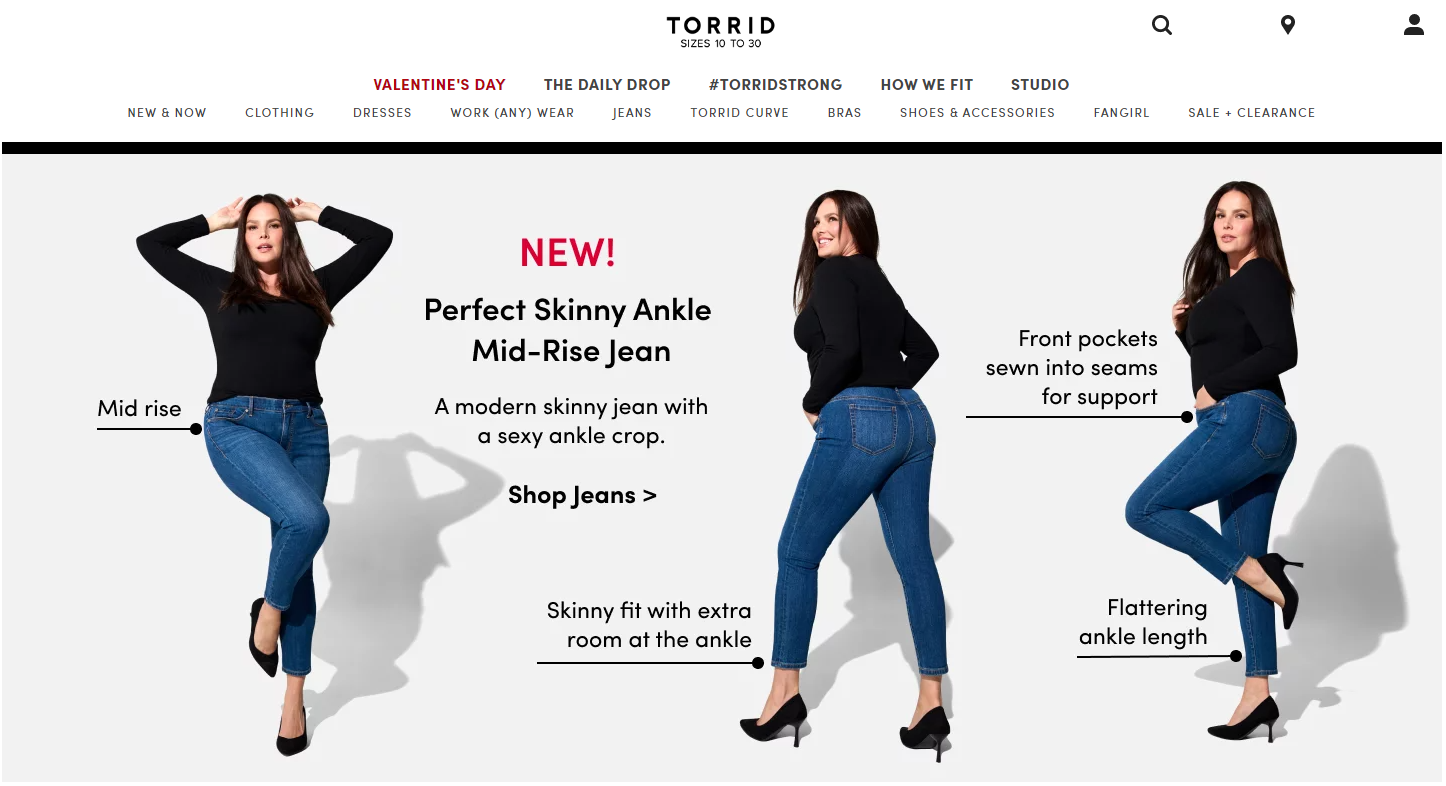 Torrid's "How We Fit" section of their website is a great example of how ecommerce websites can help customers serve themselves. Clothing fits are all different, so they showcase how various styles fit with a guide.
Enabling women to measure themselves and receive well-fitting clothing is a powerful tool. While this benefits customers, it also benefits Torrid; the more customers that are happy with the products they buy when they arrive, the more likely they are to keep shopping with this brand.
5. Popov Leather
Popov Leather sells quality, handcrafted leather products. One thing you'll notice is that their website has a lot of high-resolution images, as well as clear calls-to-action (CTAs) on every page.
Popov Leather cares about minimalism and a down-to-earth style, and that message is clear from their website. Everything from their logo to their color choices exudes the same clean, quality, homespun vibes as the products they sell.
6. Natasha Denona
Another example of a brand that leans into its brand image on its homepage, Natasha Denona is a makeup company that highlights its website with a high-resolution image of a woman wearing stunning makeup in a variety of hues. These bright colors pop off the page, drawing in customers.
This website provides a clear CTA with the words "Shop Now" in clear view. Each product page also offers images of the makeup on a variety of faces, ensuring that women of all looks and styles can envision themselves using this makeup.
7. CourseStorm
CourseStorm is a B2B business focused on providing course registration software for online schools, clubs, and more. They've made their website shine with a lot of social proof. Reviews from actual users are interspersed throughout their website, underscoring and emphasizing the business's claim that CourseStorm's software is "impossibly simple."
The same call to action — a "TRY NOW" button — is placed in two different spots on this homepage. The bright yellow hue draws your eye, while the offer to "try now" — without first needing a consultation — seemingly supports the claim that their software is simple to use.
8. Nalen Ayurveda
Ayurveda medicine is a non-westernized medicine with Indian roots. Nalen Ayurveda has taken those naturopathic medical techniques and imbued them into skincare products that are meant to "nourish the body and soul."
The product images on their website often showcase both the end product and the ingredients being used to create that product. This is a great look for a brand built on using the cleanest ingredients.
Another thing users may notice right away is the "Chat with us" icon, which allows customers to get their questions answered while browsing the site. This is a great way to integrate self-service options with a traditional customer service strategy.
Take your ecommerce website design inspiration to the next level
After looking through some of the examples above, it's clear that there are many right ways to design an ecommerce website. The best ecommerce website design isn't about following a perfect formula — it's about understanding best practices and then using them to create a branding experience that your customers will remember.
Get started today by brainstorming ideas for a website design your customers will love. Think about things like your company's colors, style choices, and more. No matter how you decide to build, be sure to focus on following best practices to bring your ecommerce store into the limelight.
Continue exploring
Share with your network