If you've been considering creating a new website or revamping your old one to create an ecommerce website design that leads to better user experience (UX) and increased sales, Constant Contact is here to help you out. Our online store builder makes building an ecommerce website quick and easy.
And although it's never been easier to create a website with Constant Contact, there are some topics you should consider before you dive in. They include:
How to design ecommerce websites
What kind of ecommerce website should you build?
What does a good online store design look like?
Are you prepared to get a competitive edge on your rivals? With Constant Contact on your team, you'll be well on your way to doing just that.
How to design ecommerce websites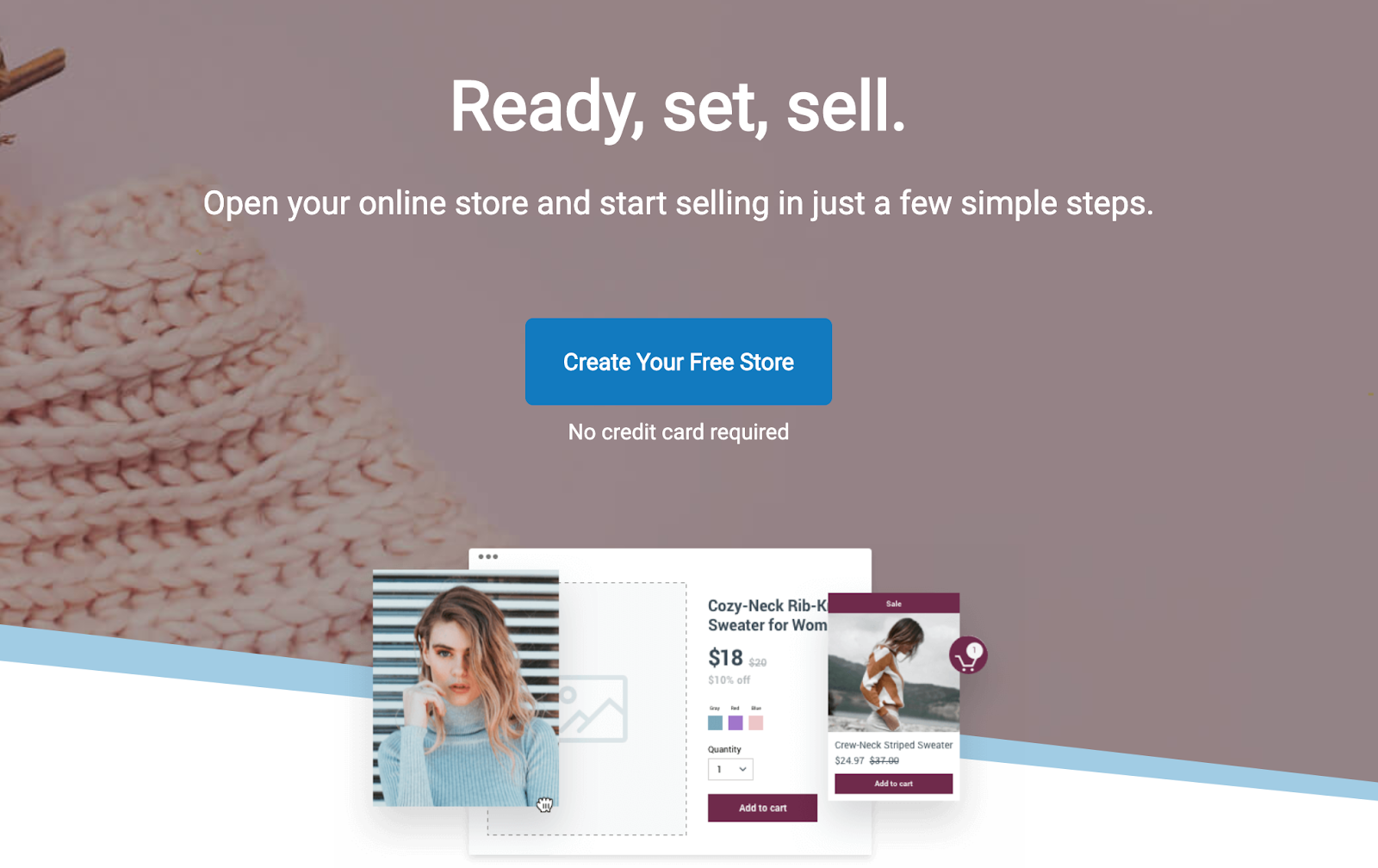 Naturally, you may be anxious about creating a new website or redesigning your old one. In the past, it would have required significant money and time investments, or specialized knowledge of coding and web design. Fortunately, that's no longer the case.
Constant Contact has a website builder, made for beginners, and jam-packed with all the features you might want to start an online store.
So how do you get started? Just follow these steps:
Get started – To get started, you will begin by adding your first product. You can add more later, but you'll need to first list what you want to sell. Input the name of the product, the price, and a short product description. That product could be:

Physical product – A good or item
Digital product – Music, photos, art, eBooks (any product that's downloadable)
Services – Classes, professional services
Select your photo – Constant Contact lets you choose a default image or upload a file of the product or service. In this case, you want to ensure you choose the highest quality photo you have. A blurry or disproportionate photo can elicit a negative response from potential customers.
Create an account – To save your work, you'll need to create a Constant Contact account and agree to the terms of service and conditions by either signing into your Google or Facebook account, or providing your:

First and last name
Email
Password

Build out the rest – Once the account is created, you'll be able to build out the rest of the product listings (see our guide to write a product description), as well as the website pages and content. As you do, be sure to optimize pages for search by employing best SEO (search engine optimization) practices. SEO helps your website be found easier on Google's search engine.
Select your plan to publish – See our website plans & pricing to see what other features are available with your new website.
Now that you know how to set up an online store, it's important that you also know what type of ecommerce website you should be striving for.
What kind of ecommerce website should you build?
What is ecommerce? Ecommerce stands for electronic commerce. It encompasses various purchasing activities, but for the sake of simplicity, every good or service that gets exchanged and purchased online falls into the ecommerce category. Today, it's a trillion-dollar industry that will only continue to grow rapidly over the next decade thanks to companies such as Amazon, which give you the ability to purchase practically any good in the world and have it delivered to your doorstep in the span of a single day.
So, in this vast trillion-dollar world, what kind of ecommerce website should you be building?
There are four main types:
B2B sites (business to business) – This is when a company does business with, or provides a service to, another business. There are B2B companies in practically every industry, whether manufacturing or retail. For example, automobile manufacturing utilizes dozens if not hundreds of other companies in order to source parts such as tires, motors, electronics, and batteries.
B2C sites (business to consumer) – This is the most typical form of ecommerce. In it, a business sells its goods or services to customers via an online store. For instance, customers can visit Target's online store and find as many (if not more) products that can be purchased directly from their physical shop.
C2C sites (consumer to consumer) – This ecommerce model occurs when consumers sell their products or services directly to other consumers. Craigslist, for example, is an advertorial that facilitates C2C transactions.
C2B sites (consumer to business) – A less common model, C2B companies sell consumer insights and solutions to businesses as their primary value-added offering. This often includes reverse auctions, paid advertisements, or paid reviews.
Today, ecommerce has established a significant foothold in the retail space, and in all likelihood, its market share will only continue to increase. Therefore, it's not enough to simply have a website. You need to design it with the correct ecommerce marketing category in mind.
But how do you put these design elements into an ecommerce website?
What does a good online store design look like?
There are several things to keep in mind as you go about the process of designing your ecommerce store and site. A smartly designed site:
Is carefully organized with the buyer in mind
One of the first tasks of designing your website will be determining the structure and composition of the site itself. Aside from the Home page, you'll need to figure out how you will organize product pages so shoppers can intuitively find what they're searching for.
It must utilize easy-to-use navigation menus for top-level product categories that contain all of your sub-categories. For instance, if you sell clothing it may be organized as follows:
Men's

New Arrivals
Spring Line
Clothing

Shirts
Flannels
Pants
Shorts
Jackets
Hoodies and Fleece

Tees

Long sleeve
Short sleeve
Tanktops

Accessories

Hats
Beanies
Backpacks
Belts
Flip flops
Socks
Wallets

Sales
This structure would continue similarly for both Women's and Kid's categories. This would make it simple for new customers to visit your site and find what they're looking for without significant guesswork.
With Constant Contact's website builder, it's easy to organize your store or site based on how people are likely to shop.
Can be navigated easily with a search bar
Even if you have a well-thought-out structure, you may have impatient customers who don't feel like browsing since they know exactly what they are looking for. The search bar gives them a way to look up what they want right then and there.
High-level search functions may take some time and effort to get right, but it's worth doing. Search bars are powerful tools customers can use to move quickly towards a sale. If they search for your product and are able to find it, they may decide to purchase right there on the spot; however, if it doesn't appear, they may leave the website assuming that the product isn't there.
Comes packed with features
As you choose an interface for designing your website and store, it's critical that you have all of the important features you might need to drive sales and improve performance. For instance, Constant Contact has dozens of powerful tools that will aid you, including:
Coupons & discounts – Offer customers coupon codes, discounts, or other promotions, whether through a referral program or simply to drive sales.
Custom notifications – Notifications like receipts and shipping confirmations are automatically generated.
Digital product downloads – Sell electronic or intangible goods such as professional services, ebooks, video tutorials, music, and guides.
Integrated shipping – Understand your shipping processes and costs with real-time shipping analytics and cost projections based on weight and carrier.
Multiple product layouts – Let shoppers peruse a gallery of various products at once.
Order & inventory management – Take control of your shipment and inventory management by gaining access to open and completed orders.
Online payments – Take credit cards and debit card online payments via PayPal, Stripe, and Mollie.
Tax management – Automatically calculate taxes or add taxes to custom shipments or orders.
Product filtering – Product listings can be filtered by criteria and sorted by price.
Store analytics – Keep track of the store's overall performance as well as that of individual products.
Features such as these improve overall design and provide several benefits to both shoppers as well as the site owner.
Is mobile-responsive
Today, more people browse the internet and perform searches from their mobile device over searches from their desktop. So, although there are still more people who make purchases from their desktop than from their phones, there remains a significant share of users you could lose if your site isn't mobile-responsive.
What does that mean?
Put simply, the site must automatically adapt its size, format, and content to perfectly fit any device or screen, including desktops, laptops, tablets, and mobile devices. Mobile-responsive websites benefit your store in a number of ways, including:
Faster page load times
Better user experience
Higher conversion rates
Lower bounce times
Better SEO
Constant Contact's website builder has a mobile optimization guarantee. Every layout and template is built with a responsive web design that ensures that your store looks great and is easy to navigate no matter what device you use or however much you edit your page. Layouts, texts, and images automatically adjust to any screen, and you have the ability to preview your site and store it from whatever device you wish.
Includes powerful product descriptions
An important part of the design for your website and store involves the content that's on the page. Your store product descriptions are incredibly important. And, when creating a product page or listing, Constant Contact gives you plenty of space to create a vivid and compelling product description.
But what does that look like? A well-designed product description will:
Be tailored to the ideal customer
Describe the benefits of the product and explain what value the customer will derive from it
Use powerful language
Tell a story
Be easy to scan or read
Instead of simply taking the product description that was provided by the manufacturer, create a short-form sales copy that convinces the reader to make a purchase.
Uses high-quality product photos
While product descriptions are incredibly important, it's helpful to remember that "a picture is worth a thousand words." Therefore, your ecommerce store design should include high-quality images of the product they're browsing. The vast majority of shoppers want to be able to clearly see what it is that they're buying, especially when it comes to physical goods.
Constant Contact is the go-to for ecommerce and online store design
If you're looking to sell physical goods or services on your online store, Constant Contact is a great choice for creating beautifully designed websites. It comes with:
Mobile-responsive design
Powerful features
A simple search bar
Easy-to-use and organize templates
Product description niches
High-quality photo compatibility
Search engine optimization and analytics
Interested in getting your site started? Freely design an entire website or an online store in just a few clicks and a couple of minutes. To do so, simply follow these steps:
Click build your site
Pick a site category
Name it and register a domain name
Select your design templates
Create content
Organize pages and content
Once finished, follow the advice above or take a web design questionnaire and you'll have a beautiful store open to all customers. Ready to start selling? With Constant Contact, that's fast, simple, and affordable for any small business. Additionally, see our guide on how to drive traffic to your online store for more information.
Try Our Website Builder
Get a custom-designed site in just minutes with our intelligent website builder. You can use the tool and see what your website would look like for free. If you like your site, sign up for Constant Contact to make it live and share it with the world!