It used to be that holiday marketing was a game of numbers. You could look at last year's numbers, browse through this year's predictions and have a good idea of where you should spend your marketing budget for the holidays.
Of course, that was pre-COVID-19, and things have changed.
And while 2021 seemed like it was a lot of chaos, spending was up over 2020 and this year looks to be even better. According to the National Retail Federation, holiday retail sales are forecasted to increase by 6 to 8%. Of course, this is great news if you're in retail, but it can also indicate that sales will be up with other industries as well. If you have the right holiday marketing plan.
Just like last year, no matter what industry you're in, there are a few important facts to keep in mind when planning your holiday marketing this year:
More people are researching and shopping online than ever before
Providing up-to-date information to your customers is imperative
With an average ROI of 36:1, email marketing is still the best online marketing tool in a small business' marketing toolbox
So, if your business' email marketing plan isn't taking advantage of the season by sending out holiday-themed emails that drive sales, you're leaving money on the table.
But don't worry. We're here to help you write an effective holiday marketing email, with everything from great holiday subject lines to calls to action that get action.
Writing an effective holiday marketing email doesn't have to be stressful. Just use the following tips to make it easier, quicker, and virtually stress-free.
Effective holiday marketing emails start with great subject lines
Your audience is likely bombarded by emails during the holiday season, and your subject line is your best chance of standing out in the inbox. Keep it short (4 to 7 words), make it attention-grabbing, use emojis appropriately (1 or 2 will do), and feature the holiday theme.
Need some help? Here are a few example holiday subject lines to bring out your inner elf:
Example Halloween email subject lines
"Get the spookiest house in town " – great for a Halloween supply store
"It's eerie-sistible"
"Fang-tastic savings"
"Ghoulishly good deals"
Example Thanksgiving email subject lines
"Gobble up these savings before they're gone"
"Got pie?"
"You'll thank us"
"Shop our sale and give, thanks… " – use when partnering with a local charity and if you're just doing a Thanksgiving-themed sale, remove the comma
Example winter email subject lines
"Warm up your winter wonderland wardrobe" – perfect for a clothing store that's highlighting a winter season catalog or sale. Add an emoji if you're highlighting a specific item — like coats or scarves
"Take a walk this winter"
"Be the joy in their world"
Example email subject lines for big holiday events
"Black Friday blowout"
"Secure your Cyber Monday deal"
"This Tuesday, give until it feels good"
"Shop small. Save big… "
Example Christmas email subject lines
"Are you ready for Santa?"
"Stuff your stocking … " – great for stocking stuffer ideas, or finish it off with: "without emptying your wallet" for sales or discounts
"Sleigh with these great . . ."
"Be a little s-elf-ish this Christmas" – great for spa treatments or BOGO offers
"We've got what you're dreaming of"
"Be an angel" – good for a call to donate or suggesting heavenly gifts
"Naughty? Or Nice?"
"Like Santa's elves, we're here to help"
"Give your cat a meowy Christmas"
"Kid requested. Elf approved."
"Celebrate Chrismukkah with… " – great for Chrismukkah decorations, recipe ideas, or sharing your mixed heritage and traditions with your customers
"Wrap up your holiday"
If none of these ideas really clicked for you, try one of the techniques below for writing standout subject lines of your own: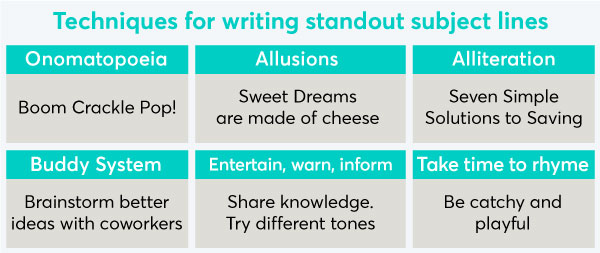 Pay attention to your preheader text
Since the late 20th century, all great holiday movies have had taglines.
It's a Wonderful Life: "It's a wonderful laugh! It's a wonderful love!"
Elf: "This holiday, discover your inner elf."
Home Alone: "A family comedy without the family."
Nightmare Before Christmas: "A ghoulish tale with wicked humour & stunning animation."
Great holiday emails have taglines, too (only we call them preheaders).
Your preheader is an extension of your subject line and should further tease the content of your email. Like taglines for movies, your preheader should give readers a better understanding of what your email is about in a memorable, attention-grabbing way.
If you're using a subject line like, "Sweet dreams are made of cheese," think about using a pre-header like this; "Your Christmas dreams come true."
If you're giving more than you're asking for (80% of your email campaign should give and 20% should ask) and sharing some shopping ideas with your readers, try a subject line like, "Santa's secret stash", with a preheader like: "Gift ideas from stocking stuffers to secret Santas".
Most mobile inboxes display 75–100 characters, so limit yourself to 5-8 words to catch your reader's attention.
Use the right images
What are your eyes drawn to when you first open an email?
Is it the big block of text? Or the colorful, fun, interesting picture that pulls you in?
If you're like most people, you notice visuals first.
Using holiday images that support your message is a powerful way to get your email read and remembered. And with a large number of image resources available, you don't need to be a photographer to have access to great pictures.
If you don't have your own holiday images or don't have the time to create some, don't just pull something off the internet. Using legitimate free photo resources will help you avoid potential fines or cease-and-desist orders.
When using stock photos, make sure you choose an image that doesn't look staged. If you feature your product, it's best to show people happily and successfully using it, when possible.
Keeping your images 600 pixels wide ensures maximum visibility on a desktop.
Keep your text clear and focused
Everyone seems to have different advice on how long a holiday email should be.
While we typically recommend 20 lines of text or fewer for best engagement, the reality is less exact. How long should your holiday email be? As long as it needs to be to achieve your goal.
Keep it simple by answering these three questions to create focused and persuasive holiday emails:
What are you offering? — Headline
How will it help the reader? — Message body
What should they do next? — Call to action (CTA)
Don't beat around the bush. Start by telling readers exactly what you're offering. The headline should succinctly promote your offer.
Next, explain how it will help the reader. What's in it for them? The message body should explain the offer, generate interest, and guide readers down towards the CTA button.
Finally, let readers know what they should do next. Include a CTA below your message body that makes it easy for readers to know how to take action.
Include a clear call to action
Although this was mentioned above, having a good CTA is imperative in email marketing, and therefore deserves its own section.
Every email campaign (holiday or otherwise) should include a compelling call to action. Include a link, button, or clear next step.
For your call to action, resist vague wording like "click here." Instead, say something specific like "Buy Gift Card Now!"
Most importantly, when someone clicks a link, make sure they are directed to where they are expecting to go.
The most effective CTAs are 1-5 words long. So keep it clear and concise.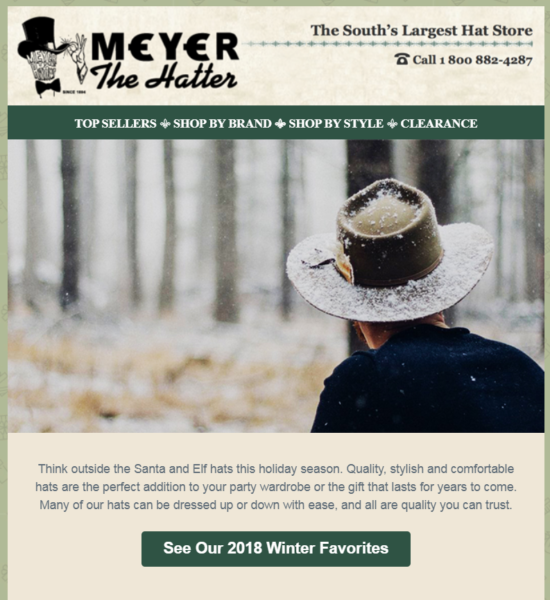 Still not sure what to say? Use this handy phrase chart for inspiration:
Write an effective holiday marketing email
Now you can write an effective holiday marketing email within a few minutes. Just remember to keep it short and simple; a picture, a paragraph, and a call to action.
By following these simple tips, you'll be creating stress-free, effective, holiday emails in no time.
Get started creating your holiday marketing email with one of these holiday email templates.