You've spent months creating the perfect menu, finding a space, and carefully crafting your atmosphere, and now it's time to open. Even if you have the best food in the city, it won't matter if no one's there to try it. Here are some restaurant grand opening promotion ideas to create a buzz and attract customers.
Follow these tips before your launch to build your brand and bring people into your new restaurant. This article covers:
‌Why you should use online marketing to promote your restaurant
What to include on your website
How to promote your restaurant grand opening on social media
How to manage customer reviews
Ten ways to optimize your marketing reach before your grand opening
Get the tools and guidance you need to find new customers and keep your regulars coming back for more.
Why you should use online marketing to promote your restaurant
Before launching your restaurant, you need to build awareness. Creating excitement around your brand, your space, and your menu attracts customers.
Online marketing is cost-effective and allows you to reach potential customers in your area. Your ambiance and menu will keep customers coming back, but first, they need to find you. Using these restaurant grand opening promotion ideas will help you spread the word about your business so your launch will be a success.
The first and most important tool in your digital toolbox is your website. It is where people will go to see your menu, make reservations, and learn more about you.
What to include on your website
Your customers will look to your website to see your menu, make a reservation, or find your address. Having a well-designed website also helps customers find you when they're looking for a specific type of cuisine.
For example, if your new restaurant offers gourmet burgers and American fare, customers can find you by searching for "best burger in my neighborhood." This search phrase is also called a keyword.
When developing your website, include keywords to help your restaurant get on the first page when potential customers search. This is known as Search Engine Optimization. Google your competitors in the area to see which keywords and phrases make them more visible.
Your website should be optimized for mobile use. Many people use their phones when out and about to find restaurants. Make sure they can navigate your site and read your menu on a mobile device.
If you offer takeout, consider adding a feature on your website that lets people place orders online. It's more convenient for customers, and you don't have to spend time taking to-go orders over the phone.
Add an online reservation system that syncs with your reservation management system. If someone books a reservation online and there is no record in the system when they arrive, they might leave a negative review.
If your site is compatible with Open Table or similar sites, remember to have your friends or family make test reservations to make sure they end up on your books.
To improve your chances of getting reservations up to and following your grand opening, use social media to promote the event.
How to promote your restaurant grand opening on social media
When coming up with restaurant grand opening promotion ideas, you should consider strategies for social media networks. Most people in your area are likely using one or more of these platforms, so they're an excellent way to get seen. Use a mix of organic posts and paid ads to promote your restaurant.
Instagram
When it comes to food, Instagram is a very popular social media platform. According to a 2021 article from Business of Apps, 43% of Instagram users are interested in food and drink.
Social media can also give your chef the chance to create art with your food. To generate interest in your restaurant, take photos of your best-looking signature dishes and post them in the weeks leading up to your launch.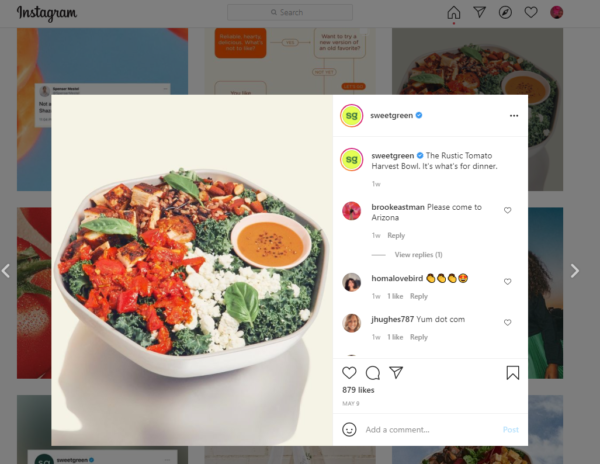 Boston restaurant Sweet Green uses a mix of food pictures, infographics, lifestyle images, and humor in its Instagram grid. Mixing up your posts is a good way to create interest and generate organic followers.
Remember to pair your posts with a branded hashtag and other generic hashtags to help people find you.
‌You can also use Instagram ads to boost your visibility. These are posts or stories that are directed at potentially interested users. They are identified with a "Sponsored" label.
‌Instagram charges on a cost-per-click basis, and you can set a daily budget. Once you've set your budget, select your target audience, and Instagram will put your posts into the feeds of potential customers.
Facebook
Use Facebook to create an event and invite people in your network. Simply fill in the date, time, location, and add a description. If you've hired a professional photographer to promote your restaurant, use some of the images on the event page to generate interest.
Other social media
You can also make daily posts on other social media platforms, like Twitter, Snapchat, and TikTok, in the weeks leading up to your grand opening. Every platform is an opportunity to get in front of new eyes.
How to manage customer reviews
Restaurants tend to generate many user reviews, and people use them to decide where to eat. The first step in managing your reviews is to claim your business on Google using Google Business Profile.
Google Business Profile lets you verify your address, phone number, and hours. If you have claimed your business, you can see user reviews.
Create a business account for Yelp, as well, since it's another app people use to find restaurants and leave reviews. Setting up a business account on Yelp is free, and all you need is an email address and password. Once you've created your business account, you can edit your location and hours and read customer reviews on Yelp.
‌As a restaurant owner, it is likely that someone will leave a bad review. While it can be tempting to start an online feud with someone who does, resist the urge to be defensive. Instead, sincerely apologize for the service failure, show how you have resolved the issue and move on.
10 ways to optimize your marketing reach before your grand opening
‌1. Team up with food bloggers
Find popular food bloggers and social media personalities in your area. If you can, give them a chance to try your food at a soft opening in exchange for their partnership. Choose influencers who are in your area for the best reach.
Make sure to reach out to more than one food personality. Your chosen partner may be busy or could fall through, so keep a few other people in mind. For best results, start looking for partners early. A food blogger or vlogger might have a tight schedule, so make sure they have time to cover your opening.
2. Offer incentives
Giving people something for free is a sure-fire way to get them in the door. Use your social media feeds to promote grand opening deals. But, since you still want to make money during your grand opening, offer a deal that is only good with a purchase.
You can expand your reach by offering a special promo code that's only available to people who share your event on social media. Use a branded hashtag and only offer the discount to people who use it on their feed. You can track the hashtag and directly message a coupon code to participants.
3. Host an influencer event
If you're having trouble finding one influencer to cover your grand opening, hold an influencer event prior to your hard open. Offer free samples of your best dishes and signature cocktails. When planning the event, think of a special hashtag that influencers can use to promote your restaurant.
You might have to offer an incentive to attract participants. Influencers are invited to events regularly, so make yours stand out with a stellar venue or an interesting and unique type of cuisine.
4. Use content marketing to your advantage
Drum up interest in your event by establishing yourself as an expert. Set up a food blog on your website or create a YouTube channel. In the weeks leading up to your grand opening, post informational blog posts and videos.
If you have a well-known chef known for certain dishes, write articles that break down each dish. Create videos with cooking tips or wine pairing tips for your audience. Maybe your staff members are known as experts in their field. In this case, have your bartender make a video highlighting signature cocktails and promoting your grand opening throughout the video.
Beverage company Beam Suntory regularly partners with the Tales of the Cocktail blog. Some of the company's most popular posts feature the playlists of its mixologists.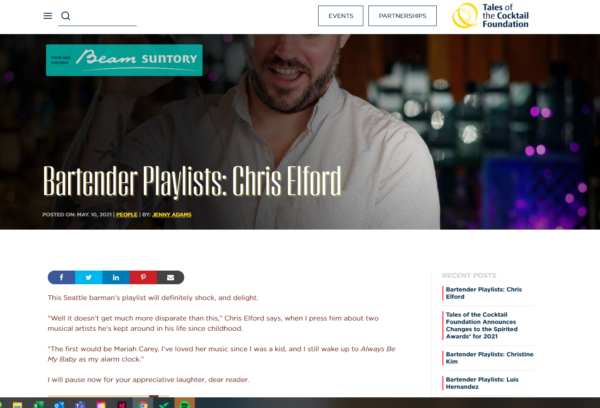 When you and your staff post fun, entertaining content, it is more likely to be shared. Incorporate these posts into your restaurant promotion ideas. You can also connect with your vendors to create content.
5. Partner with your vendors
Your vendors offer a wide network of potential customers. Team up with vendors to create blog posts and videos and cross-promote their company on your social media feeds.
Another restaurant grand opening promotion idea you can try is to send your vendors a digital invite to the event and ask them to share it on their social media feed with a branded hashtag.
6. Use SMS messages
Encourage your social media followers to sign up for text messages. Send reminder messages and coupons to these clients directly to their mobile phones.
SMS marketing is quickly gaining speed with businesses in many industries. An Omnisend report says that 14% of respondents in 2020 who received SMS marketing texts clicked on the links sent to their phones. Wherever you're advertising your grand opening, inhttps://talesofthecocktail.org/people/bartender-playlists-chris-elford/clude a call to action asking people to sign up for text messages.
7. Use email marketing
Since you're a new restaurant, you may not have a big email list. You can add a contact form to your website that lets people sign up for emails. When you're promoting your grand opening, offer discounts and other incentives to people who provide their email.
Growing an email list before and after your grand opening lets you keep in touch with your customers long after the opening. Split your email list into segments and send targeted messages to your clients.
Some restaurants use email lists to send out birthday coupons and invite people to customer appreciation events. You can also use this list to send out surveys when you want to tweak your menu.
8. Ask for referrals
To build on the enthusiasm of opening day, offer perks to people who come back. Ask people to leave positive reviews and offer them a discount if they come back within 30 days.
Make your opening fun and create an atmosphere to keep people coming back long after your first day.
9. Use Google Ads
Google AdWords offers tools that you can use to create banner ads that appear on websites. Like Instagram ads, these can be targeted to run on websites frequented by your target customers.
Google doesn't use bid-based prices for ads, but they do offer reasonable rates per click. Put some money in your marketing budget for Google ads. You can set them to run in your geographical area and enhance visibility for your restaurant.
10. Talk to the media
Download local media kits to find online advertising rates to promote your grand opening. These media kits will also include press contacts. Reach out to editors in the lifestyle section of your desired publication and tell them about your event.
Get in touch with local food podcasters and vloggers and ask them to cover your event on their shows.
Using a variety of digital media tools will increase your visibility and create a buzz around your grand opening.
Prepare for your launch
Once you've developed your restaurant grand opening promotion ideas and you're using the right tools, like email, social media, and SMS, get ready for your launch.

Aim to give everyone at your grand opening exceptional service so people will be more likely to share positive reviews about your restaurant. You have worked hard to create your restaurant. Use these digital media strategies to launch your restaurant and do what you love successfully.

Share with your network