You know you've got the best food in town — but with an industry as competitive as the restaurant business, you can't just rely on the intrigue of passersby to get customers through the door.
Successful restaurants today rely on strategic marketing campaigns to promote their brands, connect with their target audience, and engage with potential customers and regulars alike. They know their audience and speak directly to them, while inviting an exchange that builds a lasting relationship.
There are many different restaurant marketing techniques and some may be more effective for your business than others. It's important to be patient and see what works. Just by getting started, you'll begin to build your brand's image and engage with potential customers.
Get the tools and guidance you need to find new customers and keep your regulars coming back for more.
Best practices
When planning your restaurant's marketing goals or amping up your current strategy, ensure you're applying these best practices to get the greatest reach from your efforts.
Know your audience
Marketing that appeals to millennials will be different from what attracts their parents. The beer-and-wings crowd is captured by different content than those looking for the perfect date night or after-work happy hour. Build your target customer profile and frame your marketing strategy to speak directly to them.
Have an active social media presence
Almost 80% of people in the U.S. have a social media presence. That's a huge audience up for grabs, but only if you're a part of the conversation. Restaurants with an effective social media presence are active on networks like Instagram, Facebook, Pinterest, and Twitter.
Connect through SEO
Even the best branding can fall flat if it's not reaching its intended audience. Search engine algorithms prioritize content that is relevant and drives user engagement — meaning it's liked, shared, and commented on.
You can tilt this algorithm in your favor:
Use strategic hashtags and keywords
Claim your business on review sites like Yelp and engage with reviewers
Create a Google My Business account
Keep branding consistent in all content
Keep your website relevant
Up to 77% of diners check websites before visiting a restaurant. Many of these diners could lose trust in your brand if information on your website is inaccurate. Update yours regularly and make sure it's optimized for mobile devices. Search engines are constantly crawling the web to test websites' activity, and outdated sites will fall lower in the rankings.
Check out our full online marketing guide for restaurants for more information to help you implement these best practices and set your strategy up for success.
Strategic restaurant marketing campaigns
Bring in new customers and encourage growth in your restaurant's following with a combination of these top campaign ideas, engaging audiences and building relationships both on- and offline.
Social media campaigns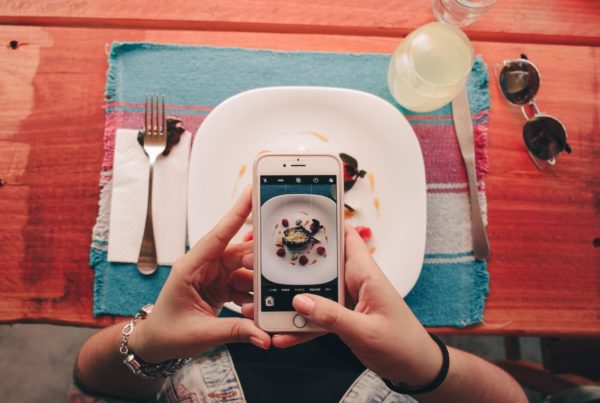 Social media is the darling of brand marketing. A 2019 survey found that nearly half of all diners say they've tried a restaurant for the first time because of a social media post.
But it's not enough to make a post and wait for results. The most effective social campaigns for restaurants encourage user-generated content and engagement. This interplay establishes authenticity in your brand — and 92% of people say they trust recommendations from their peers over branded content.
How can you design your social media campaign to drive user activity?
Give your menu a makeover
Your menu items are your best marketing content — so make them stand out. Redesign your dish's plating with a bit of flair or come up with creative signature meals and drinks. More than half of all social media users regularly post images of their food, so make your dishes camera-ready.
You can apply the same concept to your restaurant's décor and atmosphere as well. Wall art, unusual furniture, and odd props can all entice diners to stage a photoshoot and share that content to their networks.
You might also consider developing and promoting new menu items that speak to a new audience. Experiment with vegan, gluten-free, or CBD-infused ingredients to reach the screens of new customers.
Hold contests to drive engagement
According to research conducted by Tailwind, contests generate 34% of new customers for brands that regularly hold them.
Some ideas for contest ideas to excite your base:
Encourage your followers to suggest creative names for new menu items.
Have your audience choose a secret ingredient for your chef's next signature dish.
Collaboratively design a mural for empty wall space.
You could also have your followers submit short video clips or photos to enter. This encourages more social engagement and also builds a backlog of user-generated content you can repurpose in your campaigns.
Use video
Written content frames your brand and helps to build a story — but video ignites it. Video content should be short and not overly salsey, but offer content that's useful to your audience and piques its interest.
Consider ideas like:
Filming your chef in action. You could stick to tutorials of menu favorites or do something surprising — like a fine dining chef making the perfect grilled cheese.
Featuring collaborations with other local chefs, preparing customer spotlights, or filming events you've hosted.
Start blogging to reach new customers with expert content
Blogging is an effective lead generator and helps build your brand's search engine ranking. That's because when people are reading your blog they are also fueling your website's search engine authority, so your restaurant ranks higher in search results than the competition.
Successful blogs have a clear content strategy. Create an editorial calendar to organize your blog and ensure there's a balanced mix of content to keep your audience engaged.
This could include:
Recipe tutorials or cooking tips and tricks from your chef
The history of your restaurant or its cuisine
Data-backed posts on the nutrition of ingredients used in your dishes
Customer and staff stories
Meal plans for specific diets that include your menu items
Guest posts from local influencers
Use email marketing to stay in touch

Retaining your current customer base is just as important as attracting new diners. Email marketing is a powerful way to engage this existing base with targeted content.
While offering updates about new menu items or specials is important, not every email should be focused on selling. You've already got their business — so focus on building added value to the relationship by promoting customer-focused emails unique to your restaurant, such as:
Exclusive recipes and other subscriber-only blog content
Personalized invitations to events you're holding
Birthday freebies
Customer appreciation discount codes
Even if you have a large base of regulars, building an email list takes time. Get customers to opt in through point-of-purchase discounts for providing their address or pop-up forms on your website that give access to special blog content like recipes.
Use guerilla marketing to surprise and delight
While the power of social media marketing is proven, your customer base exists in the real world, and so should your marketing efforts. The goal of guerilla marketing is to bring your brand to the forefront of people's minds as they go about their day by popping up in unconventional or interesting places — either subtly or with a touch of surprise.
Engage your customers organically by:
Creating merchandise suited to your audience. This could mean funny, witty t-shirts, elegantly designed, reusable items like water bottles and canvas bags, or branded stickers.
Post QR code stickers at transit stops or waiting areas that link to a recently posted video or blog.
Write articles for a local newspaper or magazine. Make this content topical and relevant so it easily links back to your restaurant's brand. If you serve spicy food, write about the spiciest peppers in the world. If you cater weddings, write a set of guidelines related to selecting menus during the wedding planning process.
Striking strategic partnerships can help enhance guerilla marketing campaigns as well. Leveraging local relationships exposes your brand to a partner's audience while engaging with your own base.
Collaborate with other local businesses in event planning. You could organize a pop-up event with other restaurants at a joint venue, work with a cinema to throw a dinner-and-a-movie night, or put your own spin on an ice cream social at a local school.
Cater fundraisers or other charity events.
Invite a local food blogger to come cook with your chef.
Create specials for employees at local businesses to grab the interest of the lunch and after-work crowds.
Get involved with festivals, concerts, and other local events.
Give back to your community
Cause-related campaigning is effective because it appeals directly to people's emotions — which scientifically encourages engagement. Championing a cause also opens up tons of new opportunities for content creation that can introduce your brand to a wider audience.
Swap out plastic items for environmentally friendly products.
Partner with local farms and promote your use of farm-to-table food.
Pledge to donate a portion of every meal sold during a set time period to a local cause.
Hold a fundraising event for a local charity at your restaurant.
Offer your employees free merchandise or extra discounts to join staff volunteer days, or organize a staff team for charity runs or sporting events.
Stay hungry
Sometimes, even the best tactics just don't take off, so don't get stuck on one idea. Keep your eyes and ears open for new ideas that might inspire your next marketing campaign.

There are so many unique ways for restaurants to market themselves while voicing their identity and brand in a way that appeals to customers. By speaking directly to your customers through social media, blogging, email, and guerilla marketing campaigns, you can find new ways to connect with them and meet your business goals.

Share with your network