As a restaurant owner or manager, you're committed to providing delicious food and exemplary service to your patrons. Your establishment's atmosphere is also a priority. But, another essential element of running a restaurant is the management of its online reputation.
Just how important is your restaurant's online reputation?
These unprecedented times have been particularly challenging for restaurants, and it seems like we can't leave our homes anymore, without researching our destination first — just to make sure it's open. To add to it, restaurants can still live or die based upon the reviews they receive and the reputations they build.
That's why restaurant reputation management is more important than ever. And, effective restaurant reputation management involves:
Optimizing your restaurant's GBP Listing
Managing online reviews
Maintaining a website
Posting on social media
Watching the competition
In this article, we'll equip you with the tools and knowledge you need, to bolster your restaurant's online reputation.
Get the tools and guidance you need to find new customers and keep your regulars coming back for more.
The importance of restaurant reputation management
In a recent survey, more than 90% of diners stated that they researched a restaurant online before visiting. Because customers rely so heavily on online reviews to decide where to eat, managing your restaurant's online reputation is an essential ingredient for its success. You probably realize that reputation management should be a priority in your business, but perhaps you aren't sure what to do about it. Fortunately, there are many actionable steps you can take to boost your restaurant's online reputation.
5 ways to manage your restaurant's reputation
1. Optimize your Google Business Profile listing
When people search for restaurants on their phones, the first result is usually the Google listing. Make sure you have what is called a Google Business Profile (GBP) listing. After verifying that your restaurant is listed on GBP, the next step is to claim the listing as your own and fill out all pertinent information. Your GBP listing should include the following:
Business name
Business address
Business hours
Attractive pictures
Positive reviews
Another popular platform to make sure you are listed on is Trip Advisor. Reviews on top platforms such as Google and Trip Advisor offer important social proof that other people like a restaurant. A Trip Advisor report from 2018 found that 94% of diners choose restaurants based on online reviews, and, surprisingly, many patrons stated that they would trust an online review as much as a close friend's recommendation.
2. Manage online reviews
Monitor online reviews and respond appropriately
Since online reviews are your restaurant's bread and butter, someone needs to be responsible for continuously monitoring and replying to those reviews. Either read and respond to the reviews yourself or delegate this important task to a business partner or trusted employee. Although it would be a nice touch to respond to every single review, it is crucial to respond to negative ones. Here are some example responses to unfavorable restaurant reviews:
John, I'm very sorry to hear that you had a negative experience. Please send us a direct message, so we can get more details and find a way to resolve this.
Here's what you could say if something has already been done to rectify the situation:
Tanya, again, I'm very sorry about what happened, which was why our shift manager, Jennifer, apologized that night and we didn't charge you for the meal. We hope you'll come back and give us another opportunity to provide you with a great dining experience.
Or in a situation where a review is completely false:
Mark, I have spoken with my employees, and this incident never happened. Whatever the reason for this false claim is, please contact us directly to see if we can work it out.
Then, flag the review as inappropriate, and have your employees do the same.
Obviously, your responses are mainly for the benefit of other people who will read them, so even a negative review could be seen as an opportunity. People want to know that you care about your patrons and are willing to take the necessary steps to resolve any issues. They also want the chance to hear your side.
Another benefit of reading all of your reviews is that the wording used by your customers might give you ideas for your search engine optimization (SEO) strategy, both in your GBP listing and on your website.
Responding appropriately to reviews means crafting a well-thought-out response to each review, as well as using proper grammar, spelling, and punctuation. This is why you must delegate this task to someone who will take the time to do it right.
What to do if your rating tanks
Sometimes, especially if your restaurant or its online listing is new, a negative star rating can ruin your average. A quick fix could be a heartfelt plea on social media asking your loyal customers to post five-star reviews. People want to help you, and a few good ratings can quickly balance things out.
Learn and grow from your mistakes
Review monitoring isn't only about thanking people for good reviews and doing damage control when you get bad ones. Rather, it's about improving operations. The truth hurts sometimes, but negative feedback can highlight potential areas of improvement for your restaurant. After all, exceptional food and service, along with a clean and welcoming atmosphere, are the meat and potatoes of restaurant reputation management.
Ask for and showcase positive reviews
Another best practice for optimizing the review feature on platforms such as Google, Facebook, and Yelp, is to ask for reviews from satisfied customers. If your establishment is well managed, you'll also get positive reviews organically over time. As those rave reviews start pouring in, consider showcasing them in the form of customer testimonials on your website. It's also a good idea to share favorable social media posts. Click share, or capture a screenshot and repost the shoutout on another platform.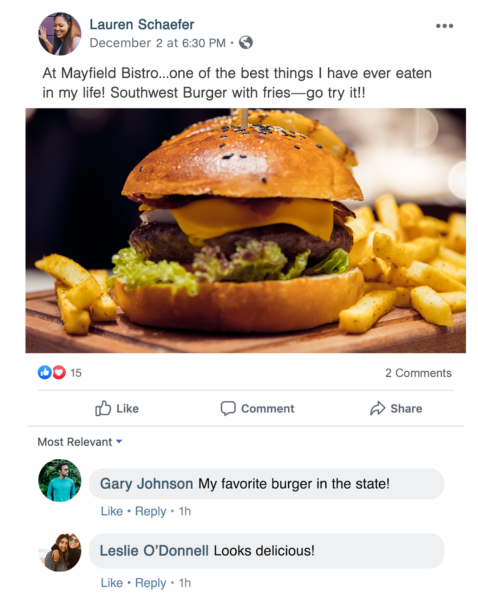 3. Maintain a compelling website
Keeping your website well-designed, regularly updated, and search engine optimized will help your reputation with both visitors and search engines. Search engine optimization, or SEO, will improve your rankings in organic search engine results pages (SERPs) and will thereby increase the number of visitors to your site. Further spreading the word about your restaurant.
Here are a few specific recommendations for improving your website's local SEO:
Use local keywords.
Optimize your site for mobile searches.
Consider starting a blog so that you'll be adding fresh content regularly.
Include an online booking tool that allows customers to make reservations online.
Include an email capture feature on your website, so you'll have plenty of recipients for future email marketing campaigns.
Although customers might find everything they need in the Google results, think of your website as a home base where people can find your menu, pricing, and other information after stumbling across your restaurant in a listing or on social media.
4. Post regularly on social media
Any social media platform can be an effective restaurant marketing tool; however, you'll probably end up narrowing it down to just a couple of them that give you the most bang for your buck. If you like making videos, Youtube or Facebook might be your best bet, but if you're into taking aesthetically pleasing still shots, you might be more of an Instagram person. Experiment with different platforms to see which ones you like best, but more importantly, figure out which ones your potential customers use most.
One of the great things about promoting your restaurant on social media is the fact that you will reach people who weren't necessarily looking for a restaurant. People browse their newsfeeds to get inspired, and the goal is to get your restaurant in front of as many eyes as possible. A big part of managing your restaurant's reputation is simply letting people know it exists.
Posting on social media is free, but you may also want to consider paid advertising. Placing ads on the right platforms is likely to result in new customers, which is why knowing where your target market hangs out online will ensure you spend your time and advertising dollars wisely.
A high level of engagement on social media often translates into more visits to your restaurant, so the importance of a strong social media presence cannot be overstated.
5. Keep an eye on the competition
Between taking photos or making videos, be sure to spend time reading your competitor's social media accounts to see what they're up to lately. Restaurants are working hard to stay afloat during these unprecedented times, so new marketing strategies are constantly being implemented.
No matter how hard you work at restaurant reputation management, it's always possible for a competitor to one-up you. Not only that but reading your competitors' reviews will give you an idea of what they are doing right and wrong. There's nothing quite like a negative review of a competitor to show you what not to do.
Manage your restaurant reputation
Now that you have an overview of restaurant reputation management, you can start implementing the above tips for maintaining a good reputation online. Remember to optimize your GBP listing, reply to your reviews, keep your website up-to-date, and maintain a strong social media presence. And don't forget: Keeping an eye on the competition will allow you to stay abreast of restaurant trends in your local area.

For more detailed information on effectively marketing your restaurant online, download our free guide, Making Sense of Online Marketing for Restaurants, where you'll find all the tools you need to attract new customers and keep your regulars coming back for more.

Share with your network