The right yoga marketing plan can spell the difference between impressive attendance and an empty studio. But your ambitious objectives are well within reach when your initiative conveys a genuine desire to help your targeted audience and you implement the right marketing strategies.
‌In this guide, you'll discover several of the most effective approaches to marketing your yoga business. You'll also learn how to steer clear of major mistakes that could undermine your marketing efforts.
Ready to find more customers and get expert fitness marketing advice, all in one place?
Top yoga marketing strategies
The sheer variety of opportunities for connecting with consumers can make it difficult to know where to start. When in doubt, it's best to keep it simple as demonstrated with the following essential yoga marketing strategies:
Optimize your website for mobile visitors
‌When potential clients or customers seek information about your yoga business, what do they find? Help them learn more by developing an engaging and easy-to-navigate website that accurately conveys what your business is all about. This site may include:
An about us page to introduce your business
Instructor bios that highlight experience and certifications
An up-to-date class schedule
Blog posts about topics of interest to yoga enthusiasts
‌These days, it's especially important to optimize yoga websites for mobile since it is the primary means of search for many modern-day internet users. Use long-tail keywords that reflect the realities of voice search, including those that prospective students could ask Siri or Alexa. And, make it easy for visitors to scroll through content on their phones.
Email marketing
‌Email marketing is a versatile option that allows you to reach many types of leads or clients. This often takes the form of monthly or weekly newsletters designed to keep members in the loop. These may include updates on the latest developments around the studio as well as scheduling details and links to recent blog posts.
In addition to sending regular newsletters, make the most of automated emails. These allow you to respond quickly when people express interest in your site. Build your list by adding calls to action (CTAs), complete with lead magnets (such as free yoga ebooks or videos) provided in exchange for email addresses.
Automated emails may also be sent if members have neglected to visit the studio for a certain period of time. These could provide reminders about upcoming classes or incentives to get lapsed members back in the door.
Social posting and monitoring
‌An organic social media strategy is an essential component of modern yoga marketing. Facebook and Instagram are top candidates, although your social media strategy may (depending on your target audience) also include LinkedIn or TikTok.
Your goal: to provide genuine value to followers with content that helps them make the most of your services or improves their everyday lives. This could take many forms, such as:
Reminders of special events or workshops that members or followers can attend. Better yet, consider creating Facebook event pages where followers can sign up and find helpful details such as class time and location.
Videos of vinyasa flows or demonstrations for how to perform poses correctly. These will help followers weave yoga into their daily lives.
Testimonials from studio members who have transformed their mental and/or physical health by committing to yoga as a way of life (get permission before sharing these on social media).
‌Simply posting updates to your social media pages may not be good enough. If your goal is to start a conversation or achieve sustained engagement, you'll also need to closely monitor relevant platforms to ensure that you are consistently responding to followers.
Close monitoring can also help you determine which types of content your target audience finds most compelling — and which updates they can do without. Track metrics such as views, likes, and comment numbers. Don't forget to examine the actual content of these comments. This can provide additional insight into how followers feel about your content and brand.
Facebook and Instagram ads‌
‌While organic social media content plays a critical role in modern yoga marketing, paid advertising is also important. Facebook and Instagram ads, in particular, can give you a quick boost. These solutions allow you to grow your audience while also ensuring that only the people most likely to convert are targeted.
As you launch your paid ad strategy, be sure to clarify your goals. Different types of ads can help you meet various marketing objectives. Examples include awareness, video views, and lead generation. Keep text succinct, but don't forget to include a targeted call to action.
Claim your listing on Google Business Profile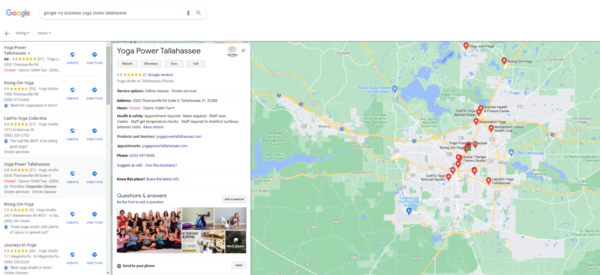 Google Business Profile can be a key component of your marketing strategy, as it grants search engine users valuable insight into your yoga business. Begin by claiming your page. From there, you can build a strong profile by adding contact information, details about operating hours, and photos of your studio or business location.
Mistakes to avoid
‌Digital marketing holds a great deal of potential for boosting membership numbers and class attendance. But, every marketing dollar must be used strategically. The wrong approach could lead to wasted resources while failing to generate a response from prospective clients. The following mistakes can be especially problematic as you strive to make the most of your yoga marketing budget.
Not defining your target audience
‌In just a few decades, yoga has transformed from a niche practice to a mainstream approach to fitness. This is exciting from a health perspective since more people can take advantage of yoga's incredible physical and mental health benefits. It also means, however, that effective outreach now involves targeting a specific audience rather than marketing the concept of yoga in general.
‌Different types of people practice yoga for different reasons. And if you fail to take their unique concerns into account, your marketing efforts are unlikely to have a lasting impact. Instead, determine which types of yoga practitioners you want to focus on and what their pain points might be. This decision may be based on:
Who already attends your studio
The demographics of potential members who live near your location
Your personal interests and expertise‌
For example, if you became passionate about yoga when you were expecting your first child, you may now be eager to share the benefits of prenatal and postnatal yoga with mothers-to-be. Therefore, you'll want to market your services accordingly to ensure that expecting mothers can discover your studio first.
Not retargeting
Repeated exposure to a brand is often needed before potential clients take the next step. Such phase is known as nurturing, and it can be streamlined through retargeting. This yoga marketing tactic leverages interest already expressed by potential clients, who, instead of seeing a marketing message once, may spot it several times on a variety of platforms.
This approach can be more cost-effective than constantly pursuing new traffic. Plus, internet users who have expressed an active interest in your digital content are far more likely to convert than the general population.
Neglecting the comments section
If you want your yoga business to feel like a genuine community, you must respond swiftly and empathetically to any comments users leave on your social media pages or blog posts. Such responses demonstrate that you care about your followers and are committed to helping them harness the power of yoga. This can also be a great way to address and clear up any concerns existing or potential clients may have about your services.
‌Take marketing from okay to namaste
‌Now that you're familiar with both marketing opportunities and pitfalls, it's time to put this knowledge into action. Start by developing a comprehensive, strategic plan tailored towards the unique needs of your yoga business.

Identify your target audience, create and optimize your website, determine which social platform(s) best target your defined market, and take out ads to grow your reach. Plus, be sure to encourage email sign-ups to current and prospective students both in-person and online.

As you build and implement these core strategies, avoid mistakes like not retargeting lapsed students and not responding to social or blog post comments promptly.

Start today and these strategies can keep your growing yoga community engaged and excited about how you can help them along their yogic journey.

Share with your network