Let's face it. No matter how hard you try, it's difficult to ever be completely prepared for the holiday season. There always seems to be a moment when you're scrambling for some last-minute holiday email marketing ideas to make that last push for sales or donations before the year ends.
Luckily, whether you sell products to customers, offer services to other businesses, or run a nonprofit organization — we've got you covered.
Here are 15 ideas to help you make that last push before year's end.
Last-minute holiday email marketing ideas for consumer-facing businesses
Consumers have a lot of businesses vying for their attention during the holiday season. A well-timed email can help you stand out from the competition and bring people into your store, restaurant, or office before the end-of-year events.
Here are five last-minute holiday email marketing ideas for businesses that market to consumers:
1. Holiday sale
Choose a day (or days) to offer exclusive discounts to customers during the holiday season. You can include a coupon in any email you send out for customers to redeem in-store or online. You can also offer daily or weekly specials and promote them to your email list.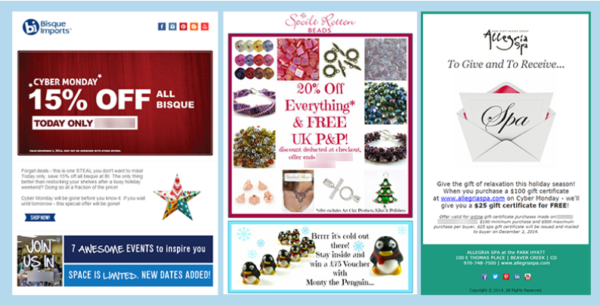 2. Free shipping
If you sell products online or let customers place orders over the phone, consider offering a special holiday discount on shipping to encourage customers to shop small.
You can also create an email to remind customers of any upcoming shipping deadlines to make sure their gifts make it in time for the holidays.
3. Holiday giveaway
Giveaways are a fun way to reward your most loyal customers while also generating sales during the holidays. Rather than offering a discount, create a holiday giveaway and promote it to your email list.
For example, one year, 3 Kittens Needle Arts, a Minnesota Yarn Store, celebrated the holidays by giving away free poinsettias to the first 25 customers to spend $50 or more on Small Business Saturday.
4. Gift certificate
Send a special offer on gift certificates to loyal customers and encourage them to share it with a friend. This is a great way to increase revenue toward the end of the year while introducing your business to new customers who will come back and shop with you in the new year.
5. Holiday party ideas
Show customers how you can make their lives easier during the holiday season. Send ideas to help them plan for their holiday parties and look for opportunities to highlight how your products or services can fit into their holiday plans.
Last-minute ideas for business-to-business holiday emails
Even if you're not a business that sells products or services to consumers, you can still use the holidays to connect with clients and generate new opportunities for your business.
Here are some last-minute holiday email marketing ideas for business-to-business companies:
1. Client appreciation
No matter what time of year it is, clients always like to feel appreciated. There are a number of ways you can use email to show your gratitude. For example, Davidson & Company, LLP sends an email with a holiday video to say thanks.
You can also look for opportunities to offer discounts on products or services that can be used during or after the holiday season.
2. Event
Celebrate the season with current and potential clients by hosting a virtual holiday event. If you already have an event planned, you can schedule a series of invitation and reminder emails to help drive registration. Or, show your support for the community by sponsoring local events.
3. Education
December isn't all about the holidays. A lot of your clients will also be involved in planning for the New Year and will be looking for advice.
Think about how you can share your expertise this holiday season. A free ebook, webinar, or training video can make a great gift to your loyal customers.
4. Holiday discount
You don't have to be a business that sells gifts to offer a holiday discount. A special holiday promotion can help you end the year on a high note and reach your annual goals. It can also set you up for success if you're heading into a slower season for your business.
Previously, Arlington Promotional Products, LLC offered a $30 coupon for loyal customers to celebrate the New Year.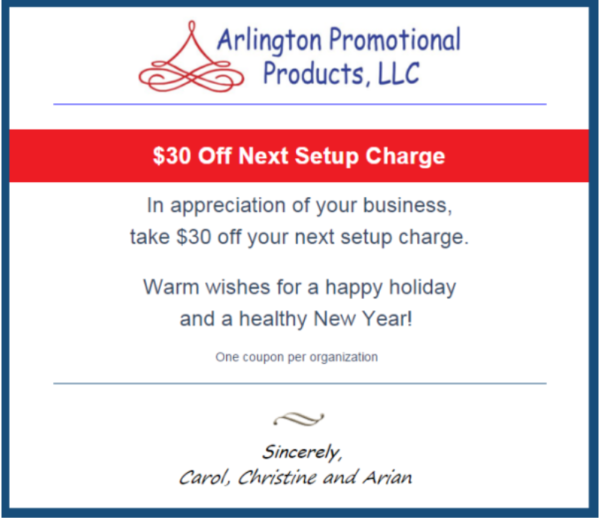 5. Preview email
Give clients a sneak peek at what you have planned for next year. Are you introducing new products? Have you grown your staff or expanded your services? Send out an email recapping the past year and let people know what you have planned for the New Year.
Last-minute nonprofit holiday email ideas
December is a critical month for nonprofits, especially those who rely on end-of-year giving to reach their fundraising goals. Whether you're in the middle of your December fundraising planning or just want to connect with supporters before the end of the year, email can help.
Use these five last-minute holiday email marketing ideas for nonprofits:
1. Fundraising reminder
Chances are your end-of-year fundraising is already underway. Maybe you participated in Giving Tuesday and are already on pace to reach your fundraising goals.
Build on that success by sending a fundraising email to encourage more people to get involved. Update people on your fundraising goals and give them different options to get involved.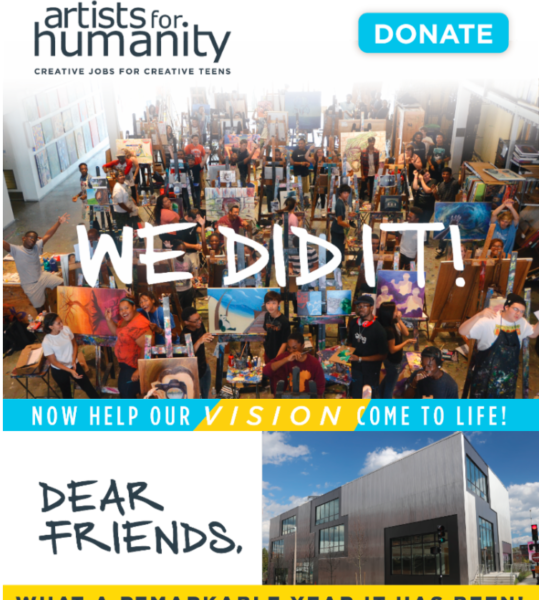 2. Thank you message
Don't miss the chance to say thank you to all the people who have contributed to your success this year. Send a thank you message to everyone on your email list, or create a personalized thank you message for all the different groups of people that you work with.
Do you have a list of recurring donors or volunteers who are always there when you need them? Are there businesses or other partners who have shown their support? The personal touch of a thank-you email can make people feel appreciated and remind them of how important their support really is.
3. Contest
It's not too late to engage supporters in a new way this holiday season. Baltimore Humane Society ran a holiday contest, asking donors to text "WAG" to 50155 after making a donation in order to "unlock their managers."
Contests like this are a great way to bring your email marketing and social media together and generate valuable word of mouth for your organization.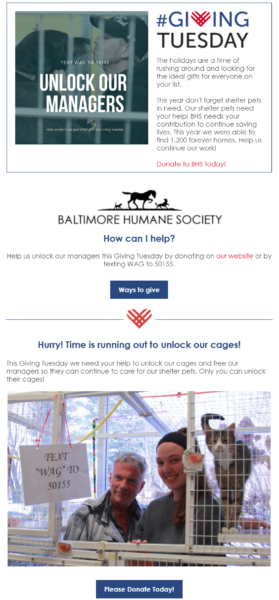 4. Recurring giving
December is a great time to highlight the different giving programs you have available for next year. Tap into the giving season and set your organization up for success in the New Year by encouraging people to become recurring donors. Attach giving levels, special perks, and impact descriptions to monthly gift tiers so that you make recurring giving an attractive option.
5. Holiday gift guide
There are a number of ways nonprofits can offer gift ideas for the holiday season.
Massachusetts animal rescue organization, Fairy Dog Parents, sells gifts like bottles of wine and candles, tagged with their logo, to raise funds for their organization.
Gorilla Doctors, an organization that works in areas of Rwanda, Uganda, and the Democratic Republic of Congo, puts out an annual calendar as a way to raise proceeds.
You can also encourage people to sponsor a donation as a gift to a friend or family member.
5 tips to make your last-minute holiday emails feel expertly written
There are plenty of ways to make even your last-minute holiday marketing ideas feel expertly crafted. Below I'll show you five of them.
1. Turn clichés into classics.
During the holidays, most people are in the holiday spirit, which gives you a lot of leeway. You can use any holiday theme or tagline for your marketing, and people will often eat it up.
One company did this during its first holiday season. They took the 25 days of Christmas and paired it with their logo.
Each day, they decorated their logo with something holiday-themed and shared it all over social media.
There's a bottomless well of recurring holiday themes. Take one of these clichés, and play around with how your business can use it.
2. Create a campaign using your best-selling product or service.
If you've got a best-selling product or service, then you already know what your target audience wants. This knowledge makes your job easy.
All you have to do is get that same product or service in front of more people. You've got two good options.
Option 1
You can pull an email campaign together to promote your product or service. If you already have a list of subscribers, Constant Contact makes email campaigns painless (even enjoyable) if you need help.
Each Educational Outfitters store, for example, sends out promotional emails for the products selling best at their location to get higher returns in the percentage of thousands.
Option 2
You can create a paid social media ad for your best-selling product or service, and target other people you think are likely to buy (like followers, look-alike audiences, or people who match certain demographics).
This approach works great because you're able to bring two knowns together — a product that people love, and your target audience. Plus, it only takes a few minutes to create a Facebook ad.
3. Partner with influencers.
Influencers work fast, which is great for last-minute holiday marketing ideas.
An influencer is someone who has a lot of followers on social media (100K+) and whose posts get a lot of engagement. Then there are micro-influencers, who get a lot of engagement from a smaller number of followers (say, 1K-100K).
For a few hundred to a few thousand dollars, these people will share your message or your products with all of their followers about as quickly as you can get your product or message in their hands.
When someone else speaks well of you, you instantly gain more credibility. And what's powerful is that this all looks and feels organic to the end consumer.
If you're in a pinch for your holiday marketing, just have an influencer do it for you!
Case studies from small, local boutiques all the way up to titans like Hulu abound, each getting exponentially more views, shares, and even sales than they could have gotten on their own.
4. Use eye-catching imagery.
The brain can process images in about 1/20 of a second, which makes them a great way to get your message across quickly. Plus, they're easy to create.
You can find and create great holiday images with the right tools and resources.
Remember, good content doesn't have to take a lot of time to create.
For instance, let's say you're a residential cleaning company. It's pretty easy to create a professional-looking infographic full of holiday cleaning tips, or standalone images.
Then you just need to share your content on social media, in your email campaigns, or wherever is appropriate.
5. Give something away for free.
Freebies are great for lead generation and upselling all year, but people are more likely to bite around the holidays.
The best part? It's so easy to give things away for free! Here are a couple of options.
You could use a free ebook as a "lead magnet." Tools like Beacon make it easy to turn a blog post into an ebook. Then use an email signup form that prompts people to download your ebook in exchange for their email address.
You can even make the offer holiday-themed if you're feeling festive.
Another option is to give away a free (smaller) product with purchase. You can call this an upsell if you want, but customers view it as getting a gift.
Maybe you offer a free candle if someone buys a gift basket, or a free gutter cleaning if someone puts a new roof on their house. The options are nearly endless and take very little time.
Put these last-minute ideas into action
The holidays are a great time for earning new business — even if you don't have a lot of time to plan out your holiday marketing strategy. Don't miss out on the chance to connect with customers and supporters during the holiday season.
Constant Contact's customizable holiday email templates make it quick and easy to create holiday emails that look great in any inbox.