Live-streaming fitness classes at home isn't new, but the concept gained traction with COVID-19 lockdowns. People were forced to take their workouts home. Digital fitness classes let people enjoy the camaraderie and motivation that typically comes from in-person classes in the comfort of their living rooms.
For gym owners, instructors, and trainers interested in live-streaming classes, this article covers five different streaming platforms, the pros and cons of each, and how you can get started. Read on to learn more about the following:
Why should you live-stream fitness classes?
On which platforms can you live-stream your classes?
What do you need to get started on live-streaming?
What to consider before you start live-streaming?
Ready to make live-streaming fitness classes part of your business?
Ready to find more customers and get expert fitness marketing advice, all in one place?
Why should you live-stream fitness classes?
Even when life returns to normal, online fitness is expected to grow by over 30% by 2026, according to Global Market Insights.
Live-streaming fitness classes give you access to a different market of customers. While many people will likely return to your studio, others prefer the convenience of working out at home.
On which platforms can you live-stream your classes?
Offering your classes virtually expands your market to include more potential clients.
You don't have to build your website and host your videos there, though. You can use Facebook Live or any of the streaming platforms discussed below.
Mindbody
Founded in 2000, Mindbody is a tech pioneer in the fitness and wellness industry. Its streaming platform is easy to use and is easily integrated with scheduling and payment software.
Some of its benefits are:
An automated reminder to attendees 30 minutes before the class
Recording options for video-on-demand classes
A chat box that lets participants talk to the instructor
Options to share the host controls
Can be integrated with Zoom
Drawbacks of the platform that have been identified by current users include:
Not supported by plugins
Not compatible with a live stream app/camera combo
If your studio is already using Mindbody for scheduling, payments, online registration, and other technical aspects of your business, adding the live stream feature should be easy. It works with tools you already have. You can stream a class using nothing more than a smartphone or laptop. However, if you want to move to a more sophisticated, all-in-one platform, Mindbody might not work for you.
Fiteo
Developed by fitness studio professionals, Fiteo helps smaller boutique fitness studios produce higher quality content without paying for professional production equipment. It was co-founded by Alia Sebben of Amana Yoga — a studio in Boulder, Colorado. She was frustrated by the limited features of other platforms like YouTube and Zoom.
Fiteo gives you:
Access to content creators
Editing for your videos
Monetizing options
Live streaming to up to 1 million users
Higher quality recordings
There are some drawbacks to Fiteo, including:
The platform is still new, with little brand recognition
User reviews and data are only available for yoga at this time
Customer perception that they have to pay for the platform to access classes
Fiteo was created specifically to address concerns of trainers and teachers who have been live streaming since March 2020. With this platform, you can offer videos that are higher quality and even start a side revenue stream by monetizing videos-on-demand.
YouTube Live
If you're already using YouTube to create content for your fitness studio, you can stream your classes through the platform. YouTube Live is cost-effective, and your customers probably use the app already.
There are a variety of benefits of live-streaming with YouTube:
YouTube makes it easy for users to find you
The platform is free to use
You can integrate the class with other platforms, including Zoom
Reasons you might not want to use YouTube Live:
You can't interact with students unless YouTube Live is integrated with another platform
Students can't ask you questions
YouTube Live works better for live-streaming fitness classes when it is integrated with another platform like Glofox or Zoom. With this platform, students can't chat with instructors. It is a good option for offering video-on-demand services. If you can build your subscribers and start monetizing your content, this platform can be a good revenue stream.
Vimeo
Another popular platform for hosting video content is Vimeo, which offers live streaming services to premium members. Your students are likely familiar with the platform, and it is easy to integrate with other social media platforms including Twitter and YouTube, so you can push the live stream to more than one location.
Some reasons to consider using this platform are:
It's easy to use
Vimeo automatically records and stores your class for easy access to video on demand
Vimeo has responsive tech support
It offers better privacy options than some other platforms
Your users don't have to watch ads to see your videos
Drawbacks to live-streaming with Vimeo include:
Only premium members can live stream, which can be expensive
Your customers can't talk to you during the class
Editing on-demand videos for Vimeo could be more tedious than making them for others
An easy platform that lets you push your live-streams out via social media, Vimeo is a good option if you are already using it to post content. Your students will like the enhanced privacy and that they can watch live-streams without commercials.
ClassPass
If you own a gym or train clients, you have probably heard of ClassPass. The platform has long been used to market classes and introduce new members to different fitness options in their area. They can buy a bundle of credits and use them at different gyms in their area. ClassPass also offers live-streaming to bring your workouts to students in their homes.
ClassPass offers:
Monetizing options for classes and training sessions
Access to ClassPass' existing network of members
Existing members can book your class through their current membership
It integrates with Zoom and other streaming services
Drawbacks to ClassPass include:
Your members might not want to pay for a subscription
It might be hard for your customers to find your class in the app
ClassPass makes it easy to host a live-streaming fitness class. It integrates with other live streaming tools if you want to interact with clients during the live-stream. Students can register and pay for your class using the app.
What do you need to get started on live-streaming?
The first step in live-streaming fitness classes and training sessions is to get the right equipment. Although many platforms let you live-stream with a phone or a computer, the production quality resulting from these tools alone isn't always the best. To enhance your live stream, you will need the following tools at a minimum.
Camera
There is no need to run out and buy an expensive, professional camera — although if you have one, you can use it to create on-demand workout videos. Many of the newest smartphones have quality cameras that shoot high-def video with ease. If you're using a phone to shoot your videos, get a mounting attachment for your tripod.
Microphone
Your computer and phone have microphones built-in, but using an exterior mic can filter out background noise and makes it easier for clients to follow along. Use a wireless headset for better sound quality and clarity.
Lighting
Natural light is best for live-streams. If you have access to a studio with large windows, shoot your live-streams during the day to take advantage of free lighting. Make sure you are facing the light, as backlighting can make it hard for people watching the video to see you.
If your class starts at night, or if you are in a dark room, use broadcast lights or a ring light for your videos. These lights are made to reduce shadows and make it easier for viewers to see you.
Tripod
Using a tripod is a convenient way to get the best angle for your class. Set it up far enough that it captures your whole body. Your students want to follow your movement, so no parts of you should be cut out of the frame.
If you're live-streaming a class with jumping and other movements that might shake the camera, get a high-quality one that is sturdy and can withstand the impact.
What to consider before you start live-streaming?
On top of getting the equipment needed to record videos, you should also consider the following.
Copyright laws
Since your videos will be hosted live on the internet, you have to consider copyright laws. Don't wear anything that is branded unless it bears your logo. Similarly, don't play music in your video. Some artists and labels are more forgiving than others, but including popular music on your live-stream can leave you open to litigation, since you don't own the rights.
Encourage your students to use their playlist or send them a playlist that they can listen to during the stream.
Practice
Shoot a couple of test classes before going live. That way you can identify potential problems like weird angles and bad audio without being live in front of clients. Being on camera is weird. It's easy to come across as stiff and nervous. Practicing a few times before going live helps you iron out the kinks in your presentation.
What can you learn from examples of those who do it well?
Many of the most popular live-streaming fitness classes are offered by large studios with the budget to make professional and high-quality videos. With COVID-19 shifting almost everyone in this space to virtual, some smaller studios have amped up their creativity. Many fitness studios are offering classes that are just as fun as being there in person.
AKT

High Impact Interval Training (HIIT) mixed with elements of a traditional dance class have made AKT a hit with people who want to get in shape but aren't enthusiastic about exercise. The studio's on-demand classes are well produced and serve as a good introduction to the workout. Its instructors bring the same intensity and enthusiasm to the on-demand platform.
SaltDrop
Based in New York City, SaltDrop combines yoga, Pilates, and plyometrics for a low-impact workout that is just as intense as any high-impact cardio class. Its on-demand classes bring the instructors right into your living room. They are upbeat and motivating, which is important when you're trying to work out at home with no supervision.
Yoga With Adriene
Live-streamed from the living room of Adriene Mishler, Yoga With Adriene is appealing because it's easy to follow. Adriene takes a holistic view of wellness, offering tools for mental health and wellbeing on her channel. She has successfully built a community with her platform. Her followers commonly connect on her social media pages.
Fhitting Room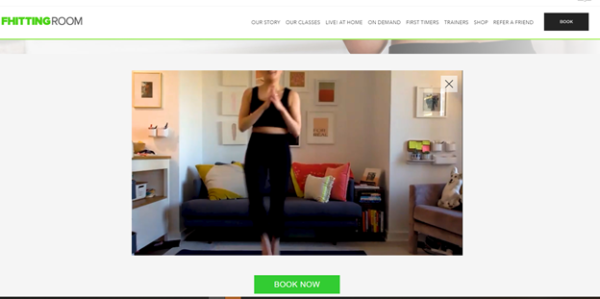 Using the Zoom platform to host live streams, Fhitting Room offers all of the benefits of in-person classes in its live-streams. The instructors interact with students in real-time during each class. Participants can also talk to each other. Instructors are mindful of their students, too — motivating people who look like they need it and offering modifications for higher impact moves.
Formation Studio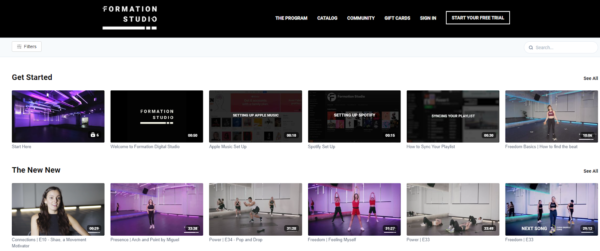 Another dance-based fitness program, Formation Studio has a variety of options in its digital studio. Most of the workouts are 30 minutes or less for those who are pressed for time. With the on-demand feature, you can do more than one class. Newbies benefit from short instructional videos that help you master the basics.
Ready to make live-streaming fitness classes part of your business?
Even if your studio is beginning to awaken from the COVID-19 pandemic, you might be considering live-streaming as a permanent option.

Hosting these classes is easy and affordable. It allows you to connect to clients who prefer working out at home. With interactive streaming platforms that integrate with Zoom, you can connect to your customers in real-time. You can also offer more classes and set up additional revenue streams with video-on-demand.

Find out more about how to optimize your digital media and promote your live-streaming classes by reading The Download.

Share with your network