Powerful images make a positive impact.
The fitness industry has a large audience that's always looking for relevant content online, and that audience consumes content in multiple ways – videos, blogs, newsletters, ads, and images.
The use of relevant images, however, has the unique power to drive home the desired message with a strong visual impact. No wonder image-focused platforms like Instagram have become one of the most popular social media platforms today.
For the fitness industry, there are endless opportunities to capture and create impactful images. People are looking for fitness tips, motivation, expert advice, and information that gets them real fitness results. If your business is on social media, you get the chance to reach out to all these people, and give them exactly what they want.
Here are some tips to keep in mind when capturing images for your social media campaigns.
Constant Contact helps you design and send powerful emails. Learn more about email marketing for fitness centers.
Seven tips to create powerful social media images
The best social media graphics are real, relevant, and relatable. I like to call these the three R's of social media images. These could be the images featured in your lead generation ads, in your email marketing, or the ones shared on your social media pages.
If you run a fitness business, your best bet is to focus your images on your current customers to catch the attention of potential ones. When people see other people using, and endorsing, your products or services, it inspires them to join in.
Another focus needs to be on creating images that are comprehensive,  to include everything your business may offer. For example, if you own a yoga center, apart from creating yoga-centric images, also include meditation, mental health, stress-relieving tips, and other relevant parallels.
Okay, now let's dive in.
1. Real images; real people
To make your social media images powerful, you need to focus on real people. Models posing for your pictures, wearing excess makeup, or enhanced with photo editing tools only makes people disconnect with your business. Instead, aim for images that are as real and as natural as possible. Beauty lies in simple, real images. Plus, it's easy to find great marketing images on a budget.
2. Colorful food bowls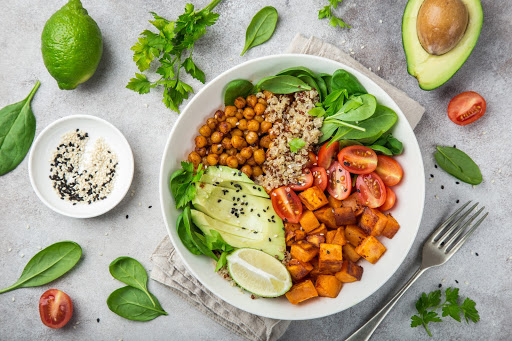 Fitness and nutrition go hand-in-hand. Whether or not your fitness business offers healthy food, or nutrition based services, you could include it in your social media campaigns. Colorful food bowls are a current social media trend, along with sharing healthy recipes, surprising nutrition facts, and reasons to eat healthier. This adds to the variety of content you share, and keeps you relevant to the fitness industry.
3. Before and after images
Before and after results images are trending all over social media. You can encourage your fitness clients to share their own before and after images, generating authentic user-generated content to share on your profiles. This not only keeps you on pace with fitness imagery trends, but also gives you a chance to create customer success stories, depict real results, tap into your network of customers, and motivate others to join the fitness journey you offer.
4. Comprehensive perspective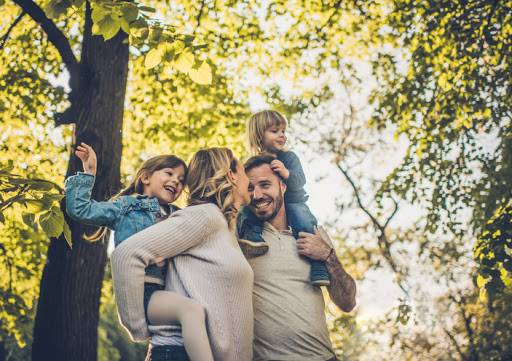 With the right images, you have the power to promote not just physical fitness, but also the importance of overall health. Posts dedicated to mental health, emotional health, happiness, stress management, depression, anxiety, and other subjects that portray comprehensive health increase the chances of your business getting noticed. You can create social campaigns to show yourself as a business that truly believes in living a healthy, and happy life.
5. Infographics
Images and visuals can be used not just to make a visual impact, but also to share valuable information. Creating relevant infographics with few images, or none, can also attract people's attention. These infographics can be simple "Do's and Don'ts," fitness plans, or any other information that your customers could value.
You can create infographics for free on sites like Canva.
6. Diet Guides
If you're from the fitness industry, you already know people are always looking for diet guides. These could be general guides for good health, or specific ones that target problems like weight control, muscle gain, Keto diets, and other diets that your customers want more information on.
If you don't have the time, resources, or skills to make picture-perfect posts, that's okay. All you need to do is use an easy tool, like Microsoft Powerpoint or Paint, add relevant images and supporting text, and you're good to go.
7. Workout Challenges
Workout challenges are big on social media. People keep looking for them for inspiration, tips, or as a guide to better their workouts. Creating a simple one with a few relevant images, and supporting text can instantly make people take notice. The images could be like a step-by-step guide like in this Instagram post above, or use one relevant background image with a text overlay.
There are plenty of low-cost phone apps to help you can easily edit images and place text on top. These are convenient because creating the images and posting them on social can all be done from your phone.
If you still think getting the right images, adjusting them to the right size, and creating an attractive post is not your cup of tea, all you need is the right words. Yes, it is okay to create social media imagery, without really focusing on pictures.
Make a social impact with the right images
The key to making an impact on social media lies in the images you use. People want to relate to something and become motivated to get healthier.
Keeping your images real, relevant, and relatable inspires more and more people to hop on the fitness journey with you. Your customers, existing and potential, are the best muse for creating social media images that drive results.
Check out the 2020 social media image sizes cheat sheet, and use the power of images to grow your fitness business.
Constant Contact helps you design and send powerful emails. Learn more about email marketing for fitness centers.