With experts claiming that the field of education is "more ripe for disruption than nearly any other industry," the climate is fertile with opportunities for education businesses. There have been trends of people looking to expand their education during and after the pandemic — some to grow in their field, others to switch. And there are people like you who are searching for education business ideas as a means to inspire your next endeavor.
Hosting platforms are finding ways to provide this education more practically and affordably than ever before. While companies like Teachable and Udemy have already gotten the ball rolling, there are countless opportunities in the industry for those looking to start. ‌
‌Suppose you're looking to start a business in education or edtech. In either case, one of these nine education business ideas could pave the way to a successful and fulfilling venture.
Stay connected to students, families, and staff with expert marketing advice and all the tools you need, all in one place.
Tips for starting an education business
Experts say that education is having a big break. But, before starting your education business with dollar signs in your eyes, consider these tips:
Get to know the audience of students/teachers you'd be helping and working with. They'll keep your business afloat.
Understand your messaging thoroughly. Your "why" — the reason you opened an education business — will need to be very clear.
Write a business plan for what you want to do. Allow the plan to gradually change over time, but get down to the root of what you're starting and work from there. Try to follow the best practices for creating a new business plan for better results.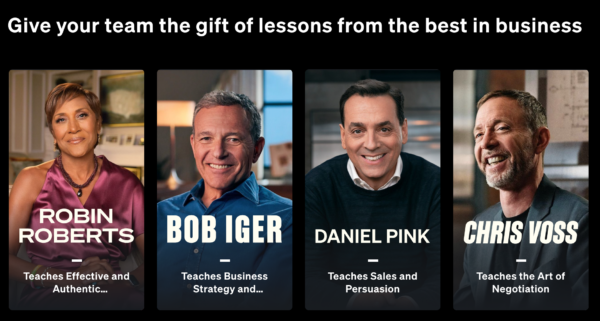 ‌‌Education business ideas
Though education may seem like one field, people want to learn about a multitude of things. Such has spurred a surge in education businesses, which can be a good thing for people in any industry. Here are some ways you can get into the education business in your own way:
1. Tutoring
Thinking back to grade school or even university days, many students could have benefitted from a tutor. Sometimes, students need extra help with a chapter or subject they're struggling with. Offering these services to parents and getting referrals from teachers can make for an excellent education business, big or small.‌
2. Online private/ charter school
Find a niche group of students who prefer a flexible school setup. Perhaps they struggle with schedules or maybe they have special needs. Regardless, you could fill the gap by creating a flexible charter or private option for them to attend. Not only does this allow for more students to attend school, but it's also a good business.
3. Online courses
Online courses started seeing immense success before the pandemic. This type of online business leaves room for a wide range of education business ideas from course creation to hosting a platform for others to upload their own course(s). Regardless, you're creating and publishing educational content people will use for years to improve their skills. What's more, learning online results in higher retention rates and take less time — a winning combination.
4. Lesson plans/material
Teachers can be excellent at their job and still occasionally feel like their material is getting old. Businesses like Teachers Pay Teachers allow educators to exchange not only information but also payments. This win-win business model gets teachers the fresh material they crave while providing lesson content that generates the cash to keep them going. Creating businesses like this isn't just brilliant, it also provides opportunities to communities that need it — in this case, educators.
5. Homeschooling
As the coronavirus pandemic continues to raise concerns in students, parents, and teachers alike, homeschooling has become a more popular option. In fact, the 2020-2021 school year saw an increase of 5.6% of U.S. households who chose to homeschool. Whether done online or in person, offering homeschool services for those students who are turning away from traditional schools can prove both profitable and fulfilling.
6. Teaching languages
Language teaching has always been an in-demand profession as far as education business ideas. Teaching a language online opens up your classes to students all over the globe. Starting a language business online for your own language or a group of language professionals can help students expand their skills and career horizons. Plus, it's a profitable endeavor for your, your students, and other language professionals you may work with.
7. Test prep coaching
You don't need a lot to start your own test prep coaching business. If you have a degree and you're a test wiz, start on your own or gather a group of experts who are just as good at passing complex tests (e.g. SATs or ACTs). There are dozens of families who expect their kids to perform well on these exams for every tutor you offer. So, help them shine by providing your services, and you'll have families lining up at the door year after year.
‌8. Teach an art
Whether it's your hobby or your life's work, teaching art is one way to make money and connect with people of all ages over something you love. From photography and painting to music and more, teaching your craft one-on-one, in groups, or online can help you make this a long-term business. To reach new clients, share the art you make and your methods. Then create social media ads to attract those curious art lovers.
9. Mindfulness or stress management
If you're licensed to help people cope with stress and anxiety, consider creating a course of your best tips. It's invaluable to give people the tools they can use when struggling with stress at work or a panic attack. Create short modules or do one-on-one classes to keep up with students' progress and celebrate their achievements.
Get into education while it's hot
Some of the world's most innovative thinkers believe that education is overdue for disruption. This potential means that anyone getting into the business of teaching and learning could be tapping into the future. Such a future is possibly very profitable with opportunities for duplicating it many times over. So, before opening for business, make sure you follow the best practices to increase your success.

Learn about the people you want to employ and those you wish to benefit from; they'll be your community. Understand and practice telling those around you your "why". Compellingly sharing your story is just as important as bringing it to life. Finally, create a business plan so it can serve as a roadmap as you start venturing into your business.

With the nine education business ideas in this post, you have a wide range to brainstorm from. Perhaps one of these ideas sounds like what you're ready to start now. If not, take a look at what caught your attention and start brainstorming ideas. Education is full of possibilities. It won't be long before you have the business idea that works for you.

Share with your network