The holiday season has remained one of the busiest times of the year for retail businesses worldwide. The National Retail Federation estimates that the average retail store will take in up to 19% of its annual sales revenue during the short time frame between Thanksgiving and Dec. 31. It's easy to see why New Year promotions are so popular among various retailers.
With the spirit of giving still in the air, the end of the year is an excellent time to offer exciting incentives and discounts to customers browsing for an incredible deal.
Aside from hanging banners and advertisements inside your physical store, it's critical to invest in social media marketing and other forms of engagement to attract shoppers to your business.
Here are some New Year promotion ideas and tips to help you kick off 2022 with a bang.
Get all the tools you need to quickly find new customers and grow your retail store's sales.
8 engaging New Year's promotion ideas and examples
Running promotions after the holidays can help new or established retailers expand their brand awareness, ultimately increasing customer traffic. If you're not sure where to begin, there's no need to feel discouraged. Here are eight end-of-year promotion ideas that can help you generate more business.
1. Announce exciting changes to bring in the new year
Whether you're opening a new brick-and-mortar location or planning to roll out a revamped website, the new year is the perfect time to promote recent developments with your business. If you've already built a growing email list, let your subscribers know about the good news through a brief newsletter. Be sure to notify your followers on social media.
2. Give back to the local community
Unless you're a massive ecommerce company, chances are your business relies heavily on generating interest from local customers. Consider joining forces with another trusted industry leader in your area to promote a food or clothing drive for at-risk community members. Find local events to sponsor on New Year's as well, like a highly anticipated concert or arts festival.
3. Create promotions that cover the entire holiday season
Instead of marketing specifically for New Year's, consider developing promotions that touch upon the holiday season as a whole. Combine Christmas and New Year promotions into a single campaign for email marketing or social media posts.
Mention 2022 when crafting email subject lines or write a quick post on social media wishing your followers a Merry Christmas and a Happy New Year.
Offering the same promotion during the winter season will save you time and money on marketing for these holidays. This way, you're not scrambling to replace online ads or in-store banners the day after Christmas.
4. Host a New Year's party
Aside from sponsoring area events, you could consider hosting your own New Year's celebration. The best part is it doesn't have to be at a physical location.
Promote a live ask-me-anything webcast to introduce new products. After the discussion, invite your followers to share their favorite New Year moments using a hashtag related to your business.
5. Start a contest or giveaway
Offer customers a chance to win prizes after making a qualified purchase, join your membership program, or sign up for email alerts. Attach survey invitations to in-store receipts and encourage customers to share their thoughts for free entry into a gift card lottery. You can also consider starting a winter-themed photo contest or video challenge to get more people talking about your brand.
6. Get your customers involved
Thanks to social media platforms, it's possible for businesses today to engage directly with their customers in a meaningful way. Publish a brief update outlining your promise to customers for the new year. Invite your followers to comment on your post with their own New Year's resolution and reshare the most endearing quote.
To reach the widest audience possible, engage in social posting and monitoring on more than one platform, including Facebook, Twitter, Instagram, and LinkedIn. Optimize the presentation of your New Year promotions for each platform. And be sure to keep the wording fresh so your followers don't feel like they're in an echo chamber.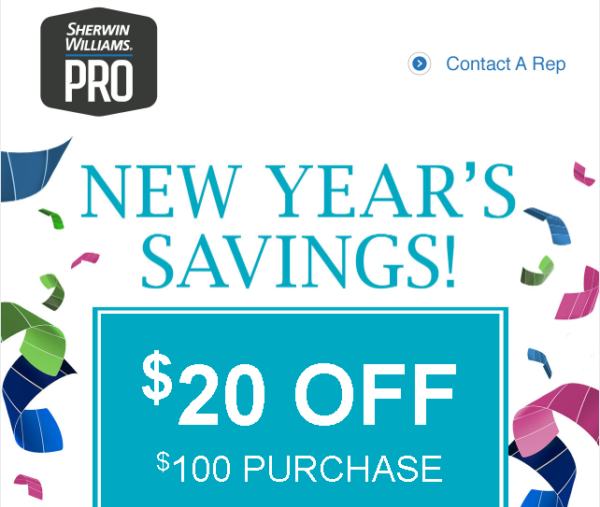 7. Offer rare discounts or promote a limited-time sale
One of the most popular New Year promotion ideas includes offering a significant markdown on prices during the first week of January. You can also try running a flash sale on some of your top-selling items for New Year's Day only. Either way, be sure to advertise the upcoming sale well ahead of time, so your customers don't miss out on the savings.
8. Showcase something new
Invite customers to check out your updated inventory by highlighting the rollout of a brand new product. Introduce the new item to customers through in-store product demos during the holidays. On New Year's Day, offer a low introductory price for customers who make a preorder and subscribe to your mailing list.
Helpful tips for New Year promotions and marketing
With a little brainstorming, it's relatively easy to come up with engaging and creative end-of-year promotion ideas for your retail business. What's most important is that your message is clear, concise, and consistent with your brand.
Here are a few pointers to keep in mind when running a new ad or marketing campaign on the first of the year.
Stick to the basics
Create a promotion that is short, sweet, and easy for customers to remember. If you're offering 15% off for purchases of select products, make sure you clearly state when the promo ends and which products are available at the reduced price. Try to steer away from running promos with complicated criteria that are difficult for your employees to check efficiently.
Avoid overspending on banners or print advertising
Bear in mind that New Year's only lasts for a day and most end-of-year promotions likely won't run more than a week. For this reason, it's a good idea to invest more in digital content, emails, or social media marketing when it comes to New Year promotions.
Printing large banners or in-store ads can get costly, and it may not be worth the investment depending on your offering.
Leverage technology to work for you
Take advantage of various technologies that can help you to streamline the rollout of your promotion. For instance, you can start by sending your email subscribers a redeemable QR code for discounted in-store purchases. Have your customers print out the QR code or simply scan the code from their mobile device at the point of sale.
You can also ask customers to "mention this ad" when they make a purchase. This can help you track your New Year promotion's return on investment (ROI) and determine which modes of customer engagement work best to attract your target audience. Just be sure to attach a promo code to emails or social media posts so you can accurately calculate the reach of your ads.
Make the most of holiday marketing
Ensure the success of your New Year promotions with the help of these ideas and marketing tips. To get started, make a list of any major holiday product rollouts or significant business changes that your customers should know about. Create buzz around this by offering temporary discount codes to existing and new customers.
Next, brainstorm ways to get more involved with your local community by giving back and/or boosting holiday cheer through a party or giveaway. Connecting with your customers through social media and other forms of digital and in-person engagement can make all the difference when increasing your ROI this holiday season.