Despite my dog's opinion of them, I'm still a fan of fireworks. There is something magical about celebrating the last night of the year with a sky-bound color show. It's a show-stopping final act and the spark of something new all at once.
And while we got a bit of time to wait for the ball to drop, it's still a good time to start thinking about how to close out this year and plan for the one ahead. It's time to reflect on what's worked this year, to plan out and launch new year promotions, and to get the juices flowing on the best ways to market your business in 2023. New horizons of hope, adventure, and profit are flourishing.
To make sure your new year promotions go off without a hitch, get your tools ready. Polish off your online marketing calendar and sync it with your other business calendars. Get your ideas on paper, in a digital document, or out loud in a marketing meeting. The time to start planning for a great year is now.
Pro tip: Print out a calendar and keep it in close view by hanging it above your desk and adding to it whenever inspiration strikes. Or, get a bird's eye view into all your campaigns by using an online marketing calendar.
The best time to launch New Year promotions
In planning out your new year promotions launch cycle, make sure to allow a day or two of rest between holidays to avoid fatiguing your customers. In the case of the new year, you can plan to start posting, and scheduling sends for a few days after the Christmas holiday.
Take advantage of this time between Christmas and New Year's when your customers are pajama-clad and armed with their cellphones, scrolling away on the couch. If you're planning to go all in with an email campaign, keep in mind that your customer's inbox will be flooded on January 1. To ensure you're ahead of the curve, send early and let customers marinate over the deals you're about to drop.
As the new year approaches, send a follow-up email or use text message marketing to remind your customers to dig up their discount codes and haul out their credit cards to score big on your best deals of the (new) year.
The best New Year promotion ideas for 2023
Craft a clever email campaign to set off fireworks in your customer's inbox
Ah, the email campaign — the single best way to inform and inspire your customers to take action — but getting them to open the email can be a little tricky.
First things first — the subject line. When crafting your email campaigns, make sure you come up with a stellar subject line that's sure to steal readers' attention as they scroll the inbox.
Next, make your design pop. Attract readers' attention with color and clever headers, images and animations (everyone loves a GIF).
Finally, make sure you're adding proper value with your content and your call to action. What is the reader here to learn? What action do you want them to take? Be clear. Be clever. Be on a non-stop quest to create value.
Want some help getting your new year promotions design ready to hit your subscribers' inboxes? Check out this Email Design 101 article and apply these Email Marketing Best Practices to make sure your send stands out.
Spark attention by engaging your audience on social media
The new year is a time to reflect on the past and plan for the future. People are just getting into making goals and resolutions, to-do lists, and lifestyle plans. While new beginnings and goals are front of mind with your customers, try skewing the conversation toward your business.
If you run a wellness spa or beauty brand, ask followers to share their self-care goals and tag a friend for a chance to win samples of your product.
If you head up a local gym, craft inventive new year's workouts to help your devotees make it one step (or one wall sit) closer to their health goals. Encourage them to share a photo or video of them completing the workout in order to score a discount on personal training.
There is a whole world of ideas out there for you to build your brand identity on social media. And not only that, but there are social media tools ready to help you reach new audiences, schedule sends, and track progress.
Have an Out with the Old and In with the New sale
The very thought of inflation has businesses and customers alike scrambling to finalize holiday shopping plans. According to a study by 4over, this year, "47% [of Americans] say paying full price is a deal breaker," and "56% plan to buy gifts during big sales like Labor Day sales and Black Friday."
Add a big blowout sale to your year-end docket of promotions.
Get rid of overflow stock. Cash in on your customer's availability. Chances are quite a few of your customers have taken a couple of extra days off around January 1 to reset, refresh, and recharge for the year ahead.
With all this free time on their hands, they're even more likely to drop into your brick-and-mortar store with family and friends or spend a late night scoping out the best deals on online leftovers from the year before. This is where your new year promotions are set to steal the show.
Grab their attention with a flash sale, including previously reduced sale items, marked down to an even better rate. Entice customers to "Take these treasures off our hands before we have to bury them forever" to heighten urgency and let customers know that select styles and products might not be around in the future, so the time to buy is NOW.
To make sure your sale is a hit, start cycling new year ads at least one week beforehand to promote, and then ready yourself to prep orders, sell your stock, and exchange services.
Capitalize on the impulse buy
You can manifest the impulse buy in a lot of different ways. If you're a business owner with a storefront, maybe take the New Year as an opportunity to rearrange your store layout and advertise to customers that it's a "New Year, New Look" for your shop.
Get the items you want to get rid of as close to the register as possible. This makes sure people see them right before they plan to make a purchase — enticing them to impulse grab an extra item right before checkout.
If you're catering to an online crowd, this could look like adding a carousel of featured items.
Highlight choice products just below a customer's selected item. Think like Amazon and other big retailers and show off a section for "Customers also bought" or "You might also like," featuring items similar to the customer's selected item or a product that could help complete a gift.
For example, stationery stores could show off pen sets alongside calendars and agendas. Likewise, beverage shops could feature wine glasses fit to hold the very best of the shop's red selection.
Get customer feedback to better your business
Customer insights are invaluable when it comes to making informed decisions about how to better your business, your products, and your services. Get candid and ask customers your burning questions. Because survey results are anonymous, people are usually pretty truthful about their experience, their wants, and their needs.
Use an online survey tool to craft a quick form to send out in an email campaign. Embed your survey on a website. Or, use the traditional paper method in your brick-and-mortar store. We recommend investing some time in using a digital tool because of the added benefit of reporting functionality — you'll be able to see all your feedback in one spot. On the other hand, there is also the benefit of getting the attention of in-store customers to leave feedback before they leave your store. Play around, test things out, and see what works for you and your business. It might be one method, or it might be all three!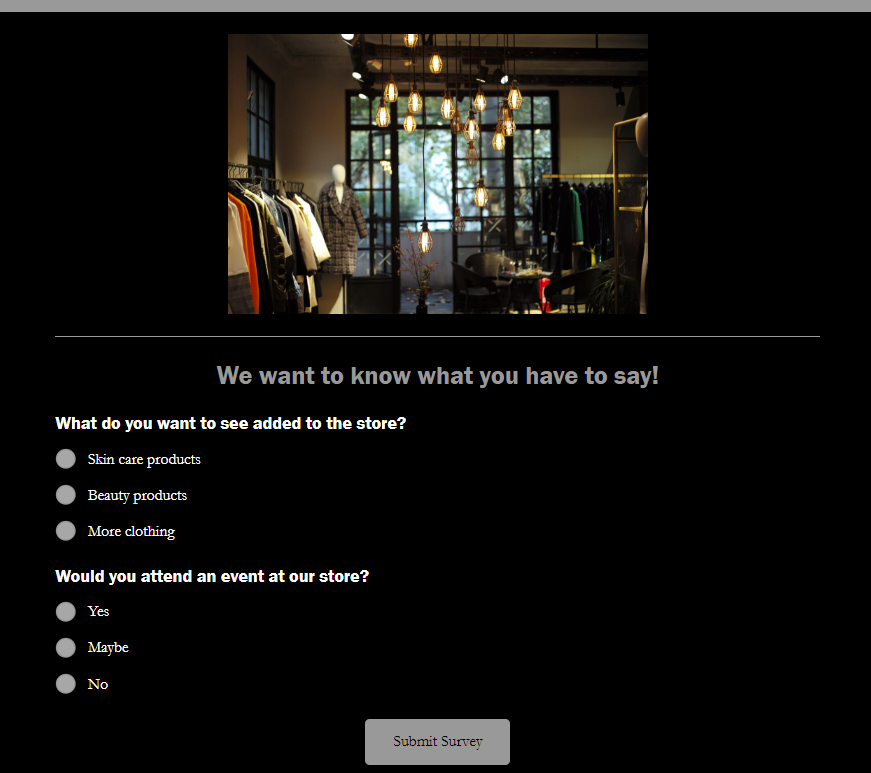 Whatever survey set-up you choose, encourage customers to submit their thoughts by offering an incentive. Maybe it's a gift card, a discount, or maybe it's a free hour of your time and expertise. Whatever you offer, make sure you show your thanks for their support by wrapping it up in a warm, sincere thank-you email, website popup, or in-person acknowledgment at your store.
Rescue abandoned carts with automated emails
Chances are you'll notice some abandoned carts around the holidays.
People forget, they find something else, they let things go — it happens. But you know who didn't forget the product that caught your customer's eye? The shopping cart.
You can use this to your advantage by retargeting customers through segmented email reminders that automatically send whenever a cart remains abandoned. A perfect new year promotion? Your automated emails will remind customers that even if they didn't purchase an item the first time around, there's still time to buy before the end of the season.
Celebrate new year signups with a special welcome
Sure, you've got a standard welcome email. You're connected with your customers, and when they first sign up to receive your email marketing, you want them to know you've noticed and are happy to have their interest and loyalty.
That being said, it's nice to change things up every now and then, and crafting a new welcome email series celebrating the beginning of the year could entice more signups and shares.
Design an email that's fresh and eye-catching, populated with content about the current happenings of your business and a nice, warm welcome to your newest devotee. Add a special incentive like "10% off for you and a friend," and use email marketing automation to send out a special savings code and to re-regulate your welcome emails once the new year celebration dies down.
Bring the party to your brick-and-mortar
The new year is one of the biggest party days of the holiday season — so join in the fun.
The new year is a great time to get people back into your brick-and-mortar store.
Leading up to the holiday, spend some time advertising your shindig on social media, email marketing, and through traditional media.
Create social posts to generate buzz and awareness, show off your party preparations, and encourage followers to invite their friends.
Craft an email campaign to send to your loyal subscribers and give them a chance to RSVP for a special incentive. Make it a small gift bag or a last-chance discount on what's left of your holiday products and services.
Use traditional marketing to target locals and the people who don't use social media. Flyers around town and a poster in your shop window can do wonders to attract a crowd.
Run new year contests and giveaways
Use the new year as a prime time to gain new leads and re-engage current customers. Plan out a contest or giveaway and publicize it on your social media platforms. Everybody loves a freebie, right?
From your social media, email campaign, or traditional marketing avenue (think flyers, banners, in-store, and word-of-mouth) direct your followers to a landing page on your website to collect their names and emails. Encourage followers to share your content in exchange for extra entries.
Light up the new year with SMS
Use SMS marketing and plan a text message or two to remind customers of your hottest deals, seasonal close-out sales, and free gifts
Keep your messages short and sweet and make sure to include a short link that drives your customers to engage with your content — whether it's an end-of-the-year survey or a link to a product page, make sure you're directing your customers to take action to interact with your brand at the close of the holiday season and into the new year.
Learn how to use SMS text message marketing best practices to make your sales soar for 2023.
Strike the match and watch the new year blaze bright for your business!
Make way for new year promotions galore. Now that you're armed with a host of new year promotional ideas, and you know the perfect time to launch your campaigns, you're ready to set a sale, schedule posts, plan an event, and craft your surveys.
To start, go ahead and print out a calendar or tab over to a new month and flesh out your campaign ideas and launch dates. Pretty soon, you'll have a full docket of new year promotions ready to wow your customers and spark up a fantastic new year.